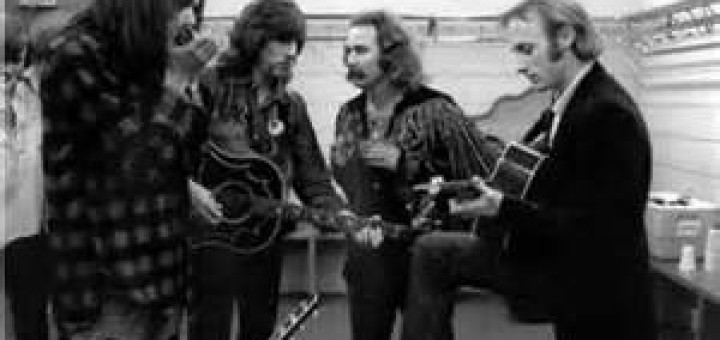 A Tribute to Crosby, Stills, Nash & Young
By Andrew Goutman
(September 5, 2014) A friend of mine recently issued glowing praise of a "reunion" concert of Crosby, Stills & Nash. Now, for the record, it gives me pause when our rock heroes of the '60s and '70s, who haven't made a record in years, milk the arena circuit as their own personal ATMs.
I believe that many people, myself included, would make an exception for Crosby, Stills & Nash. The band gave us two masterpieces at the beginning of their 50-year partnership, and then created sporadic but steady offerings the rest of the way. Crosby, Stills & Nash (& Young) remain beloved. We love their harmony. We love their songs.



And we love their stories: Graham Nash, a working class kid from Blackpool, England, who formed the Hollies. Unlike Nash, David Van Cortlandt Crosby was a "child of privilege who could trace his family lineage back to a surgeon who had served on George Washington's staff during the Revolutionary War." Crosby was of course an original member of The Byrds, a rock pioneer and a Bob Dylan-cover hit machine.
"Captain Many Hands"
In the spring of 1968, Stephen Stills was hanging out with Judy Collins, for whom he had written a song called "Suite: Judy Blue Eyes." Atlantic Records mogul Ahmet Ertegun had Stills under contract, and saw the possibilities of bringing the three together. A year later, Crosby, Stills and Nash sang together for the first time at Mama Cass Elliott's House in LA. Graham Nash remembers:
We all knew. There was no fucking question. David, Stephen and I would sing almost the whole first album with one acoustic guitar, and…it was obvious that this was something really new and fresh.

Stephen [Stills] was an incredibly focused person. Without question, he was the leader of this band and there was a reason we called him "Captain Many Hands." He did nineteen brilliant pieces of music that he had written in four fucking months. He had the music. In spades.
After the first album's stunning success, Ertegun suggested to Stills that the band bring on Neil Young, Stills' former bandmate in Buffalo Springfield. It just seems right, mused the mogul. Stills retorted, "But Ahmet, he's already quit on me twice. What do you think's gonna happen this time?" According to Rolling Stone, Stills wanted John Sebastian of Lovin' Spoonful to join the group.
(According to the book The Last Sultan, future mogul David Geffen, who was then working for Ertegun, listened to CSN's first album and exclaimed, "They're going to be huge!" Ertegun reportedly replied, "They're not going to be as big as the Association." The Association. Wow…)
Nevertheless, Neil Young joined the band, and the result was the album Deja Vu, another masterful work of recorded music. The album took two months to make and would eventually sell over seven million copies. It yielded three hits, including Joni Mitchell's "Woodstock."
After the album's release, Neil Young, touched by the deaths of four Kent State University students at the hands of the Ohio National Guard, wrote a song about it titled "Ohio," which CSN&Y released as a single. (You can find the song on their greatest hits, So Far.)
Crosby, Stills & Nash would have two more recorded notable releases: The 1977 album CSN produced the hit, "Just a Song Before I Go." Daylight Again was released in 1982, and yielded "Wasted On the Way" and the powerful "Southern Cross." The band joined the arena circuit in 1999, both with and without Neil Young.



Here, courtesy of Mitch Mumby and YouTube, is a video of the CSN&Y song "Ohio," containing powerful historic images of those turbulent times: