Paul Simon Keeps Making Records
The Great Ones Keep Going After All These Years
At 75, Paul Simon's recording prowess has never strayed far from the standard of excellence he established in the early '70s, when he split up the incredibly successful folk duo Simon & Garfunkel. His most recent release, Stranger to Stranger, marks 50  years of songwriting for the ages.
There're not many legacy pop artists left who steadily release recorded material. Obviously, the record business is a shell of its former self. In 2014, according to Forbes magazine, just one album went platinum (one million sold): Taylor Swift's 1989. The next year, Adele's 25 (what are all these numbers?) gave the record business a brief taste of the good life. However, gold and platinum albums remain few and far between.
Pop Royalty
It is my belief that Paul Simon is part of a "holy trinity" of US contemporary solo pop artists whose exclusive membership consists of just Bob Dylan, Bruce Springsteen and Simon. And what links these musical icons, besides incredible talent and great songwriting? Dylan, Springsteen and Simon still release record albums on a regular basis. It's certainly not the money. I suppose these guys' songs "just got to come out," to mimic the great bluesman John Lee Hooker. It's impressive and it sets them apart.
Better Than the Stones?
In 1972, just after he split up with Art Garfunkel, Paul Simon said this to Rolling Stone:
I never compare myself with the Rolling Stones. I was always well aware that Simon and Garfunkel was a much bigger phenomenon in general, to the general public, than the Rolling Stones.
Those are some stones. The guy has some swagger to him.
First Releases
Paul Simon's first solo release, the 1972 self-titled album that included "Mother and Child Reunion" and "Me and Julio Down by the Schoolyard," was technically not his first solo album. In 1965, after Simon & Garfunkel's first album failed to catch on, Simon took a sabbatical in London's folk music scene. He came up with an album that he recorded in just three days. The Paul Simon Songbook was released in 1965 with little fanfare in Britain, but remains an unsung embryonic nugget.
Run That Body Down
Speaking of unsung, the 1972 Paul Simon record includes one of my favorite Paul Simon songs that probably won't make a greatest hits catalogue. From the song "Run That Body Down:"
Went to my doctor yesterday
She said I seem to be OK
She said
Paul, you better look around
How long do you think you can
Run that body down?
How many nights do you think you can
Do what you been doin'
Who you foolin'?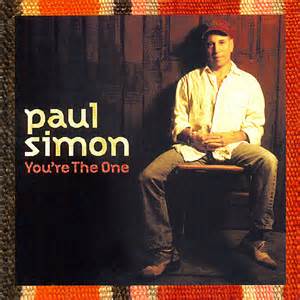 Old
Paul Simon released his tenth album of recorded music in 2000 in the form of "You're the One." Though it didn't yield any radio hits, I loved this album, especially the eccentric and delightful song, "Old," which could serve as a bookend to "Run That Body Down." Here's a taste:
Summer leaves and my birthday's here
And all my friends stand up and cheer
And say Man you're old
Getting old
Old
Getting old

We celebrate the birth of Jesus on
Christmas day
About 1500 years ago the messenger
Mohammad spoke
And his wisdom like a river flowed
Through hills of gold
Wisdom is old
The Koran is old
The Bible's old
Greatest story ever told

Disagreements?
Work 'em out
Easy on the Ears
Through his early hits as a solo artist (you know them all), to the unexpectedly delightful Graceland (14 million copies sold), to his 13th solo album released last summer, Stranger to Stranger, Simon has not jumped though a lot of evolutionary musical hoops. He's the same guy who started our seventies with "50 Ways To Leave Your Lover." The New Yorker's Kelefa Sanneh captures it best:
Simon doesn't apologize for his conviction that music should be easy on the ears. He has shown little interest in the grit and grunge that often signal rock-and-roll authenticity, and, even more…he sings in a voice that's both boyish and clear.

He has managed to become neither a wizened oracle nor an oldies act, and his best songs convey the appealing sensation of listening to a guy who's still trying to figure out what he's doing.
Here's Paul Simon's latest hit, "Wristband," from his new album, Stranger to Stranger, courtesy of YouTube: