Have a Rockin' 4th of July! (With a Brief History Lesson)
Our Founding Fathers Would be Tapping Their Feet to Some Great Rock Songs That Exist Because of Their Success
A Founding Father from Massachusetts, John Adams, soon to be the second president of the United States of America, actually had a firm grasp of what he and his colleagues had wrought. Adams wrote to his wife Abigail:
The second of July, 1776, will be the most memorable epoch in the history of America. I am apt to believe that it will be celebrated by succeeding generations as the great anniversary festival. ..It ought to be solemnized with pomp and parade, with shows, games, sports, guns, bells, bonfires and illuminations, from the one end of the continent to the other, from this time forward forever more.
Hold on: July 2, 1776? No typo. That was the date that the Second Continental Congress voted to approve a resolution of independence. Raising their fists to Great Britain, the world's dominant power, was an act of enormous courage.
Two days later, on July 4, after debate of some revisions of Thomas Jefferson's prose, the Declaration of Independence was approved. John Adams just had his head a little over his skis.
Old Foes Go Out Together on the 4th of July
Founding Fathers Thomas Jefferson and John Adams make a great 4th of July story. They were once political foes who fought to succeed George Washington as president of the fledgling nation. In 1796, it was Adams' turn to continue Federalist Party governance. Thomas Jefferson, a Democrat-Republican, became Adams' vice president.
Dismayed by his bird's-eye view of Adams' alleged  abuse of executive power, Jefferson was soon plotting to win the 1800 presidential election.
It was a remarkably bitter contest (slander!) between John Adams and Thomas Jefferson, with Jefferson emerging victorious and making Adams a one-term president. The election of 1800 is significant because it was our country's first peaceful transfer of power between political parties. It's been peaceful ever since.
After Jefferson served two terms (1801-1809), he sent word that he would like to reunite with "a fellow laborer in the same cause." Adams responded affirmatively. Historians estimate that, between 1812 and 1826, about 158 letters were exchanged between Adams and Jefferson. (Hmmm…today that would be way north of 5,000 texts.)
On July 4, 1826, John Adams, then 90 years old, lay on his deathbed while the country he helped found celebrated Independence Day. Adams' last words were, Thomas Jefferson still survives. John Adams was mistaken. Jefferson at age 82 had died at Monticello five hours earlier.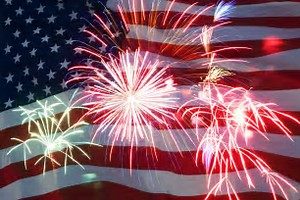 Philly Throws a Great First Fourth
In the year 1777, on the first anniversary of the Declaration of Independence, my hometown of Philadelphia threw a party that modern Americans would find quite familiar. There was
…an official dinner for the Continental Congress, toasts, 13-gun salutes, speeches, prayers, music, parades, troop reviews [we were at war, after all] and fireworks. Ships in port were decked in red, white and blue bunting.
The music accompanying 4th of July festivities during that time were patriotic songs that memorialized battles and generals. One song that survived the centuries was Yankee Doodle:
Yankee Doodle keep It up
Yankee Doodle Dandy
Mind the music and the step
And with the girls be handy.
I believe we are in desperate need of an update. How about some modern rock songs that celebrate the holiday? Here are the songs I chose:
"Saturday in the Park" – Chicago
Here is a live version from 1973, courtesy of YouTube:

"4th of July, Asbury Park (Sandy)" – Bruce Springsteen
This was performed live with the E Street Band in 2016, courtesy of YouTube:

"The Star Spangled Banner" (National Anthem) – Jim Hendrix
Live at Woodstock, courtesy of YouTube:

Have a happy 4th of July!