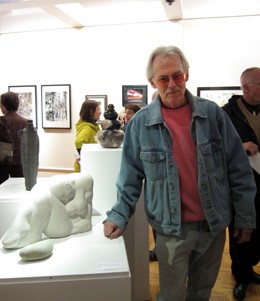 Stone
Sculpture
by Steve Flom
Beloved Philadelphia/South Jersey stone sculptor Steve Flom is the second featured artist in the Art Gallery and first sculptor. Here is a sampling of his work.
 A graduate of the Pennsylvania Academy of Fine Arts (PAFA), Flom has won numerous prizes and awards in juried shows throughout the region. His most recent honor was winning the Leona Karp Braverman Memorial Award for Sculpture in last year's PAFA Fellowship juried show. His work was recently exhibited in both the Arts Center and Sidetracks Gallery in New Hope, PA.
On working in stone:
As a student at the Academy, I worked summers trimming trees, so I had good access to wood for carving. But hoping to sell my work, I sought out a more 'permanent' medium…One could scrounge marble doorsteps from abandoned South Philly rowhouses and limestone blocks from demolition sites. I picked up a set of stone tools and never put them down…Working in stone is like searching for life's essence.
On the erotic nature of his art:
I try in my work, using the human form, to convey, 'life's longing for itself.' It's the solitude, silence, shyness, the loneliness, the longing, the lust. "Love has no other desire but to fulfill itself." –Khalil Gibran
On the method of his work:
I look at a block of stone and try to visualize the figure within…I like to work with rectangular blocks… I'll make a couple of rough sketches, and ask the model to take the pose…I like to draw the pose from front to back to sides…I also like to take back-up photos…I'll redraw, carve, redraw, carve, working round and round and round…Usually the stone itself will influence the piece, and it'll become the fusion of the model and the medium.
Steve Flom's website is www.steveflom.com. His email address is sflomart@yahoo.com.