TENNESSEE
'Dark Money' Flushed Down Courthouse Latrine
Conservatives Lose Bid to Reshape Tennessee Supreme Court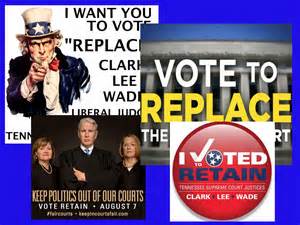 (August 13, 2014) Imagine if you will a statewide election in which:
Approximately $1.4 million was spent on both sides, most of it on television advertising.
Out-of-state groups cashed in heavily on the race (amounts undisclosed), including the Koch Brothers-funded Americans for Prosperity…the so-called "dark money."
Notwithstanding the out-of-state assault, the incumbents actually outspent the opposition, including $579,870 versus $474,150 in TV ads alone.
You would reasonably assume that this spending spree must be for a US Senate seat or a gubernatorial race. You would be wrong. Three Tennessee Supreme Court Justices appointed by former Democratic Governor Phil Bredesen won retention to their seats on August 7 in a high-stakes partisan election that was inspired primarily by state conservative leaders and groups who saw an opportunity to reshape the court's ideological balance. Tennessee law requires that appointed Supreme Court justices face the voters every eight years.
Around 850,000 ballots were cast in a judicial retention election. To repeat, roughly $1.4 million was spent on the race, "up from zero in Tennessee's last such election." (emphasis mine.) When all was said and done, Chief Justice Gary Wade and Justice Sharon Gail Lee tallied 57 percent of the vote. Justice Cornelia Clark was close behind with 56 percent of the vote. "Tennesseans have spoken convincingly in favor of maintaining [a] strong, fair and impartial judiciary," crowed Carol Andrews, a spokesperson for a group formed by the embattled justices.
The opposition to the justices was led by Lt. Governor Ron Ramsey (R-TN), who formed a political action committee and recruited national conservative groups, such as the Koch Brothers. Ramsey's justification for the unprecedented big money spending and partisanship in a judicial race was the usual litany of Republican talking points: The justices were too liberal (that is, Democrat), soft on crime and "pro-Obamacare." Washington Post: "Advertisements…often focus on rulings in criminal cases, where it is easy to portray nuanced decisions as being too soft on crime."
But it was all for naught, as the good people of Tennessee voted to retain the justices. Chief Justice Gary Wade cited three reasons why the three prevailed: One, the judges were "forewarned and forearmed," and played an active role in defending themselves (and in fundraising, for that matter); Two, "voters were put off by the appearance of a partisan effort to take control of the court;" and three, the justices received huge support from Tennessee attorneys, who "felt that their entire profession was under fire and assault."
This Tennessee account may serve as a cautionary tale against political manipulation of the supposedly non-partisan judiciary. Its tentacles reach far beyond mere partisan horseracing. Emory University law professor Joanna Shepherd reviewed and correlated 2,345 business-related judicial rulings and more than 175,000 contributions in every state. She found a "statistically significant relationship between campaign contributions from business groups and pro-business rulings. The more they spent, the more likely the court ruled in their favor."
That's not good.