Fleetwood Mac's Revival Tunes Up Memories
of the Original Blues Version
By Andrew Goutman
(October 14, 2014) "Our songbird is back!" gushed various members of the pop-powerhouse band Fleetwood Mac, as they get ready to embark on a 33-city tour throughout North America (tickets are reportedly $140 a pop). McVie joins comrades Lindsey Buckingham, Stevie Nicks and the band's founding members drummer Mick Fleetwood and bassist John McVie to perform with her bandmates for the first time since 1997.
Christine Perfect, who would marry John McVie, first joined the band in 1970 as a back-up vocal, and was part of the band's renaissance to pop superstardom. Fleetwood Mac's recording success in the 1970s, rock's greatest decade, make them part of the conversation as to the decade's most influential band, along side of the likes of Bruce Springsteen, Eagles, McCartney/Wings, Marvin Gaye, Led Zeppelin, Billy Joel, The Doobie Brothers, Stevie Wonder and of course Bob Dylan. (There's a response form below if you believe I am insanely off base and your band is missing.)
The group's second album Rumours, released in 1977, yielded numerous Top 10 hits such as "Go Your Own Way," "Don't Stop," "You Make Loving Fun," "The Chain" and "Gold Dust Woman." Rumours has sold over 40 million copies worldwide, and shares the top three top-selling albums of all time, along side Eagles Greatest Hits and Michael Jackson's Thriller.
People of a certain age remember an entirely different Fleetwood Mac. I remember albums such as Kiln House and English Rose that gave young blues fanatics like myself songs such as "Jigsaw Puzzle Blues," "Doctor Brown" and "Stop Messing Around." These were basic 12-bar blues songs that had both urgency and style. I recall we couldn't get enough of them.
 Fleetwood and McVie initially joined forces as the rhythm section in British blues legend John Mayall's band, The Bluesbreakers. When Eric Clapton left Mayall to join the supergroup Cream, a guitarist named Peter Green took his place. The band would play an instrumental during sound checks and live performances titled "Fleetwood Mac." A seed was planted. John Mayall would have to find new bandmates.
Fleetwood Mac during the years 1967 to 1971 was your basic British blues band with three talented guitarists…sort of like The Yardbirds but on a smaller scale. They recruited 18-year-old Danny Kirwan, a self-taught prodigy with a unique vibrato sound. They added Jeremy Spencer and his essential slide guitar. The band scored a number-one single (in Europe) titled "Albatross."  That success lured top management types, who convinced the group to become more rock-oriented. A 1969 rock album Then Play On was a critical success but a commercial failure. Then the roof caved in: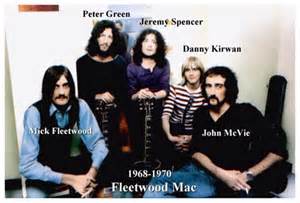 Peter Green, who had ongoing health issues, allegedly dropped LSD while on tour in Munich, never really recovered and suffered "the onset of schizophrenia."
While touring in 1971, Jeremy Spencer told his bandmates that he was going out to buy a magazine, and never returned. After days of searching for him, his bandmates discovered that Spencer had joined a religious cult group, The Children of God.
Danny Kirwan had begun to drink excessively and he wasn't a happy drunk. He smashed his Les Paul Custom guitar before a gig and refused to go onstage. The band fired him.
Let it be known that Fleetwood Mac didn't one day make a decision to abandon its blues-oriented roots and become a commercial pop band. The mere subtraction and addition of band members molded its musical direction and sensibilities. Mick Fleetwood came to admire guitarist Lindsey Buckingham and asked him to join the band. He agreed on the condition that the group take on Stephanie "Stevie" Nicks, Buckingham's girlfriend and songwriting partner. They split up, as did John and Christine McVie, but the band thrived.
Fleetwood Mac has promised an album of newly recorded music. I'm just wondering whether Hillary Clinton, taking a cue from her husband, designates "Don't Stop" as her campaign theme. Nah, I didn't think so.
Reader Victor Winograd replied as follows:
Shame on you Goutman! A whole column devoted to Fleetwood Mac and you bury Peter Green in the lower blurbs. First, Peter Green founded, led and named the band after his mates Mick and John. The title of the first album? "Peter Green's Fleetwood Mac"! Secondly, that Mayall LP "A Hard Road" is more a Green album than a Mayall. The Supernatural, from that record, is one of the most haunting and moving guitar instrumentals in the annals of blues rock. Before he dove off the psycho cliff, Peter green was the equal of any of the British white boy blues guitar heroes- Beck, Clapton, Page- any of 'em. And he was closer to the real blues tradition than the rest: raw and painfully dirty guitar. He even had Big Walter Horton on harp on one of the first Fleetwood LP's. He brought Jeremy Spencer, Danny Kirwan and Christine Perfect on board the train. He also gave us (and Carlos Santana) Black Magic Woman. So please, The man was (and still is) a giant- give the dude the respect he deserves. Oh, and Stevie Nicks and Lindsey Buckingham? Poppy poofters both of em. "Rumours"? Gussied up bubble gum. No wonder Peter Green went bonkers. They took his baby and drowned it in a bucket of swill.