Rubber Soul: The Beatles' Pop Masterpiece, Revisited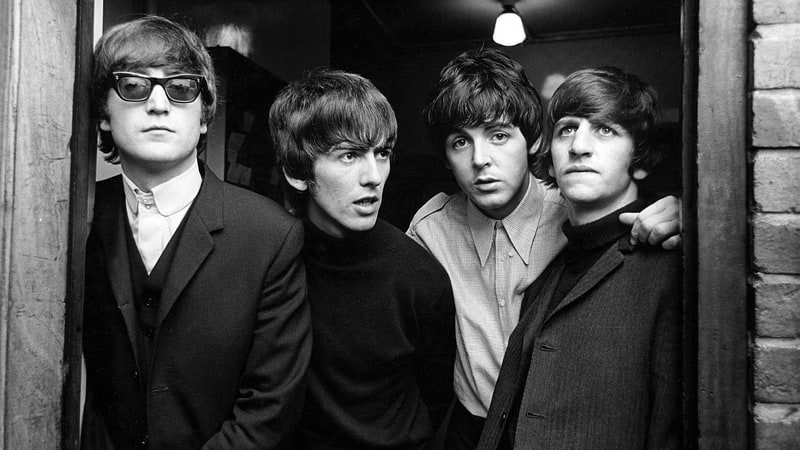 Rubber Soul marked the end of 'Beatlemania' and heralded the dawn of creating the gold standard in recording artistry.
You don't know us if you don't know Rubber Soul.

John Lennon
Rubber Soul was for me the beginning of my adult life.

Paul McCartney
Beatlemania
The Beatles were ready to go home and take a breather after the last concert of their North American Tour: August 31, 1965, at the Cow Palace in San Francisco. What a grueling tour it was: in San Francisco, for example, a group of teenagers broke through the barricades and rushed the stage. "Calm down!" Paul McCartney screamed at them. A security guard was knocked cold. Ringo, ever easygoing, assessed: "We survived."
Thus was the downside of Beatlemania…the same Beatlemania that made the Fab Four the most famous people in the world.
A New Musical Direction
During their six weeks off, both Lennon and McCartney were listening intently to radio offerings by Bob Dylan, the Byrds and other contemporary artists.
By the time of Rubber Soul, they were ready for new musical directions. In the early days, they were very influenced by American rhythm and blues…and then, as time went on, other influences became apparent: classical influences and modern music.

Rubber Soul was an indication of the ways things were going to go. It's one of my favorite albums. I think it is a great album.

George Martin
As summer turned to fall, the Beatles gathered at Abbey Road studios with a happy realization: Their calendar was unobstructed by touring, filming or radio engagements.
Marathon Recording Sessions
The date Oct. 12 was circled as the kickoff for recording a new album at Abbey Road. EMI designated that date so there would be a new Beatles album on the record store shelves in time for the holiday shopping season. The only new song in the can was "Wait," which the Beatles had recorded in the Bahamas while filming Help!.
In retrospect, John and Paul (and George) wrote and recorded over a dozen new songs from EMI's start date of Oct. 12 to a marathon session that began Thursday, Nov. 11 and ended at 7 am the following day. That is, the Beatles took exactly one month to create a record that was placed number five on Rolling Stone's "500 Greatest Albums of All-Time."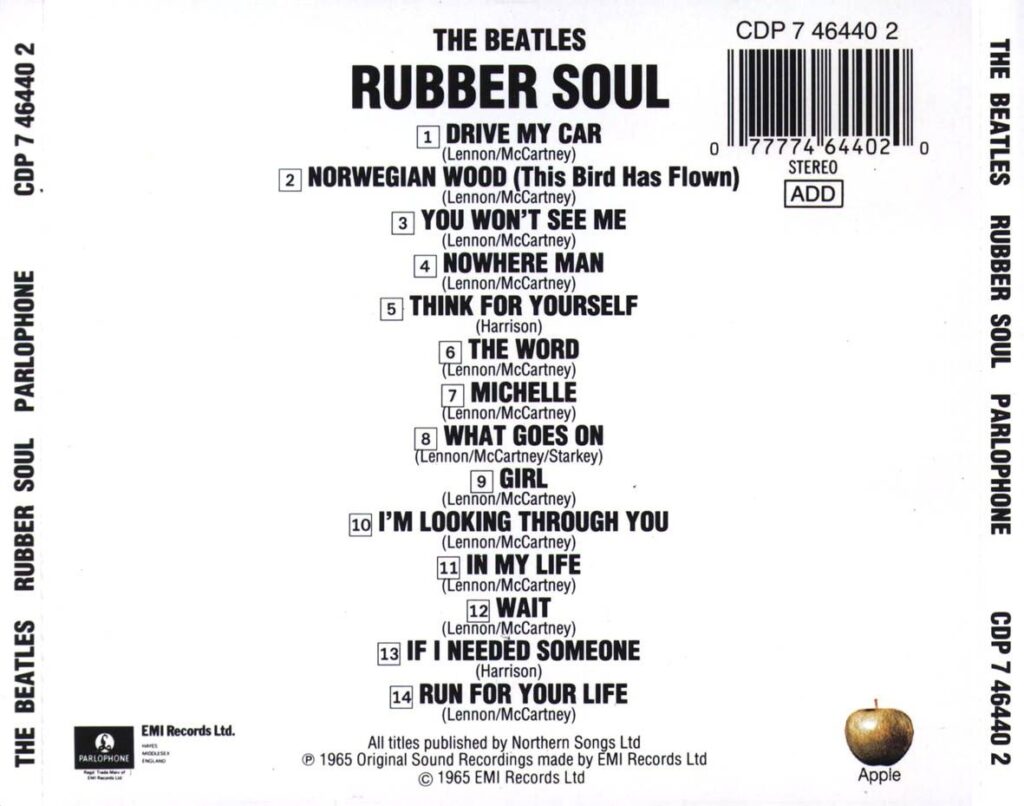 Rubber Soul
There were many significant qualities to Rubber Soul. First of all, it was perhaps the Beatles' best-sung album. Harmony is hard work and it really helps if you like the people you are harmonizing with. As Paul McCartney told Rolling Stone (12/3/2015), "Part of the secret collaboration was that we liked each other. We liked singing at each other. He'd [John] sing something, and I'd say 'Yeah' and trade-off on that. He'd say 'Nowhere land,' and I'd say, 'For nobody.' It was a two-way thing."
Secondly, the Beatles had gotten more sophisticated about lyrical content. Yes, most of the songs were about girls, but there was less chest-beating. The girls in Rubber Soul were more independent, more complex and actually had jobs. Paul McCartney's "I'm Looking Through You" was an uncompromising lecture on a woman's independence. In John Lennon's songs, puppy love was being replaced by adult ideas, especially in "Nowhere Man" and the last verse of "Girl" and its sly reference to Christianity.
Finally, with their backs against the wall, the Beatles crafted what Rolling Stone called an "accidental masterpiece." Rubber Soul perhaps showed the lads how far they could go in the masterpiece business. Rubber Soul could hardly be called a "concept album," like Sgt. Pepper, but, according to producer George Martin, "we began to think of albums as art on their own, as complete entities."
Two Songs
"In My Life" – Here is one not about the ladies. Rather, it was a magnificent piece of songwriting based on memories of John Lennon's Liverpool childhood. John claimed authorship of the song, but Paul remembers working with John to rework the harmonic rhythm based on a Smokey Robinson & the Miracles motif. Here is a lush, picturesque video of the song, published by The Beatles Stuff via YouTube:

"Nowhere Man" – This supposedly came to Lennon after a night of club-hopping. Paul intervened to blunt some of John's stark, soul-baring lyrics. "I think it was about the state of his marriage," Paul guessed. Bob Spitz: "A reflective, dirge-like song, 'Nowhere Man' is steeped in dense harmonic pathos, the two voices intertwining, almost wearily so, around a tent pole of melancholy."
Here is a three-minute live video of "Nowhere Man," with narrative clips from Beatles' Anthology, episode 5, published by jungzx via YouTube:

Two songs released as singles, "Day Tripper" and "We Can Work It Out," were considered equally strong, and were released on December 3, 1965, as a "double A-side." The album was released on that day as well.
Instrumental Notables
"Norwegian Wood (The Bird Has Flown)," allegedly about a secret liaison of John's in London, marks the first appearance of the sitar in a Beatles song. George Harrison had recently purchased a used sitar as an expression of his interest in Indian culture and was just beginning to learn the instrument. Here's George:
When we were working on Norwegian Wood, it just needed something…I just picked the sitar up and kind of found the notes and I just kind of played them…and it just seemed to hit the spot.

George Harrison
Paul McCartney was flexing his musical muscles also: He added "jazzy chords" to the song "Michelle" and fuzzed up his bass to play righteous lead guitar notes on Harrison's "Think For Yourself.."
Why "Rubber Soul"?
Why the title "Rubber Soul"? Beatles historians agree that the Beatles reacted to certain American blues and R&B "trash-talking" artists who labeled The Rolling Stones and lead singer Mick Jagger as "plastic soul."
That's looking out for your mates.