How Rock 'n' Roll Began, Part 2
Assorted moments fused rock's footprint: rockabilly, teen idols, Skiffle, the Twist, Buddy Holly's tragedy, and the first power chord. Then the Beatles changed everything.
What happened to rock 'n' roll between the founding pioneers brashly asserting that "rock 'n' roll is here to stay" and the Beatles conquering America (read Part 1 of my article about rock's founding here)?
I was there and I guarantee you nobody saw the Beatles coming. I remember watching the Jack Paar Show with my dad (January 3, 1964) which was the Beatles' first appearance before an American audience. We both laughed at the mop tops and agreed, "no way."
Months later, the Beatles were my whole world.
Elvis Was the King
In the mid-to-late fifties, the star acts–Elvis Presley, Ray Charles, and Frank Sinatra–were still selling out shows. Elvis contemporaries Carl Perkins and Jerry Lee Lewis were following close behind. Rockabilly became a thing.
Other artists in the Elvis mold were Roy Orbison, Eddie Cochran, Gene Vincent, and Del Shannon, who reaped massive success with his 1961 #1 hit, "Runaway." I still get a kick from the 1989 Tom Petty song with this lyric:
It was a beautiful day, the sun beat down
I had the radio on, I was drivin'
Trees went by, me and Del were singing little Runaway
I was flyin'
Meanwhile, Sam Cooke was named the artist who invented soul music. His string of hits included "Wonderful World" in 1960.
What Shaped Music Right Before the Beatles?
Here are some notable moments in rock history during the time between the early stirrings of rock pioneers such as Chuck Berry and that invading force from Liverpool, England, which still defines rock music to this day.
Les Paul and Link Ray's Power Chords
Truer words are rarely spoken: Rock 'n' roll is the electric guitar; the electric guitar is rock 'n' roll.
In June 1955, a group comprised of Les Paul on guitar and his vocalist wife Mary Ford released the song, "Hummingbird," which shot up to #7 on the US Billboard charts. It was one of many hits for the couple, who were married in 1949.
Of course, Les Paul (born Lester William Polsfuss) is far better known as a guitar pioneer: builder of the solid-body electric guitar, which lead to the iconic Gibson Les Paul. Paul was one of the first to experiment with overdubbing (then called sound on sound) and can claim numerous recording innovations, most notably multitrack recording. He built the first eight-track recording deck in his garage in Hollywood.
Let's Rumble
it seems reasonable to believe Les Paul paved the way for Link Wray, whose 1958 hit, "Rumble" introduced the very first power chord, a "dirty, thick guitar chord with a tremolo effect," totally unheard of in the fifties, but which became a staple for blues-rockers (think Led Zepellin) and heavy metal bands.
Speaking of Led Zepellin, here's a highly entertaining video of Jimmy Page playing air guitar to "Rumble," with live clips of Link Wray in performance. Under two minutes long, it is published by Herrick via YouTube:
Ray Charles' What'd I Say (Parts 1 & 2)
He was "The Genius." After studying musical composition at the St. Augustine School for the Deaf and the Blind, Ray Charles hit the road (Jack!) and found a home at Atlantic Records, friending its charismatic president, Ahmet Ertegun.
"What'd I Say" began as totally unscripted. At the end of a live show in early 1959, Charles discovered he was short of material. So he started to improvise: first, as a series of 12-bar-blues runs at the electric piano, and then riffing a call-and-response with his backup singers, the Raelettes.
In his biography of Ertegun, author Robert Greenfield masterly describes the action:
Combining elements of jazz, gospel and the call-and-response of Mississippi Delta blues into a mind-blowing synthesis of filthy funk and nonstop driving rhythm, the track was unlike anything anyone had ever heard before, much less recorded.

A landmark track that broke down the barriers of what was suitable for radio play, "What'd I Say" became…'the life of a million parties, the spark of as many romances, a song to date the summer by.'
Twisting the Night Away
In 1958, R&B singer/songwriter Hank Ballard was watching his band members improvise dance moves during sound checks and decided to write a song based on their dances. He called the song, "The Twist," and it went nowhere.
Meanwhile, Dick Clark couldn't help but notice his youthful dancers doing the Twist on his Philadelphia-based TV show, American Bandstand. Always one to exploit a fad, Clark arranged for transplanted Philadelphian Chubby Checker to perform "The Twist" on his show. Even though Checker's take sounded like, and was mistaken for, Hank Ballard's song, Checker's version hit #1 on the Billboard charts in 1960. Chubby was off to the races.
Checker followed up with "Let's Twist Again," "Don't Knock the Twist," "For Twisters Only," and "Twisting Around the World." Other acts got in on the fun: Joey Dee's "Peppermint Twist," Sam Cooke's "Twisting the Night Away," and the Isley Brothers' "Twist and Shout."
And then it was all over. Chubby still awaits his statue outside of the Rock & Roll Hall of Fame in Cleveland.
Teen Idols
I'm just going to rattle off some of them and you can create your own memories: Ricky Nelson, The Everly Brothers, the Righteous Brothers, Frankie Avalon, Dion & the Belmonts, Fabian, Bobby Rydell, Bobby Vinton, and most notably, Bobby Darin.
The Day the Music Died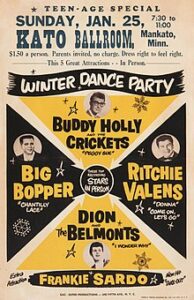 Don McLean and his song "American Pie" (1971), gave us a clue about it. On February 3, 1959, musicians Buddy Holly, Richie Valens, and the Big Bopper (J.P. Richardson) all died in a plane crash near Clear lake, Iowa. At that time, Buddy Holly, whose band included Waylon Jennings, was headlining a "Winter Dance Party" throughout the midwest.
Dion & the Belmonts were also on that tour. Lucky fellows.
Buddy Holly
Don't be fooled by the vocal hiccups. Buddy Holly was an extremely talented songwriter with an elastic voice and command of his prized Fender Stratocaster guitar.
Aside from dozens of unfinished recordings, Buddy Holly's most enduring legacy is perhaps his popularizing the now-standard rock band set-up of two guitars, a bass, and a drum kit behind them.
The Beatles sure took it to heart.
Skiffle
First, a video of Skiffle pioneer Lonnie Donegan, whose 1955 hit, "Rock Island Line," became the favored sound of Britain's youth. It is published by Paul Griggs via YouTube:
The Skiffle craze in Britain in the mid-fifties was sort of like the punk furor 20 years later: three chords of improvised, energetic music pounded out on cheap guitars. Britain's early rock guitar heroes such as John Lennon and Brian Jones cut their teeth in skiffle bands because the music was simple and the instruments affordable.
The origins of Skiffle had a lot to do with post-World War II austerity. Lonnie Donegan's "Rock Island Line," at two-and-a-half minutes long, was primitive and urgent. It put Donegan at the forefront of the Skiffle craze and made the man as popular in Britain as Elvis Presley and Little Richard were in America.
The Beatles and Skiffle
Would the Beatles' impact have been as colossal were it not for Skiffle's influence? Certainly, speeded-up chords and short songs were a hallmark of the early Beatles' repertoire. Of course, raw talent in the form of a devastating sense of melody and harmony makes the question rather moot.