ZZ Top: Two Beards and a Drummer named Beard Wrote the Story of Texas Boogie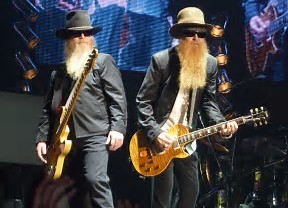 After Hitting It Big with Eliminator, the Eighties Caught Up With Them
I remember so well that ZZ Top concert in Dayton, Ohio, around 1986. Never seen so many long beards and biker colors…men and their women coming out of their rural southwest Ohio hollers to catch their favorite band in the bright lights of Dayton.



Given the grade of technology in the mid-'80s, it was an unexpected delight to watch a tableau of lights depicting a pair of a woman's legs moving a la Rockettes across the stage and into the upper reaches of the audience during the performance of ZZ Top's hit, "Legs." Very high-tech. Very eighties.
Dayton, my hometown at the time, was a stop on an exhaustive tour to promote ZZ Top's 1985 album Afterburner. If Afterburner never really caught on with rock fans, it was partly because the band's previous album, Eliminator, was such a monster hit, selling 10 million copies and yielding well-known hits such as the aforementioned "Legs," "Sharp-Dressed Man," "Gimme All Your Loving" and "Got Me Under Pressure." All of these songs remain on steady rotation at most Classic Rock radio stations to this day. Here is ZZ Top's official MTV video of "Sharp-Dressed Man," courtesy of YouTube:

Eliminator marked a significant departure from ZZ Top's guitar-based, down-home Texas blues and boogie roots. It was said that, during the Eliminator sessions, a sound engineer named Linden Hudson played "high-tech teacher" to very willing pupils in guitarist and songwriter Billy Gibbons and drummer Frank Beard. (Perhaps a reprise of the influence "Magic Alex" had on the Beatles' John Lennon.)
It was the eighties, man. Synth hell.



Whatever happened during those sessions, it seemed the die was cast. ZZ Top entered a "Synthesizer Period" for about a decade and never again enjoyed the level of success of earned by those three young men coming out of Houston, Texas, in 1969.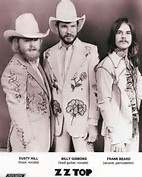 Texas Boogie
There were a few line-up changes in the beginning, but ZZ Top (the name allegedly inspired by a poster promoting a concert featuring BB King and ZZ Hill) stormed out of Houston with three essential parts: Billy Gibbons played lead guitar, sang and was the band's primary songwriter and arranger; Dusty Hill sang and played bass; and Frank Beard was the drummer. A friend of Gibbons, Texas-native Bill Ham, became manager and producer. Ham got them a deal with London Records.



La Grange
Early recording efforts got them little radio play (their 1972 second album, Rio Grande Mud, had a minor hit in "Just Got Paid") but rock critics were pleased with ZZ Top's "humor, 'barrelhouse' rhythms, distorted guitars, double entendres and innuendo." The next year, 1973, ZZ Top struck gold with the release of Tres Hombres, which delivered three powerhouse singles: 12-bar blues-based "Jesus Just Left Chicago" and "Waiting for the Bus;" and the semi-instrumental "La Grange," an ode to a Texas whorehouse and the band's all-time fan favorite.
"La Grange" had that irresistible boogie feel to it and sounded a lot like bluesman John Lee Hooker's signature boogie sound, "Boogie Chil'lun." Hooker's estate sued ZZ Top for copyright violation in 1992, but a court ruled that Hooker's boogie sound was in the public domain. Here's is a live version of La Grange," courtesy of YouTube, with Gibbons and Hill up close and personal:

Why, Billy?
The seventies were kind to ZZ Top. Fandango, released in 1975, gave us "Tush" and "Heard It On The X." 1979's Deguello contained the brilliant "Cheap Sunglasses" and a laid-back cover of Sam & Dave's "I Thank You." The roller coaster ride of Eliminator and less-stellar efforts were yet to come.
When asked about ZZ Top's dalliance with synthesizers, Billy Gibbons' response to HuffPost was more or less a shrug:
We have not been technology averse with…ZZ Top. Think about Muddy Waters when he, so masterfully, "discovered electricity" meaning he went from rural acoustic blues to plugged-in electric. He had the power and he knew how to use it. There is no percentage to being totally resistant to innovation, nor is it wise to throw the kitchen sink in…