The Battle for Springsteen Tickets Premieres on Broadway
Is Bruce's 'Verified Fan' a scalper-beater, or a windfall for Ticketmaster? We've seen this movie before.
So you want to go see Bruce Springsteen on Broadway? Best you become a "verified fan."
It'll be Bruce, an acoustic guitar and a piano in an intimate theatrical Broadway setting (about 975 seats) starting Oct. 12 and ending…well, the show announced a 10 week extension to now close on Feb 2. Let the ticket bonanza begin!
Responding to the high demand and wanting to do right by his fans, Springsteen signed on to Ticketmaster's Verified Fan to thwart third-party buyers who use "bot" software to purchase tickets in bulk and resell them to places like Stub Hub.  Ticket prices soar.
The Verified Fan works like this: Ticket buyers are asked to give their name and other identifying information before tickets go on sale. Buyers are then vetted by an algorithm designed to separate scalpers from fans buying tickets for themselves. Those who pass the vetting process are given a code numbers and join a smaller pool of ticket buyers.



It seems to have worked to a point. The day after tickets went on sale in late August, only three percent of Springsteen tickets took an off-ramp to third-party sites. That compares to Bruce's 2016 tour, when seven to 20 percent landed with scalpers.
For tickets that escaped Verified Fan's clutches, one report has Stub Hub asking $6,700. There are outrageous scalper prices that go as high as $25,000. Just Google "Springsteen on Broadway."
Face-Value Tickets Still Cost a Fortune
But wait a minute. There seems to be no refuge from ticket price inflation. There's a fan who complained that he paid $850 for a ticket purchased through Verified Fan.
Yes, Broadway shows cost more than rock concerts. But it seems reasonable that staging a mostly acoustic show would cost far less than the bells and whistles that accompany a stadium extravaganza.
According to the Philadelphia Daily News, tickets for Springsteen's 2016 River tour averaged $111. It begs the question: What is a fair price? And who is setting them?



An Old Culprit
Of course ticket brokers who missed the boat for "Springsteen on Broadway" didn't have much good to say about Ticketmaster. They accused the ticketing giant of having its hands in both the face-value market and the secondary market, through its reseller TicketsNow.
"Ticketmaster is trying to do everything it can to monopolize both the primary and secondary market," said Ram Silverman, a longtime Texas ticket seller.
Haven't we seen this movie before?
Pearl Jam's Epic Battle with Ticketmaster
Heading into its 1994 tour, Pearl Jam was perhaps the most popular rock band on the planet. Pearl Jam's 1991 debut album, Ten, yielded three hit singles; it sounded like a greatest hits album. The band's follow-up, 1993's Vs., was also radio-friendly.
Emboldened by its rock star status, Pearl Jam struck back at Ticketmaster's monopoly and its outrageous added fees to a ticket's face value. The band set the terms for its tour: Tickets would cost no more than $18.50 (deep breath); Ticketmaster's fees would not exceed $1.80. Of course Ticketmaster demurred.
Pearl Jam's 1995 tour was a curious road show that took it to venues such as fairgrounds and state parks not under the yoke of Ticketmaster. The Department of Justice came calling, and two band members testified before a Congressional committee. Pearl Jam was set to slay the dragon.
Then, Justice issued a two sentence statement saying its investigation was closed.
Ticketmaster claimed victory. However, the spiraling costs of tickets and fees temporarily subsided. In a token gesture, Ticketmaster lowered its ticketing fee to $1.50. And Pearl Jam earned a gravitas rare in rock 'n' roll.



Concert Revenue's Growing Profile
In a somewhat whimsical comparison of three levels of performers, an internet search offered the following break-down of album sales versus performance revenue:
Average band (bar band, local following) – 0% album sales, 100% performing

Average pro band (e.g. The Record Company, Foxygen) – 10% album sales, 90% performing

Pro band (e.g. Wilco) – 30% album sales, 70% performing
On the consumer side, the smart money is on live performance: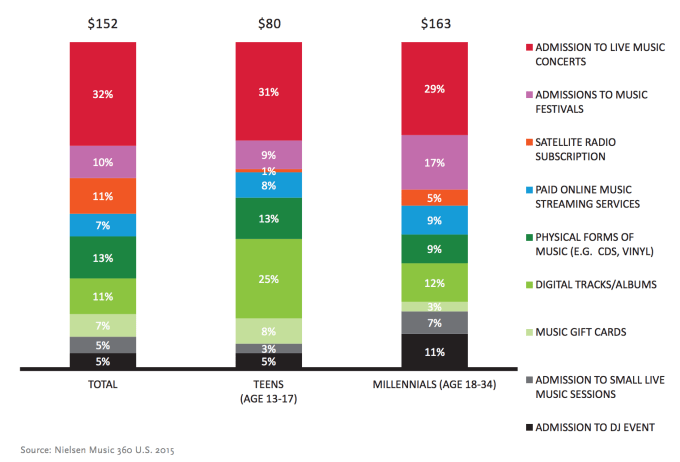 See you on Broadway. Counting my pennies.
---
 Editor's note: The Bruce Springsteen image on Facebook and Twitter is a photo by Stephen Lovekin, REX/Shutterstock. It was taken on November 1, 2016.