The Beatles Share That Christmas Magic
The Fab Four recorded jolly ad-libs for their fan club members to celebrate the Christmas holiday.
You better believe frenzied Beatles fans paid close attention to their mailboxes over the Christmas holiday during the band's peak recording years in the sixties.
That is when each member of the Beatles fan club was mailed a Christmas greeting from the Fab Four themselves on a phonograph record made with a thin flexible vinyl sheet, called a "flexi-disc," inside a "square cardboard-backed envelope."
"No other piece of mail ever looked like that…I knew exactly what it was," remembers renowned Beatles historian Liverpudlian Mark Lewisohn.
The Beatles typically recorded the message in October, at the end of some recording session.
Happy Crimble!
The Christmas records contained clever but silly wordplay, chatty and sneaky promotions of future records and fragments of their songs. Rolling Stone captured it perfectly:
The goofy tracks captured the band at their most playful, showcasing their warm camaraderie and wit, punctuated by cheery cries of their invented Yuletide greeting: "Happy Crimble!"…These low-stakes sessions emboldened them to experiment, sometimes inspiring ideas that would appear on their better-known work.

Rolling Stone
The Beatles fan club in England began in 1961 under the watchful eyes of Brian Epstein and his NEMS Enterprises, which absorbed the cost. Fans paid five shillings annually for a newsletter, various memorabilia and the Christmas record.
The American club, with its $2 annual fee, also mailed the Christmas record, although it issued them on "soundcards," cardboard-like material, which made them difficult to play.
Good Ol' Freda
Freda Kelly was Brian Epstein's secretary when she was tasked with organizing and running the Beatles fan club. Before she started working for Epstein, Freda was a big fan of the Beatles and, by her estimation, attended over 200 sets of the locally-famous Beatles at Liverpool's Cavern Club.
Freda was the subject of a 2013 documentary, "Good Ol' Freda." It seems everyone in the Beatles' orbit got their 15 minutes. Here is a trailer of that documentary, two and a half minutes long, published by Movieclips Indie via YouTube:
The First Three Christmas Records
1963
The first few holidays messages were actually not written by the Beatles, but rather by Epstein press officer Tony Barrow, who is said to have thought of the Christmas record idea in the first place. The very first "Crimble" was recorded Oct. 17, 1963, in Abbey Road's Studio Two, right after a session for the song, "I Want to Hold Your Hand."
A mere 30,000 records were originally pressed for fan club members.
1964
The Beatles obviously enjoyed their first Christmas endeavor, because it was they who tapped on Tony Barrow's shoulder. "It was the boys themselves who promoted me into continuing the tradition," Barrow wrote in a memoir. "'When are we doing this year's 'Crimble' record?'"
After a 12-hour day of recording songs for Beatles for Sale, the Beatles managed to radiate energy and charm.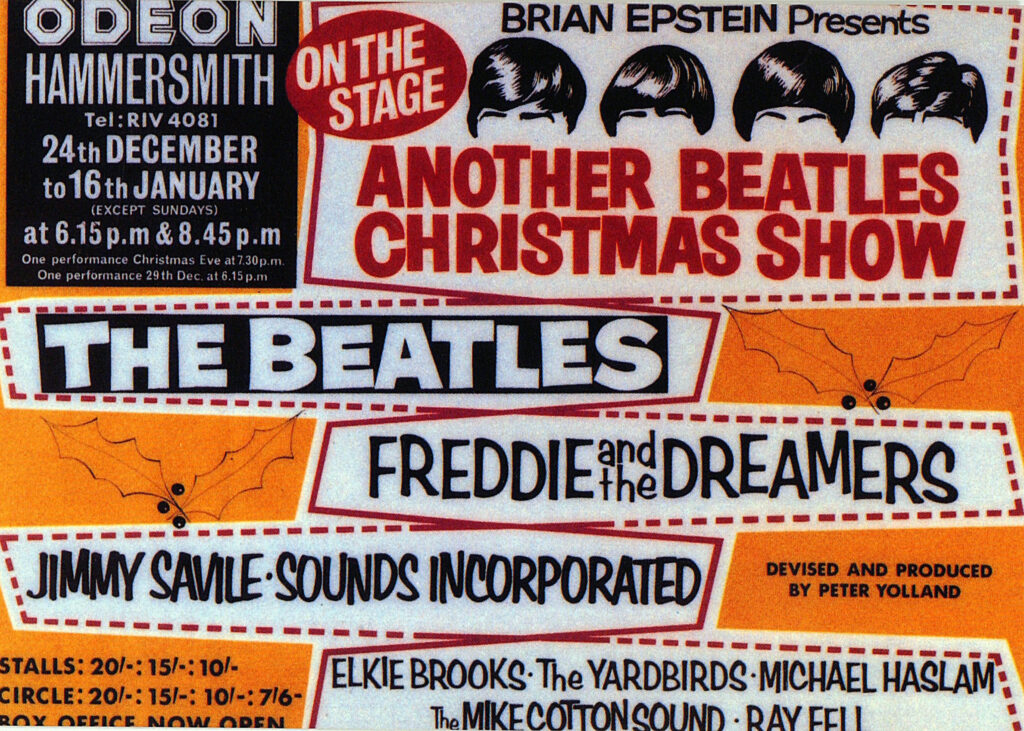 1965
The band's third Christmas record was actually a second effort. Exhausted by endless run-throughs of Rubber Soul songs, the Beatles failed to muster the witty spontaneity of past efforts and scrapped its first take altogether.
They tried again at Abbey Road on Nov. 8, well after midnight. Aware that the Beatles were struggling, George Martin attempted to surreptitiously record cheery chatter from takes of George Harrison's song, "Think for Yourself." None made it into the '65 Christmas record, but Martin gets points for team play. It all worked out.
The 1965 Christmas recording was released to UK fan club members on Dec. 17, 1965. The video is published by HappyCrimble via YouTube:
Bonus Round: John Lennon's & Yoko Ono's "Happy Xmas (War Is Over)"
The original "Happy Xmas (War Is Over)" was released on December 1, 1971, as a Phil Spector-produced 7″ single by John Lennon's Plastic Ono Band. That's a late release for a Christmas song by industry standards, and so the song got limited airplay in its first year and failed to chart.
But "Happy Xmas (War Is Over)" has grown in popularity over the years, and is now standard in holiday tape loops in malls, car radios and holiday gatherings throughout the world.
Here is a three+ minute video of the song, called The Ultimate Mix, 2020, publish by johnlennon via YouTube:
The Harlem Communty Choir
Listeners are still particularly fond of the young voices singing backing vocals. On October 28, 1971, at the Record Plant in New York City, the Harlem Community Choir–30 children between the ages of four to 12 years old–were herded in to sing the rousing sing-along chorus.
Selling World Peace
The origin of "Happy Xmas (War Is Over)" coincided with Lennon's and Ono's deliberate and perhaps eccentric campaign against the Vietnam War. The year was 1969 and the streets were teeming with anti-war activists. John's and Yoko's "Bed-ins for Peace" were making scandalous headlines.
In December of that year, with Lennon still technically a Beatle, John and Yoko launched a billboard campaign (see above image) in 12 cities around the world.
Who knew the message would become the basis of an iconic Christmas song two years later?
I wish everyone Merry Christmas, Happy Crimble, Happy Hanukkah and Happy New Year! I consider it a great honor that your eyes are on this page. Thank you!