Chuck Berry's Gift: The Soundtrack for Our Time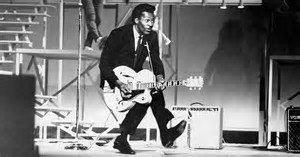 A Philly Blues Musician and Former History Teacher Measures the Late Rock 'n' Roller's Greatness
---
Editor's Note: John Colgan-Davis is a harmonica player and singer for the much beloved Philadelphia blues band, The Dukes of Destiny. He recently retired from teaching high school history at Friends Select School in Philadelphia, the place where the author and editor met and became friends.
---
In the Beginning…
The United States after World War II and The Korean War was a place of rapid and dramatic change in every aspect of American life. The electronic and manufacturing explosion during the wars gave us new developments in electronic technology such as television, FM radio, and transistors.
The GI Bill gave thousands of returning veterans new financial leverage and options. Hundreds of cities and towns expanded into places that had largely been farms and country in the '40s and created "the suburbs," along with miles of new roads, shopping centers and schools.



The baby boom created swarms of kids, and most teenagers were away in school for much of the day and not working in the neighborhood. Everything was different. It was a new era, and like most eras, it needed its own soundtrack. For much of America, Chuck Berry provided that soundtrack.
Throughout the late '50s and into the late '60s, Chuck Berry songs rang out from radios and jukeboxes all over the country. His influence was timeless and universal. His sound and approach were so powerful and revolutionary that they influenced musicians for decades to come.
When word of his recent death broke, hundreds of articles and news pieces appeared that referred to him as, "The Father of Rock 'n' Roll." He became a symbol of 50's and 60's teenage-dom, an image so pervasive that almost no film or TV show about that time period did not have at least one Chuck Berry song in its soundtrack.



When he burst on the scene with Maybelline and No Money Down in 1955, he hit the perfect time for his unique mix of inspired rhyming, clever storytelling, up-front guitar playing, and the musical jumble of country and blues. With his guitar-centered music, fast tempos and artful lyrics about cars and school, he struck a chord with millions of teens who were beneficiaries of the technological and social changes that came to define the post-war United States.
Chuck had a steady string of hits that resonated with teens of different races and from different regions of the country. He was so big that he even moved overseas. Acts such as the Beatles and the Stones started their careers playing Chuck Berry songs. He helped give birth to the British Invasion. Most of the roots and blues musicians who I know have played in bands that at one time or another played Chuck Berry songs. You simply had to do them; it wasn't even a question.
The Dukes of Destiny still do Nadine, and it always goes over well with a crowd. Everyone loves Chuck. Chuck almost singlehandedly put the focus on the guitar in rock 'n' roll. Prior to Chuck saxophones and pianos often took the lead on songs. But Chuck firmly established rock 'n' roll as guitar music with his trademark licks and his solos in just about every song.
He was also one of the early showmen in the genre, moving his body in different ways, and doing dance steps as he played guitar. It is almost impossible to see a live band these days that does not represent Chuck's approach to the music. His imprint is everywhere.
America in the late '50s early '60s was ready for someone like Chuck. Dozens of new radio stations sprouted by the mid 1950's, and the new teen market was there to be tapped by advertisers. The teens could own their music; 45 rpm records were available; they were cheap and affordable, and there were smaller, portable record players too.
Just about every city was starting its own teen dance TV show, and by the late-50's teens got to see themselves on screen celebrating their culture. Most importantly, with so many people now going to high school, teens had their more time to themselves and away from adults. Malt shops, parks, "pinball joints" and "burger joints" gave them their own places to "hangout." They also had new ways to take their own music with them. More and more of them drove and cars now had radios.



Teens also had the little pocket transistor radios-their sounds could now be with them wherever they were. They became a force and a culture of their own, and Chuck fed into that brilliantly with songs such as Maybelline, School Days, No Particular Place to Go, Roll Over Beethoven and more. These were songs that directly reflected this particular generation's view of itself as new and special, and Chuck's rhyme-fueled musical storytelling painted pictures about their hopes, wishes, frustrations, and fantasies, all the while making them dance.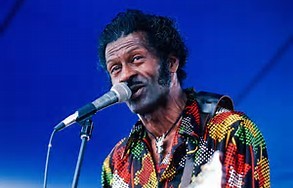 Chuck toured, played and recorded until just before his death. In 2016 he recorded his last album, Chuck, due to be released later this year. Decca Records recently released the first single from the album, Big Boys, which showed that even at 90 Chuck could still rock. For more than 60 years Chuck rocked, rolled, and at his best kept us all in touch with the beauty, joy and power of rock 'n' roll.
He was a great poet and a great musician. He will be rocking us and our offspring for decades to come. So Hail, Hail Rock 'n' Roll! And Hail, Hail Chuck Berry.
The Dukes are appearing at a couple of music festivals in the Philadelphia area this spring. For more information, go to their website at dukesofdestiny.com.