Spinners Thrived After Motown Exit
Only a Matter of Time Before Spinners Join 'Soul-Mates' in Rock Hall of Fame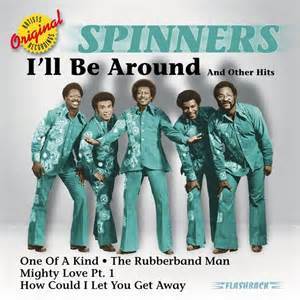 It would be quite natural to assume that perhaps the top R&B hit making machine of the 1970s, a band from Detroit, would be affiliated with that great city's home label: Motown.
Well, it started out that way. But the Spinners moved on, and created a string of hits that would make them legendary R&B melody-makers and performers. Spinners songs are firmly a part of the 1970's amazing soundtrack.
Last year, the Spinners were for the second time nominated for induction into the Rock and Roll Hall of Fame. The band couldn't prevail over the likes of Bill Withers and the "5" Royales, but it seems only a matter of time. Virtually every other R&B band or performer of the Spinners' era have made it in: The Temptations, Sam & Dave, Gladys Knight & the Pips, Earth, Wind & Fire, the Dells and Bobby Womack. The bountiful Class of '87 inducted Aretha Franklin, Marvin Gaye, Smokey Robinson and Jackie Wilson.
We're hoping the third time's the charm.
The original group banded together in a Detroit suburb of Ferndale, Michigan in 1954, and began performing as the Spinners in 1961. (They named themselves after a popular hubcap spinning around a car's wheel…very Detroit.) They were signed to a small label called Tri-Phi Records and began recording. In 1963, Tri-Phi was purchased by Berry Gordy, and the Spinners were assigned to the Motown label.
But still…no hits. Without commercial success, the Spinners band members "were used by Motown as road managers, chaperones and chauffeurs for other groups, and even as shipping clerks." In 1970, after a long absence from the Billboard charts, the Spinners finally enjoyed a Motown hit: "It's a Shame," a song penned by Stevie Wonder.
But the Spinners were about to get a makeover that could only be described as serendipity: a new label, new lead singer and a new producer that helped pioneer the "Philly Sound."
Legend has it that Aretha Franklin, an Atlantic artist, was the one who convinced the Spinners to leave Motown for Atlantic Records. But why would an R&B band on the verge of stardom leave…Motown? Original band member Bobbie Smith explained: "Motown has a lot of groups with the same caliber as the Spinners, and so we felt we were always getting lost in the shuffle. But it was a good learning experience. It was like going to college and coming out an A student."
After coming over to Atlantic Records, the Spinners hired a band member's cousin to sing lead: Phillipe Wynne. His golden voice spawned a string of hits that would cement the band's legacy: "Could It Be I'm Falling in Love," "One of a Kind (Love Affair)," "They Just Can't Stop It (The Games People Play)," and "Mighty Love." They hit #1 on the pop charts with "Then Came You," Wynne's duet with Dionne Warwick.
But it just wasn't Wynne's voice that was propelling the Spinners' success. A Jamaican-born, Philadelphia-bred producer was pushing all the right buttons.
Thom Bell's musical journey began in his adopted city of Philadelphia, absorbing the distinct R&B "Philadelphia Sound" from Kenneth Gamble, Leon Huff and Daryl Hall (of Hall & Oates fame). Bell would go on to produce the Delfonics, and was nominated for a Grammy award for the song "Didn't I (Blow Your Mind This Time)."
In 1972 Thom Bell agreed to produce the Spinners for Atlantic Records. It was the start "of a hugely successful collaboration that lasted for seven years and eight original albums. Bell revitalized the group."
Thom Bell collected a Grammy for Best Producer of the Year in 1975. Let's hope there is one more award in the cards for the Spinners…this one coming from Cleveland, Ohio.
---
---
---
Clarence Wright Responded:
I do so agree. As the mighty SPINNERS would say, IT'S ASHAME that a group like THE SPINNERS ARE not already in the rock & roll hall of fame. To me it should be called the rock & roll hall of SHAME. I DIDN'T get a chance to vote for THE SPINNERS. Because I found out about the voting going on to late. As I'm sure many people did. THE SPINNERS ARE MY favorite group of all time. I have just about ALL OF THERE ALBUMS. And I still LISTEN to and LOVE THERE SONGS TODAY. Such GREAT MEMORIES. Back when music had a meaning. And there voices combined to make BEAUTIFUL MUSIC. We had some really outstanding groups. But in my eyesight. THE SPINNERS STOOD OUT IN FRONT OF THE PACK. From "TRULY YOURS" til "MIGHTY LOVE" til "I'LL BE AROUND". And the list just goes on & on. They NEVER got there dues as they were untitled. No Grammy awards. No platinum albums. ONLY 1 of there great many songs making it to no. 1 on the billboard pop charts. They were just so under rated to me. But there AWESOME music speaks for itself. I'll be on the look out for the next time they are nominated for the Rock and Roll Hall of Fame. They WILL MOST definitely get my vote.
Lesiba Sebothoma Responded:
I am surprised that in the year 2014, the legendary spinners are still not part of rnr hall of fame where lesser groups are in it.They are one of the few acts with hits longevity and surprisingly no scandalous to speak of,if you want to be taught the value of perseverance the spinners are the group you can give a shout out,go spinners go I.