Six Cool Things About The Band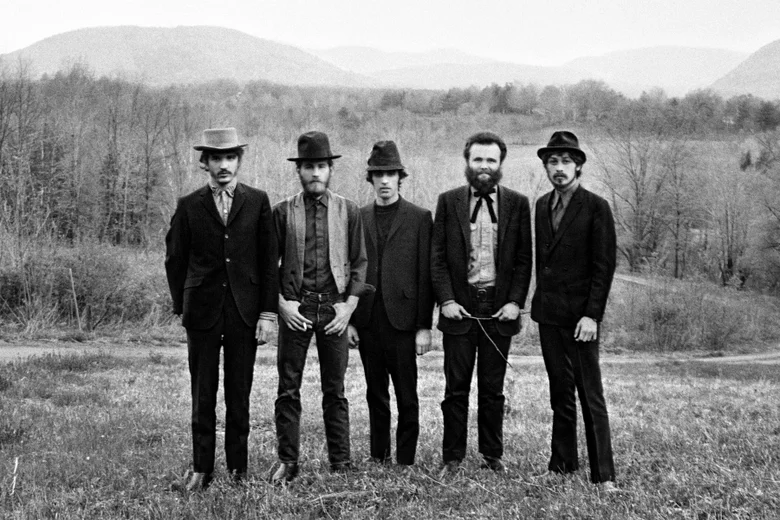 Starting as strictly backup players to two legendary performers, The Band developed a likable and totally unique sound.
Prologue
The Band was fortunate enough to cut its musical teeth playing backup to two legendary performers. The constant touring, in Canada and then around the world, gave individual Band members space to cultivate their musical chops, forge their own identities and come together as a unit.
Ronnie Hawkins' Restless Spirit
By the late fifties, the great rockabilly artist Ronnie Hawkins was a late arrival to the rockabilly craze that had swept America. The man was ready to carve his own niche. And so he rounded up his Arkansas-based band, which included drummer Levon Helm, and chose Canada as virgin territory to keep the rockabilly spirit alive.
They toured the Northern bars and honky-tonks relentlessly, but in the process, band members peeled off due to homesickness or grew tired of Hawkins' intensity and frenetic pace. With the exception of Levon Helm, they were all replaced by Canadians.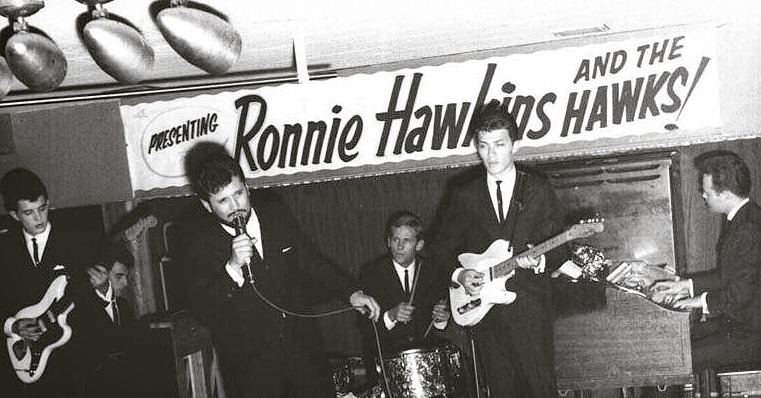 The Hawks
Who could have imagined this new group of Canadian musicians would separate from Hawkins and go on to record some of the best songs in rock 'n' roll? Here are their names, with fanciful commentary from the New Yorker magazine: Garth Hudson, the organist, "a professional mad-genius musician and instrument gearhead;" pianist Richard Manuel, "seemingly fragile, with a plaintive voice, a stunning falsetto, and a story of personal doom;" bassist Rick Danko, "impishly handsome, with a guileless, mournful voice."
Drummer Levon Helm, "perhaps the most widely-loved of them all, a bonafide national treasure, with his feral grin…and singular Arkansas Delta growl;" Last but not least, Robbie Robertson, who "wrote most of the songs, played a sneakily good first guitar and looked cool doing it."
Oh, and that other legendary performer: Bob Dylan, of course. He gets his own section below. Here are six cool things about The Band.
1) The John Hammond Connection
In its formative years, the Band was helped immensely by singer/songwriter Jon Hammond, Jr., whose father, John, Sr., was the legendary A&R man, record producer, and talent scout for Columbia Records. John, Sr. is credited with "discovering" a young Bob Dylan and signing him to Columbia. At the very least, he nurtured Dylan's budding talent and saw greatness in the young folksinger.
Meanwhile, Sr.'s son, John Hammond, Jr., who favored the blues, found himself in a Toronto bar thoroughly enjoying the act onstage, which called itself Levon & the Hawks. It probably didn't take much to persuade the Hawks to accompany Hammond back to New York City, where they would play gigs and perhaps make a record.
So Many Roads
Actually, Hammond was stitching together a band to record an album that would help legitimize the electric guitar in blues music. Released in June 1965 on Vanguard Records, So Many Roads featured an electric band playing Chicago blues. The band included three of the Toronto contingent (Helm, Hudson, and Robertson) plus Mike Bloomfield and Charlie Musselwhite. Some fellow in Woodstock, NY, was taking notice.
2) The Bob Dylan Alliance
It was only a matter of time until Bob Dylan caught wind of Hammond's transplanted Canadians. Dylan started jamming with Robbie Robertson and declared him a "mathematical guitar genius." (Of course, when push came to shove, it was Mike Bloomfield whom Dylan selected to play on the song, "Like a Rolling Stone.")
The Hawks minus Levon Helm was Bob Dylan's backup band on a 1965-66 world tour that took the musicians all over Europe, Australia, and parts of Asia. Hold on…no Levon?
Was Levon scared off by the constant booing and other hostile reactions from folk purists, who were betrayed by Bob Dylan's electronic "sell-out?" This was no joke: In his book Testimony, Robbie Robertson wrote, "We had to be constantly on alert. I adjusted the strap on my Telecaster so I could release it with a quick thumb movement to use the guitar as a weapon."
Or maybe Levon had other things to do. Let's leave him be.
In any case, eight years later, Dylan and the Band played to sold-out arenas and adoring fans on a reunion tour to support their collaborative Dylan album Planet Waves. Robertson: "We fought a good battle in '66, but we won the war in '74."
3) Big Pink
After the grueling world tour with Bob Dylan, the Hawks decided to try to make it on their own. First things first: getting Levon Helm back from Arkansas. With that accomplished, they rented a large pink house in West Saugerties, NY, just down the road from Bob Dylan's home in Woodstock.
As they were laying down tracks for their first album, they realized that the Hawks was a name from the past that was no longer valid. Richard Manuel was quoted in The Last Waltz as saying the band wanted to use the name "the Crackers," but that was vetoed by Capitol Records. It seemed that everyone just referred to them as "the Band" as in the backup band, and the name grudgingly stuck.
"The Weight"
The proximity to Dylan filled out the album quite nicely. He wrote or co-wrote three songs: "This Wheel's on Fire," "Tears of Rage" and "I Shall Be Released." But the hottest number on Music from Big Pink turned out to be "The Weight," perhaps the Band's best-known song.
If you're perplexed over the meaning of the "surreal, Bible-inflected" lyrics, you are not alone. Robbie Robertson claims he wrote "The Weight" in one sitting. When Robertson was asked who exactly are these characters like Fannie, Anna Lee, Miss Moses, Luke, and Crazy Chester, he responded, "I'm not too good at explaining song lyrics…but basically, it was all I could think of at the time."
4) The Breakthrough
The September 1969 release of the Band's self-titled second album must have been a liberating experience for all concerned. First and foremost, it established a unique identity for the group, as opposed to being at Bob Dylan's beck and call. They started touring as headliners instead of the opening act. It made them rock stars.
The album also put some jingle in their pockets. Despite it being released four days prior to Abbey Road, The Band peaked at #9 on Billboard's Pop Albums chart. Its singles, "Up on Cripple Creek," "The Night they Drove Old Dixie Down," and "Rag Mama Rag" did respectable business on the singles charts.
Frontier Spirit
Despite recording the album in a Hollywood Hills house owned by Sammy Davis, Jr., the songs turned out to be anything but LA-cool. Best Classic Bands describes the turn of events:
The material that emerged from the sessions was, in a word, transcendent. Flavored with rustic instrumentation and teeming with salt-of-the-earth and rural imagery, [the] songs…evoked America's pioneer history and frontier spirit. The songs approached musical terrain not that far removed from Stephen Foster.

Best Classic Bands
Fun Fact: To research the lyrical content for "The Night They Drove Old Dixie Down," Robbie Robertson spent months hunkered down in a library in Woodstock, NY, learning the history and geography of the Civil War era, according to Levon Helm, who provided the ride.
Here is "The Night They Drove Old Dixie Down," as part of the Band's The Last Waltz (we'll get to that), four minutes long, published by Movieclips via YouTube. Elton John is rumored to have remarked, "a drummer should never sing unless his name is Levon Helm."
5) Canadian/Americana
[The Band was] committed to the very idea of America: complicated, dangerous, and alive. Their music gave us a sure sense that the country was richer than we had guessed; that it had possibilities we were only beginning to perceive.

Greil Marcus, Mystery Train: Images of America in Rock 'n' Roll
There was a reason why the Band's landmark album "evoked America's pioneer history and frontier spirit." They had spent their formative years in the Canadian wilderness preparing for that moment.
In his book Testimony, Robbie Robertson describes his first trip south to the United States when he was a teenager. "To my ears, this was poetry coming to life," Robertson wrote. "The names of the towns and the rivers, the names of all these characters, everything has its own rhythm down here."
Mystery Train
In his 1975 book Mystery Train, Greil Marcus argues that the fact that the Band was four-fifths Canadian gave them the ability to give voice to an idea of America at precisely a moment in the sixties when people were not sure whether America was big enough to include them, too.
"They had come here by choice, after all," Marcus wrote. "They had fallen in love with the music, first as they sought it out on the radio and on records, later as they learned to play it and, wonder of wonders, define it."
Indeed.
6) The Last Waltz
By the mid-1970s, the Band's momentum hit some speed bumps. There was the much-ballyhooed beef between Robbie Robertson and Levon Helm. As primary songwriter, Robbie made more money than his bandmates and Levon complained that a lot of those songs were collectively written. It should be pointed out that Robertson was present at Helm's deathbed in 2012.
The records: Planet Waves was a success but that was Bob Dylan's album. Stage Fright, the follow-up to the Bands self-titled achievement, received lukewarm reviews despite carrying two bonafide hits. In his book This Wheel's on Fire, Helm described "a dark mood that settled upon us" during the sessions. The presence of drugs and alcohol didn't help matters.
Robertson summed it up: Tired of 16 years on the road, "eight years in dance halls, in dives and bars, eight years of concerts, arenas, and stadiums," it was time.
Winterland
Of course, they decided to go out in style. In coordination with impresario Bill Graham, the Band held a concert on Thanksgiving Day, 1976, at San Francisco's Winterland. Thanksgiving dinners were served.
Martin Scorcese was there to film it and the rock 'n' roll glitterati, especially Canadians, performed for about 5,000 lucky fans. Onstage were Bob Dylan, Joni Mitchell, Neil Young, Neil Diamond, Emmylou Harris, Dr. John, Muddy Waters, and even Ronnie Hawkins made an appearance.
It was the last hurrah for the quirky quintet that had forever earned the right to be known simply as the Band.
Coda
The Band, without Robbie Robertson, had periodic reunion concerts and records well into the eighties and nineties.
Robbie Robertson and Garth Hudson are the only surviving Band members. As mentioned, Helm died of cancer in 2012. Rick Danko died of heart failure in 1999. Richard Manuel committed suicide in 1986.
The Band was inducted into the Rock and Roll Hall of Fame in 1994.
Editor's Note: Five days after we went to press with this piece about the Band, Ronnie Hawkins died of pancreatic cancer in the early morning hours of May 29, 2022, in Peterborough, Ontario, Canada.. "Mr. Dynamo" was 87 years old.