Power-Riffing with Rock Legend Eddie Van Halen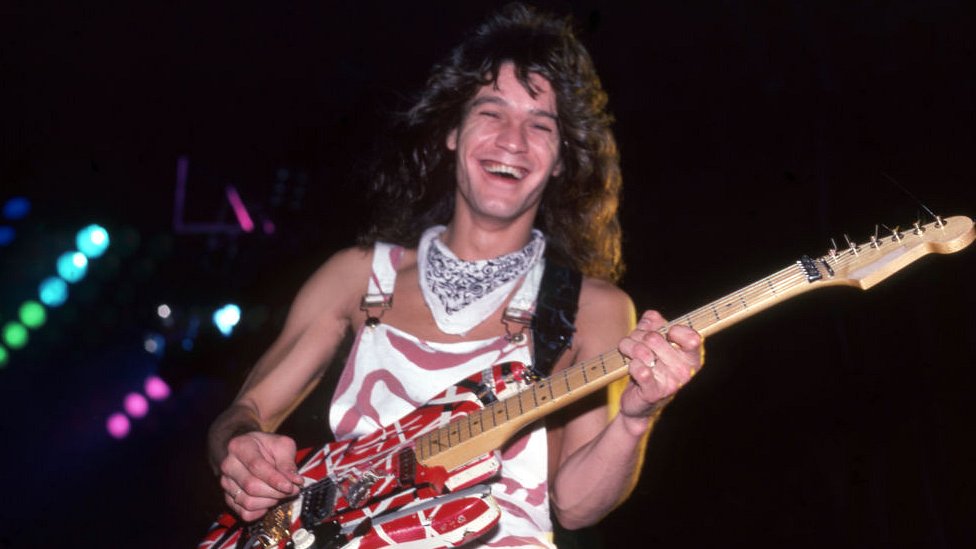 Savoring instances of the charmed but tragic life of rock's last guitar God.
The rock world on Oct. 6 lost larger-than-life guitar legend Eddie Van Halen, whose ubiquity and audacity shielded a serious musician constantly at odds with his demons. And so we mourn his loss.
In the last years of life, as cancer and alcoholism ravaged his body and soul, Eddie Van Halen proclaimed to a Rolling Stone reporter, "It's a good life, man." But he did almost everything to make that not so.
With a big thank you to Rolling Stone, which provided much of the material for this piece, I offer in no particular order five milestones in the life and times of rock's last guitar God.
Born in Holland…Sang His Way to America
Eddie Van Halen spent his first seven years in Nijmegen, the Netherlands, the town of his birth near the German border. Eddie's (and brother Alex's) father Jan was a hard-drinking, classically trained saxophonist and clarinetist who played in big bands in his native country. n 1962, the Van Halen family moved to the United States, settling in Pasadena, CA.
With very little money and a piano to their name, the Van Halens paid for their nine-day journey to America by playing in the ship's band. Eddie, by that time a skilled piano player, sat in with his father. Alex performed as well. Their musical chops earned them a seat at the captain's table.
In the early days of their musical journey, when Eddie and drummer Alex got into fierce arguments, they would lapse into speaking the Dutch language.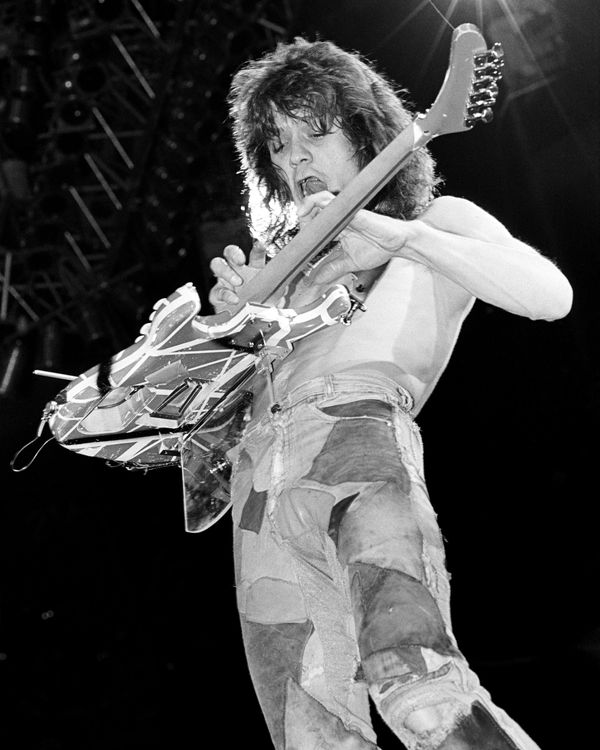 "Tapping"
Eddie Van Halen wasn't just a guitar player. As I mentioned, he was a piano-playing prodigy, winning awards in his youth. Along the way, he took up the cello by listening to the great Yo Yo Ma for hours on end. Eddie was awarded a total of 10 patents for various musical innovations.
The most prominent of his patents was a guitar support device that allowed playing while tilting the guitar face up. Eddie needed that one so he could more easily play his guitar with both hands on the fingerboard (or fretboard) of his guitar…a technique called "tapping."
Tapping allowed Eddie Van Halen to play his guitar incredibly fast. It became his trademark, although Eddie insists he was not the first one to use the technique. "Basically all it is, is you get an extra finger on this hand," Eddie told Rolling Stone, indicating the thumb on his left hand. "And you could put it anywhere you want and you can add other fingers.
"I was watching Jimmy Page do [a hammer-on riff], and I was going, OK, OK, I can play like that." Eddie's most famous tapping instrumental happened almost by accident. During a soundcheck before a show, engineer Donn Landee happened to hit the "record" button while Eddie was riffing aimlessly. Van Halen turned it into a song, titled "Eruption," a one minute, 43 second, rock guitar orgy. This video is basically the sound recording, published by Van Halen-Topic, provided to YouTube by Rhino-Warner Records:
"The Throat" Named David Lee Roth
The Van Halen brothers were instrumental purists who regarded frontmen as mere "throats," a necessary evil. When David Lee Roth made his play in 1978 to sing in the band, Eddie remarked that Roth was "no opera singer."
Nevertheless, David Lee had some things going for him: Showmanship and sex appeal; the support of producer Tom Templeman, the man Van Halen plucked from Warner Bros.; and perhaps most of all, a spacious basement in which the band could practice. David Lee Roth was in.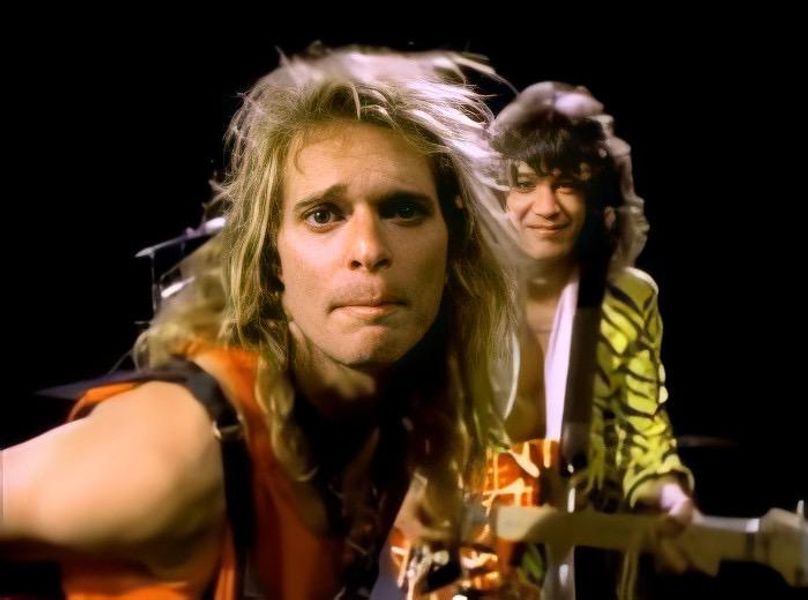 Van Halen (the band) entered a productive songwriting period that began with a song that featured the dreaded synthesizer sound. The band disdained synths, but Templeman successfully reasoned that if Van Halen were to use keyboards, they would have to be as "ferocious" as Eddie's guitar. Eddie Van Halen laid down the basic chord structure for "Jump" at his 5150 studio in the Hollywood hills. He then handed it handed it over to Roth, a process that repeatedly served them well.
Roth took a cassette into his 1951 Mercury convertible and blasted the recording over and over for an hour while he wrote lyrics and came up with a [verse] melody. It took about an hour and when Roth was done, Van Halen had officially written their biggest-ever song.

Rolling Stone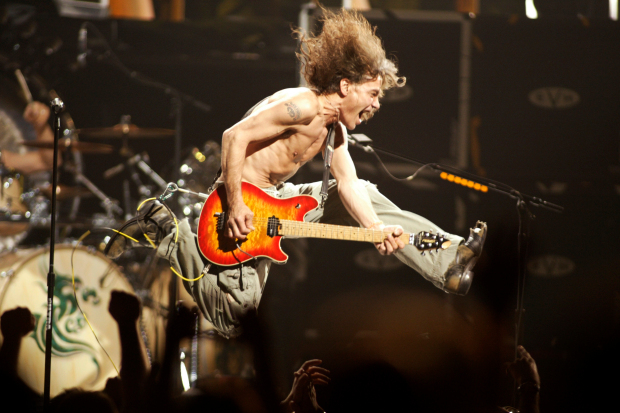 High Anxiety
Given the indisputable success of Van Halen, it is a bit puzzling to read ex-spouse Valerie Bertinelli's dedication in one of her memoirs: "Ed, you are a good man. Believe it. When you do, you'll be free." This was to a man who once sat high atop rock's eternal heap.
But she knew. Eddie Van Halen was plagued with insecurity from the start, perhaps from when he was bullied in a Pasadena school for not being able to speak English. "Every time I walk into a studio, it seems like the first time," Eddie said in 1996. "It's like I've never written a song before. I am just as scared."
At some point in his youth onward, Eddie did not have a single sober day. He drank alcohol (vodka out of the bottle…very rock 'n' roll) and snorted cocaine all day and night. "I'm actually a shy, nervous person," he said in 1998. "I used to be easily intimidated. That's why I used to drink."
Despite that important self-knowledge, Eddie didn't get sober until 2008…well after his 2000 diagnosis of throat cancer.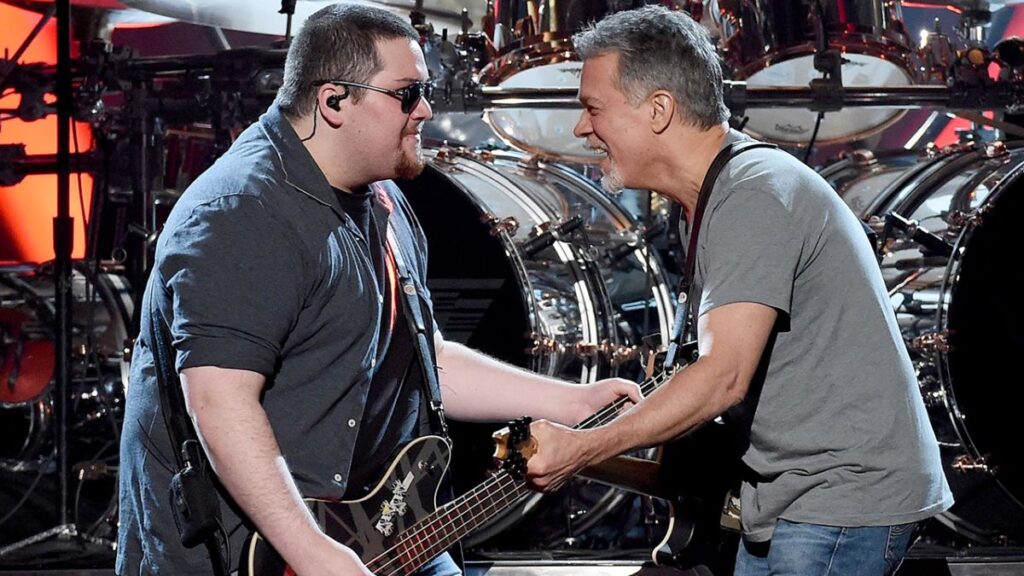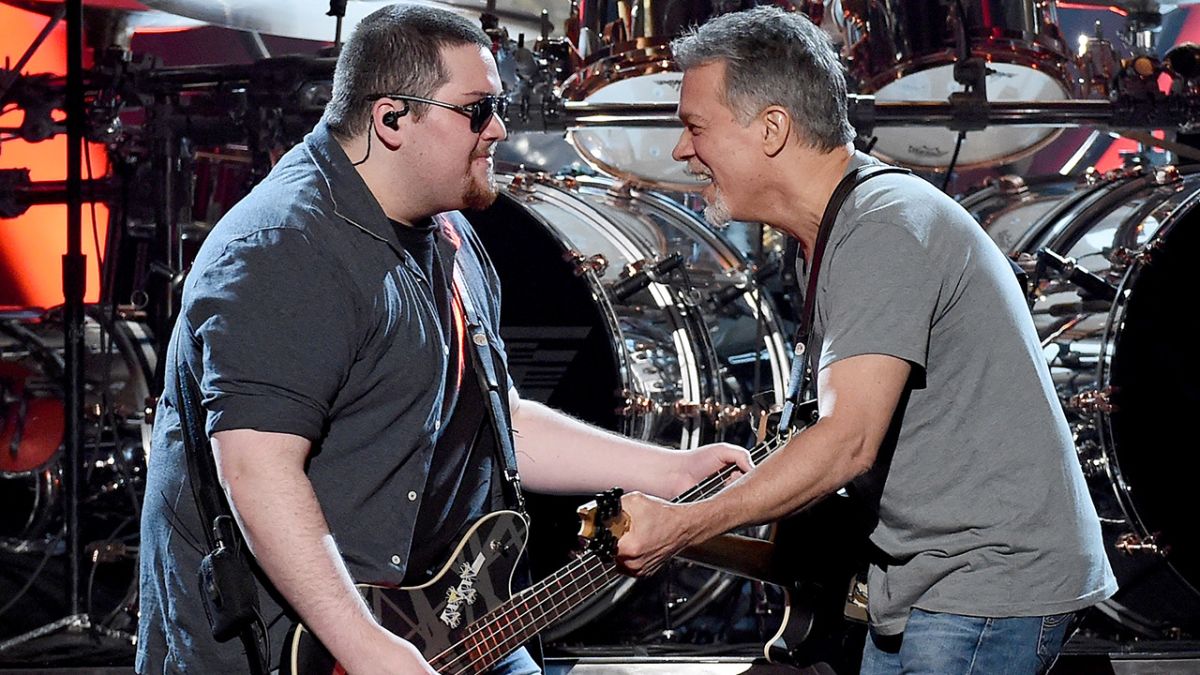 Wolfie
The nineties did not begin well for Eddie Van Halen. Still childless, Eddie began the new year at Valerie Bertinelli's Malibu home. He was heavily drinking Jägermeister and there was an argument over car keys. Valerie's father, an amateur boxer, punched Eddie in the face, shattering his cheekbone. Eddie spent another 28 days in rehab.
But as 1990 progressed, Eddie and Valerie reconnected, and by June she was pregnant with their first child. Wolfgang Van Halen was born March 16, 1991. He was named after the classical composer Mozart.
As Wolfgang grew up, watching his father find his way out of the darkness. he sat in on Van Halen rehearsals. He was especially interested in his Uncle Alex's drumkit. Eventually, Wolfgang took up the bass guitar.
In 2006, Wolfgang replaced Michael Anthony as Van Halen's bassist. He recorded his only album with Van Halen, A Different Kind of Truth, released in 2012.
Here is a quality three and a half minute video titled "The Untold Truth of Wolfgang Van Halen" that not only examines Wolfgang's integration into the band, but into his father's life. There are references to Sammy Hagar and Eddie's marriage to Valerie Bertinelli that I chose not to cover in this article. It is published by Grunge via YouTube. Enjoy!