Little Richard & Elvis: Sexual Heat Birthed the Dawn of Rock 'n' Roll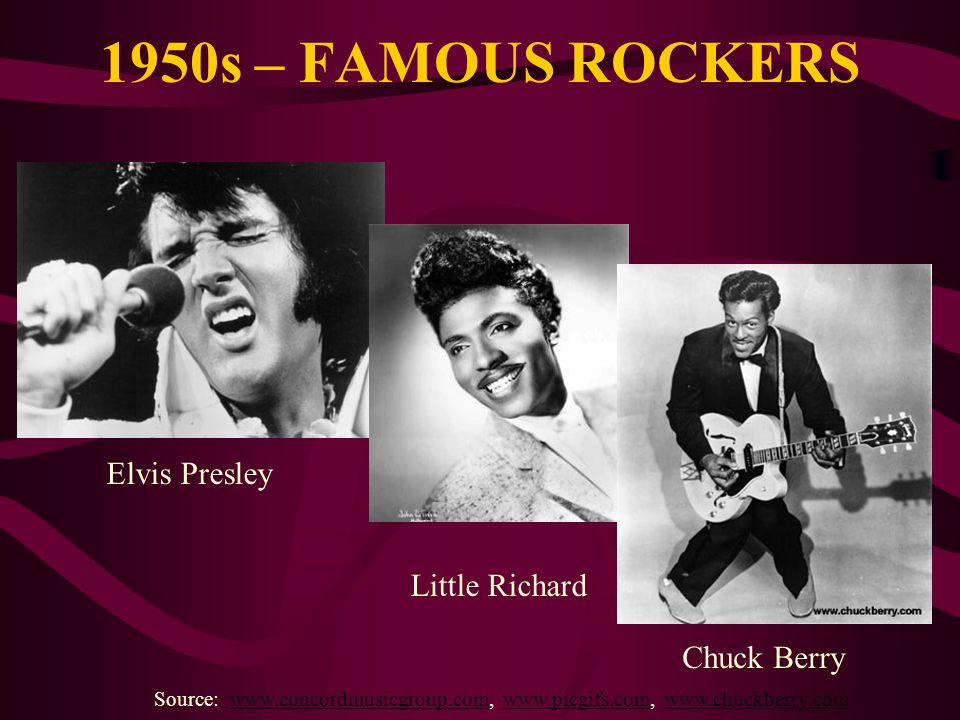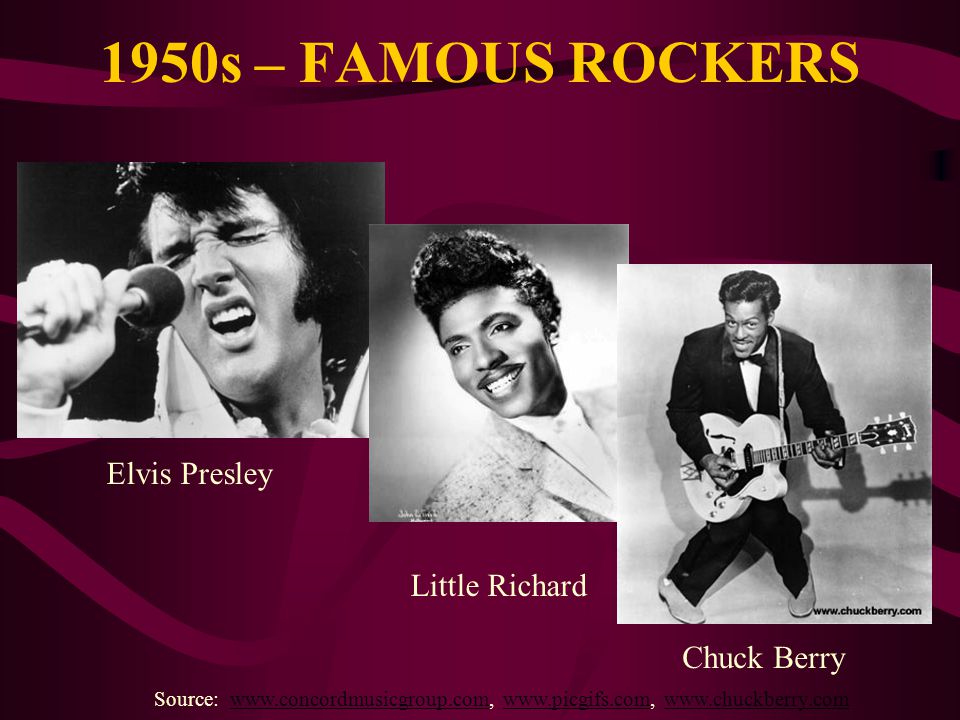 We mourn the passing of Little Richard, a rock 'n' roll pioneer who died May 9.
If you love anything about the flamboyance of rock & roll, you have Little Richard to thank. He was the first. To be able to be that uninhibited back then, you had to have a lot of not-give-a-fuck.

Dan Auerbach of the Black Keys
In the Beginning…
The United States emerged from World War II the preeminent world power and rode its good fortune to sustain a sea change in many aspects of American life. The US showed the world a more tolerant side (Jackie Robinson comes to mind). American ingenuity created an explosion in technology and electronics. Leisure time shaped the demand for consumer goods such as the television and transistor radios. Jukeboxes began to pop up at teen gathering places.
The baby boom created swarms of kids with easy access to electronic consumer goods. The kids were restless and bored. They were the first generation with time on their hands. The kids wanted something that was all theirs. What they needed was a soundtrack.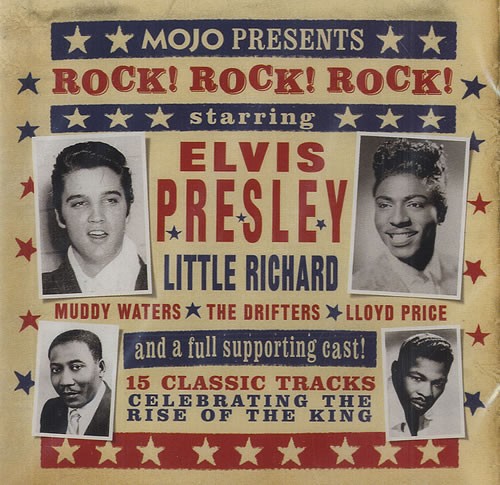 The King
Elvis Presley was the first…The King of Rock 'n' Roll. His music career began in 1954 when he recorded at Sun Records for producer Sam Phillips. Phillips (and later Col. Tom Parker) wanted to bring African-American music to a much wider audience. They figured all they needed a good looking white fellow who could sing. They struck gold.
Elvis Presley was marketed as an icon of heterosexuality. Of course Elvis's performance style as much as his physical beauty was responsible for his eroticized image. In his Elvis Presley obituary, Rolling Stone columnist Lester Bangs credited him as "the man who brought overt, blatant, vulgar sexual frenzy to the popular arts in America."
Young girls couldn't get enough of it.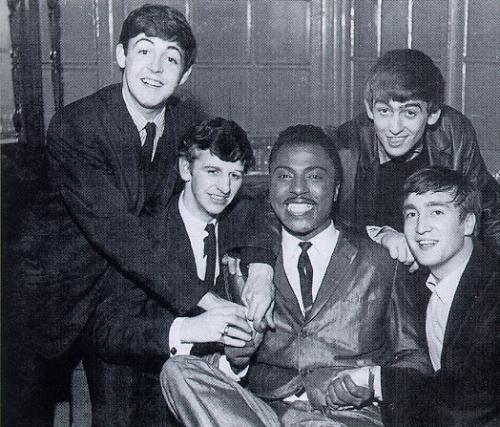 I thank God for sending Elvis to open the door so that I could walk down the road.

Little Richard
Richard Wayne Penniman was born in Macon, GA, one of 12 children of a bootlegging father. His uncles were mostly preachers, and soon young Richard was singing at a local church. His father accused him of being gay and Richard flew the roost at age 13. He moved in with a white family and washed dishes at the Macon Greyhound bus station.
In 1961 at age 16, Richard won a talent show and earned a record contract with RCA Victor. His early recordings were not successful. Richard kept plugging away with his music at the Greyhound job and notably practiced a riff during his breaks: A WOP BOP ALU BOP A WOP BAM BOOM!
Realizing it was sink or swim in the music business, Richard made a demo tape of R&B songs and mailed it to Art Rupe of Specialty Records. He waited seven months while washing his dishes in Macon before Rupe, who had been searching mightily for a "New Orleans-style" performer, dispatched Little Richard to LA to audition with Rupe's Crescent City Rhythm Section.
On September 14, 1955,the musicians gathered for what "was destined to be a crucial turning point in American music."
Along with Elvis Presley's early sides for Sun Records, Little Richard's first day at Specialty gives us a chance to say: Rock 'n' roll begins right here.

Langdon Winner, Rolling Stone
Here is a short video of Little Richard performing a screen test of "Tutti Frutti" for the 1956 film, The Girl Can't Help It, published by Little Richard via YouTube:
Gold Standard for Rock 'n' Roll Showmanship
A lyrically radio-friendly version of "Tutti Frutti" peaked at #17 on the Billboard charts, eventually selling 500,000 copies. Its follow-up, "Long Tall Sally," composed at that same Greyhound station, became Little Richard's biggest hit of his career. For the next year or so, the hits kept coming…"a glorious mix of boogie, gospel and jump blues."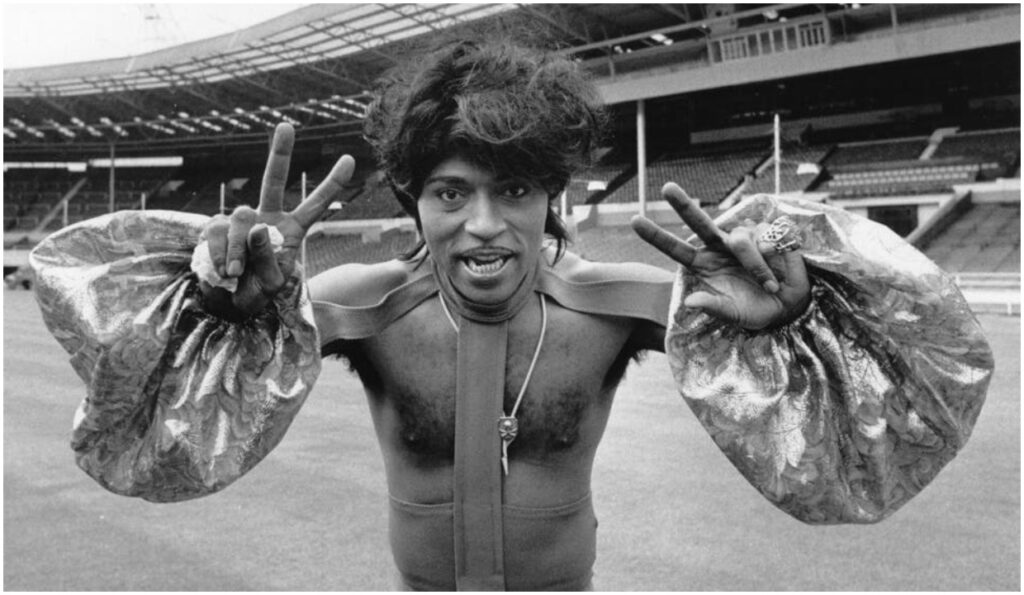 And behold Little Richard on stage, with his trademark pompadour, androgynous make-up and beaded shirts…along with his kinetic drive and almost childlike grunts and screams. "That's what the kids of America were excited about," Little Richard told Rolling Stone in 1970. "They don't want falsehoods–they want the truth."
It was a lot to ask from kids in the 1950s, going from a heterosexual icon to Little Richard's self-described "omnisexual" being. Here's proof that enlightenment would have to wait at least another decade: Pat Boone's white-bread versions of "Tutti Frutti" and "Long Tall Sally," both released in 1956, charted higher than Little Richard's original versions.
Nevertheless, Little Richard persisted. Even while his "brazen sensuality" made him a dynamic performer, Little Richard periodically condemned homosexuality and denied he was one.
This staggering internal conflict drove Little Richard from the peak of his fame. He gave up music in 1957 and enrolled in an Alabama bible school, where he was ordained a minister. "I gave up rock and roll for the Rock of Ages," recalled Little Richard in the eighties. "If God can save me, an old homosexual, he can save anybody."
Little Richard returned to secular music in 1964, and made a respectable living on the oldies circuit.
He is one of the 10 original inductees into the Rock and Roll Hall of Fame.