Songs of '71: John Lennon and Marvin Gaye Each Create a Masterpiece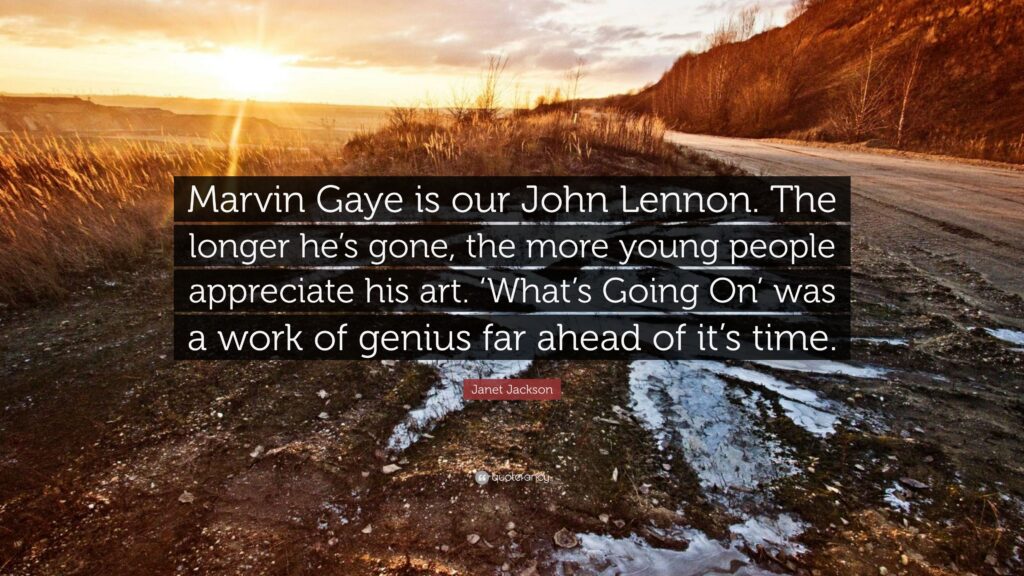 50 years ago, 'Imagine' and 'What's Going On' validated rock 'n' roll as a force for social change.
Janet Jackson had a point, you know. "Marvin Gaye was our John Lennon," she said, invoking our as being people of color, who were long excluded from the pantheon of cultural heroes. It is really a tribute to both men.
I have no opinion whether Marvin Gaye or John Lennon were ahead of their time. They certainly captured the present time…the early seventies…with transformational messages just as rock 'n' roll was finding its voice amid the turmoil of war, poverty and questioning authority.
The two men had things in common. Both had a productive prior decade of hits, fame and fortune. Both emerged from the sixties gliding with the prevailing political tide. Both experienced a life-altering event as the calendar proclaimed a new decade. Both men were soon to be ambushed by gunfire, cut down in the prime of their lives.
Imagine
The audacity of the lyrics in "Imagine" was the philosophical underpinning of John and Yoko's "ad campaign for peace." The song, released in the US in October 1971, came after a tumultuous period during which they staged a series of "bed-ins for peace" and then released the energetic "Power to the People." Lennon began hanging around with New York celebrity radicals like Abbie Hoffman and Jerry Rubin. He was politically all-in.
The song was inspired by a Yoko Ono poem in her 1964 book, Grapefruit. One particular passage: "Imagine the clouds dripping, dig a hole in your garden to put them in." Lennon admitted as much, saying, "'Imagine' should be credited to Lennon/Ono. A lot of it–the lyric and the concept–came from Yoko, but in those days, I was a bit more selfish, a bit more macho and I sort of omitted her contribution…"
A National Anthem
There's no doubt "Imagine" salvaged john Lennon's post-Beatles reputation. There were whispers that Lennon's material, though edgy and occasionally clever, stood in the shadow of Paul McCartney's bountiful and melodic solo output. The song put John and Paul on equal footing.
"Imagine," which took only one day to record on the Steinway with producer Phil Spector, had an immediate worldwide impact. Former president Jimmy Carter famously remarked: "in many countries around the world–my wife and I visited about 125 countries–you hear John Lennon's song "Imagine" used almost equally with national anthems."
Here is a version of "Imagine" touted as the "ultimate mix," by John & the Plastic Ono Band (with the Flux Fiddlers) with lush interior images of John and Yoko, published by John Lennon via YouTube:
What's Going On
Marvin Gaye's life-altering event was the untimely 1970 death of Motown duet partner Tammi Terrell, who succumbed to a brain tumor at the tender age of 24. (Lennon's life-altering event was of course the break-up of the Beatles.)
Gaye was deeply affected by this. Instead of continuing his string of upbeat hits such as "I Heard It Through the Grapevine," Gaye stopped performing live onstage and experimented with introspective songs, like Dion's "Abraham, Martin and John." Gaye became spiritual and considered retiring.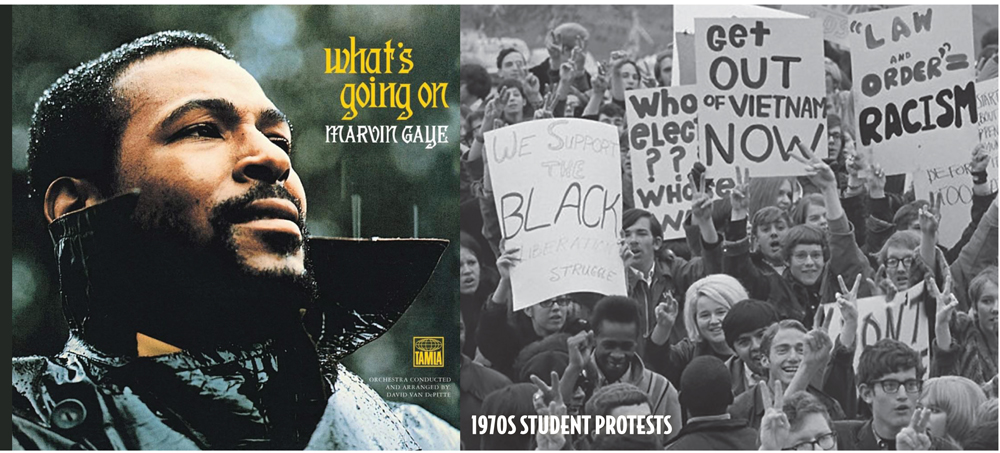 The seeds of "What's Going On" were planted when Gaye was on a tour bus in California with the Four Tops and witnessed severe acts of police brutality on antiwar protesters in Berkeley's People's Park in an incident thereafter named "Bloody Thursday." Four Tops member Renaldo "Obie" Benson reacted by saying, what's happening here? What's going on? Benson's verbosity to "Bloody Thursday" kept flowing, and his remarks were duly recorded by Motown songwriter Al Cleveland.
Cleveland naturally gave the song to the Four Tops' Benson, who passed it along to Marvin Gaye. Marvin was heavily influenced by the 1965 Watts riot, calling it "a turning point in my life." Gaye was also listening intently to his brother Frankie, who had just done a tour of duty in Vietnam. It was time to chronicle his pain.
Shimmering Sound
Gaye began recording "What's Going On" at Hitsville in the summer of 1970. He had at his disposal the Motown house band the Funk Brothers, whose gave it all they had because, as bassist James Jamerson told his wife, they knew the song was something special. Marvin even recruited Detroit Lions players Lem Barney and Mel Farr to add the mock vocal chatter in the beginning of the song. The multi-layered instrumentation and Gaye's haunting backing vocals gave the record a shimmering sound. "What's Going On" was released May 21, 1971.
Here is the "official" four minute video of "What's Going On," published by the estate of Marvin Gaye via Vevo, via YouTube:
The Songs of 1971
Here are 20 personally-selected singles released in the year 1971:
Layla – Derek & the Dominoes
Won't Get Fooled Again- The Who
Maggie May – Rod Stewart
It's Too Late/I Feel The Earth Move – Carole King
Brown Sugar – The Rolling Stones
Ain't No Sunshine – Bill Withers
Theme from Shaft – Isaac Hayes
Family Affair – Sly & The Family Stone
Morning Has Broken – Cat Stevens
Me And Bobby McGee – Janis Joplin
You've Got A Friend – James Taylor
American Pie – Don McLean
Anticipation – Carly Simon
Joy To The World – Three Dog Night
Have You ever Seen the Rain -Creedence Clearwater Revival
Just My Imagination (Running Away With Me) – The Temptations
Riders On The Storm – The Doors
Let's Stay Together – Al Green
Uncle Albert-Admiral Halsey – Paul McCartney
My Sweet Lord – George Harrison