Paul McCartney Gets His Songs Back!
Beatle Paul lost the rights to his song catalogue twice, actually.
Paul McCartney has reached a settlement with Sony/ATV Music Publishing over the copyrights of his Beatles songs. It's been a long, winding road for McCartney to own the music that he himself created, along with deceased partner John Lennon. Paul can now go on stage and perform his catalogue without tallying royalty costs to some corporation.



This latest round of Paul's quest of owning his music started in January 2017, when McCartney filed a lawsuit against Sony/ATV. The bone of contention was an interpretation of US copyright law, which sets a 56-year timeframe before a song can change ownership. Beatles songs such as "Love Me Do" and "Please Please Me" were written in 1962 and…well, do the math. (More about this soon.)
Although the settlement terms were "confidential," It appears McCartney can regain his song rights in October 2018.
Round One: Northern Songs
In the Beatles' early days, the dynamic songwriting duo of Lennon and McCartney needed a music publisher to protect and profit from their creations. Manager Brian Epstein urged the two to take up with an industry veteran, Dick James, who could help Epstein get radio play for his boys. Little did they know that the music world would soon be clamoring at their doorstep.
The publishing company was named Northern Songs, said to be a reference to Liverpool's place on Britain's map. Remember, this was right before Beatlemania. The original royalties cut would haunt Paul McCartney for a lifetime: Dick James got a whopping 50 percent; Brian Epstein, 20 percent; Lennon and McCartney each owned 15 percent; and George Harrison and Ringo Starr got 0.8 percent each. (Forget about the rounding.)



To understand the coin involved in music publishing, here's an eye-opener: By the summer of 1966, the 88 songs written and published by Lennon/McCartney amounted to 2,900 versions by different artists, who all had to pay their fair share.
Let the Games Begin
Brian Epstein died in 1967. In the tragic chaos that followed, John and Paul vigorously pursued renegotiating their deal with Northern Songs. Dick James, perhaps feeling slighted and disrespected, abruptly sold his majority shares in Northern Songs to an outfit called ATV Music for $2.5 million (about $17 million in today's dollars).
James gave no notice to any of the Beatles. John Lennon read about it in the newspapers while honeymooning with Yoko. John famously remarked, "I'm sick to death of being fucked about by men in suits sitting on their fat arses in the City [of London]."
Unable to gain control of Northern Songs, both John and Paul sold their remaining shares in the publishing company. There was a bitter aftertaste: The Beatles songwriting duo was obliged to write six more songs for ATV by 1973.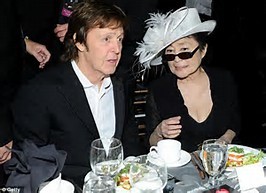 Interregnum:  Reclamation Attempts
Ownership of the Beatles catalogue remained unchanged until 1981, when ATV was sold to some Australian tycoon. Prior to the sale, McCartney was offered a chance to purchase the Beatles catalogue for $40 million. Paul turned to Yoko Ono to split the cost. This was right after Lennon's death, and McCartney did not want to appear greedy or disrespectful of his partner's legacy. Yoko declined.



Paul was given the same offer in 1984. Perhaps with an eye toward the approaching copyright reversion deadline, he famously announced that it was "too pricey." Paul's thumbs down caught the attention of John Branca, longtime lawyer for Michael Jackson. This was something to check out, mused Branca.
Round Two: Michael Jackson Pulls a Fast One
In the early '80s, Paul McCartney was still writing great songs, like "Pipes of Peace," and Michael Jackson moonwalked to the top of the charts with Thriller, still among the top three selling albums of all-time. It was only natural that they would collaborate on something. The songs were forgettable–"Say Say Say" (ugh!) and "The Girl Is Mine" ("the God-dang girl is mine"–brilliant!)–but what happened between sessions would shake popular music to its core.
I was a bit older than him, so I said to him, for a business, you ought to think about music publishing. A couple of weeks later, we were chatting and he said to me, 'I'm going to buy your songs, you know'…I thought he was kidding and then a few weeks later, someone rang me up and said, 'Michael Jackson has bought Northern Songs.
There have been some attempts to gloss over this transaction as "just business," but for McCartney, it was a clear betrayal. "I think it's dodgy to do something like that," Paul declared.
Jackson paid $47 million for the entire ATV catalogue, which included around 250 Beatles songs.  In 1995, Jackson merged ATV with his label's publisher, creating Sony/ATV Music Publishing. With that, Northern Songs dissolved. Michael Jackson's half ownership in Sony/ATV diminished to nothing in the years before his death.
A Copyright Primer
Let's keep this simple. The US copyright Act of 1976 gives songwriters the chance to recapture the publishers' share of their songs. For songs written before 1978, songwriters can get their songs back after 56 years.
According to Billboard, Paul McCartney filed a "reversion" notice with the US Copyright Office for 32 songs written between 1962 and 1964. So Paul's ownership rights would have trickled back to him beginning in 2018. Did McCartney, a spry 75, feel Father Time ticking away?



There were also these problems: US copyright law seems to conflict with a European Union directive that songs enter the public domain 70 years after a songwriter's death. And then there's the matter of John Lennon and the tangled web of who wrote what.
Paul McCartney made most of that go away (watch out for Yoko!). Good for him.