The Electric Guitar Gave Birth to Rock 'n' Roll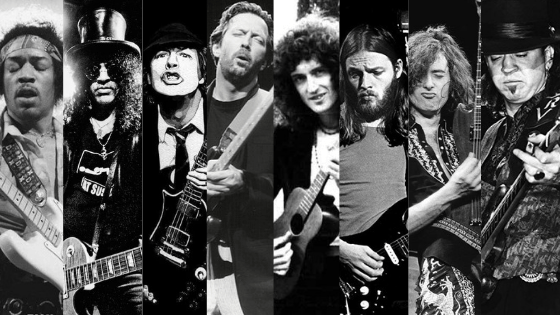 Here are five truly awesome guitar recordings, released during the golden age of rock.
This is a chord. This is another. This is a third. NOW GO FORM A BAND.

Sideburns Fanzine, 1977
The essence of rock is the electric guitar. Yes, the rhythm section and some keyboards are necessary for song-making, but without the guitar, you're looking at a pop or jazz trio.
They say the electric guitar was "invented" in 1931, when early pioneers such as Les Paul and Leo Fender approached amplifying a guitar as craftsmen rather than performers. I wonder if they knew what they were unleashing?
The Gibson Les Paul solid body electric guitar made its debut in 1952. Just in time for the baby boom, Elvis and the anti-authoritarian social upheaval that rock 'n' roll ably chronicled.
The Blues Had a Baby and They Named It Rock 'n' Roll
"The Great Migration" brought Black blues musicians north to cities like Chicago. "Chicago Blues" is electrified blues, usually with a featured lead guitarist. By the late 1940s, Chicago-based blues artists like the great Muddy Waters (McKinley Morganfield) developed a distinct amplified wailing style that would be copied by white future rock stars.
And of course there was B.B. King's electric companion Lucille.
Meanwhile, early rock 'n' roll performers in the 1950s like Buddy Holly and Chuck Berry took the electric guitar to new heights with crisp chiming sounds and clever showmanship. You can draw a direct line from those early days to Pete Townshend's "windmills." It thrilled My Generation.
Here we go:
"Are You Experienced" Jimi Hendrix, The Jimi Hendrix Experience, 1967.
So many choices from a tragically short career. I settled for the song that propelled Hendrix off the R&B circuit into London's hard rock world, from his first album of the same name, an album that also gave us "Purple Haze" and "Foxy Lady."
Please enjoy this three and a half minute "behind the scenes" video that pays tribute to Hendrix's versatility and incisive musical instincts, published by Jimi Hendrix via YouTube:
"New Potato Caboose" Jerry Garcia, The Grateful Dead, 1968.
Despite the Grateful Dead's Bear-inspired improvisational leanings, the band's self-titled first album was tight and conventional. Garcia's lone guitar solo was on "Cream Puff War."
Remarking on the Dead's second album, Anthem of the Sun, drummer Bill Kreutzmann wrote in his book, Deal: "It was easily our most experimental record. It was groundbreaking at the time, and remains a psychedelic listening experience to this day."
On the raucous side one of the record, studio tracks and live parts from Bear's (Owsley's) sonic diary were spliced together, creating an amalgam of loosely-connected songs. One song, "New Potato Caboose," stands out in particular, because Garcia (with Bob Weir's help) gets more than his due. His solo, beginning at 4:03, starts out slowly, sweetly, and lasts the remainder of the song, hitting its crescendo at 8:48. Here it is, published by Grateful Dead and Rhino/Warner Records via YouTube, 4:45 of guitar magic:
"Happenings Ten Years Time Ago" Jeff Beck & Jimmy Page, The Yardbirds, 1966.
As I've written elsewhere on this website, the Yardbirds, a British band that lasted five years, had on its roster three of the greatest guitar players of all-time. When Eric Clapton left the Yardbirds to play the blues with John Mayall, he suggested hiring Jimmy Page. But Page demurred, citing lucrative studio work.
Jeff Beck was chosen as lead guitar. But in subsequent personnel shifts, Page returned to the band…as its bass player. Beck was fired midway during a tour of America and Page took over. But in a recording studio before the American tour, Jeff Beck and Jimmy Page, who would both go on to have gigantic careers, created a bit of psychedelic magic as dual lead guitars in "Happenings Ten Years Time Ago."
Here's an image-filled three-minute video, published by riffaholik via YouTube:
"Woodchopper's Ball" Ten Years After, 1968-1983
Alvin Lee, named "the fastest guitarist in the west," was the lead guitar of the British rock band Ten Years After, best known for its stunning performance of "I'm Going Home" on the original Woodstock stage.
Lee's performance at Woodstock was captured in the popular film documentary of the event and brought the band instant stardom. Ten Years After played blues-oriented rock with passion and urgency. In 1971, the band signed with Columbia Records and released more commercial material, like the hit "I'd Love to Change the World."
The band is still active, even though Alvin Lee died in 2013.
One year before Woodstock changed their fortunes, Ten Years After toiled in obscurity on the Decca label. The band decided in 1968 to release a live album, perhaps to show the world its "fastest guitar in the west." The live album Undead featured a song "Woodchopper's Ball" that set some sort of land speed record for the electric guitar.
Here is a portion of the song, about a minute long, four measures of athletic picking by the "fastest guitar in the west," presented to YouTube by Universal Music Group:
"The End" The Beatles, 1969
While recording "The End," the Beatles were possibly aware that this could be their final song as a band. In his book Can't Buy Me Love, author Jonathan Gould provides a masterful summary:
In the blink of an eye, the musical setting had shifted from the orchestral uplift of strings and brass to the rawest variety of rock 'n' roll. Instead of a grand symphonic ending, McCartney had chosen–at the last possible moment–to bring the Beatles and their listeners back to the place where it all began…to the simple setting of John, Paul and George sawing away on their three guitars, [emphasis mine] as they had done…from the time George joined the Quarry Men eleven years before.
"The End" becomes an instrumental round-robin composed of nine two-bar solo breaks in which Paul, George and John (in that order) trade licks, with each guitarist playing off or building on his predecessor's effort. Recorded live in the studio, these rotating two-bar solos are like musical character sketches.
Here is a study of that final Beatles' guitar interplay, with the Beatles' audio performed by JUN626 via YouTube: