Back in the Day: Punk Rock versus Disco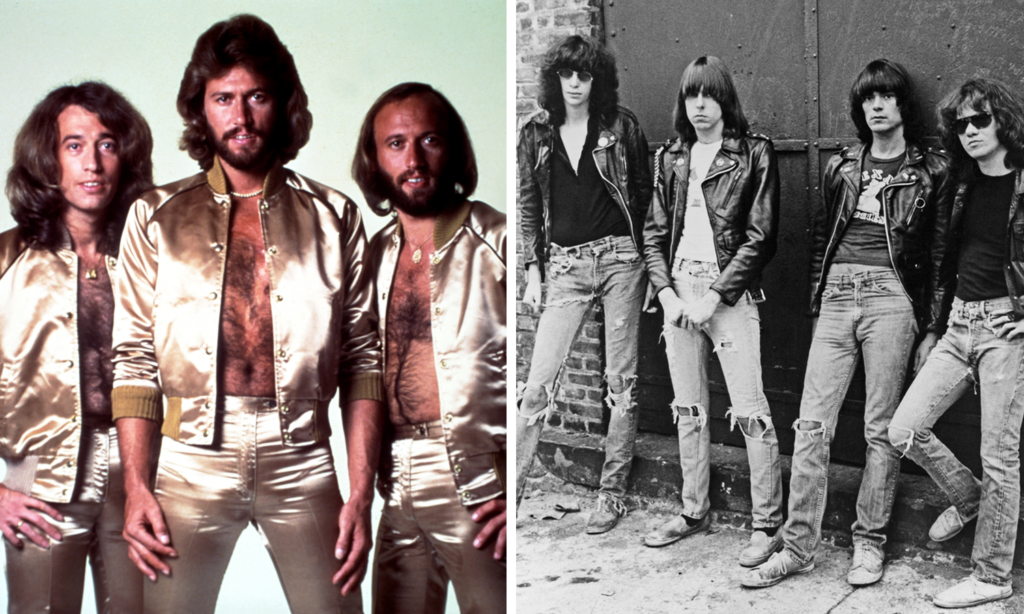 The story of a clash of cultures in the late '70s.
In the midst of all those great rock acts of the seventies–Eagles, Billy Joel, Springsteen, Doobie Brothers, Bob Seger…the list goes on and on…there existed an undercurrent of musical insurgency that would end up defining the decade.
Especially during the second half of the seventies, two musical genres thrived as almost polar opposites. Punk rock and disco music would emerge to represent the existential collision of race, class and culture.
I was there to experience it all. I lived in both worlds…happily, I might add.
Punk Rock
Punk rock (or punk) began in the garage with an attitude. Punk pioneers sneered at FM-friendly, mainstream rock as commercialized, formulaic and timid. They yawned at the predictable verse-chorus love song with a middle eight guitar. Where was the rock 'n' roll?
Bands such as the Ramones, the Clash, Television, the Smiths, Minor Threat, Richard Hell and the Voidoids, the Dead Boys and the New York Dolls (their outrageous names helped define the genre) played with pent-up fury: sped-up tempo along with stripped down instrumentation; "fuck off" lyrics sung to maybe three power chords of guitar aggression. It was pure. It was mischievous. It was bad. We loved it.
Here's are those Ramones, live at New York City's Winterland on Dec. 28, 1978, published by Alt Rock on MV via YouTube:
From the Ramones to Green Day
Reluctant punk trailblazers the Ramones formed their band in 1974 in their native Queens, New York City. They were not related. Band members adopted stage names all ending with the surname Ramone. They were in the right place at the right time.
Starting with Dee Dee Ramone's signature rapid-fire shout of "1-2-3-4!" the Ramones played their songs very fast and very short; most were clocked at around two minutes. Their song titles, like "Gimme Gimme Shock Treatment," "Psycho Therapy" and "Blitzkrieg Bop" suggested a desire for some kind of apocalypse (or else sessions with a psychiatrist). 
The Ramones landed in a brand new music scene that was based in two legendary New York "new wave" nightclubs, Max's Kansas City and CBGB (ironically, it originally stood for "country, bluegrass and blues"). Everyone was making money.
As the clock struck 1980, punk rock bands had become hitmakers: the Cars, Blondie, the B-52s and Talking Heads come to mind. The Clash's London Calling, a masterpiece by any genre, was being called "important" by rock critics.
In my opinion, the punk torch was successfully passed to the present in the form of Green Day. Since each original Ramone is now dead, their legacies are well-preserved with the supremely talented, recent rock hall-of-famers Green Day. Punk is in good hands.
Romance on the Disco Dance Floor
Though I'm a dedicated rock 'n' roller steeped in the blues, I have extremely fond memories of disco: the music and the scene. Maybe it was because I had just returned from the Army overseas and was, uh, looking for some romance. (If you can't find romance on a disco dance floor, well…)
I mentioned the music and the scene. Both were integral parts of disco music. Disco music itself was basically rhythm and blues (soul) with an occasional Latin salsa thrown into a mix that included soaring harmonized vocals, a lush orchestral background, a steady, pounding "four-on-the-floor" beat, but with an off-beat hi-hat pattern and syncopated bass. That's what got people moving on the dance floor. Electronic synthesizers found a home in disco music.
Dancing Machine
The early-'70s discotheques in New York and Philadelphia (the term in French is literally "library of phonograph records") had become a gathering place for an eclectic mix of black, Latino and openly gay club-goers. The DJ was central to this emerging dance culture, and created a dance floor dynamic that seemed to unite the diverse crowd.
The disco dance floor remarkably was a testimony to social progress. Of course, as we shall see, resistance always rears its ugly head.
Disco's Last Gasp: The Bee Gees
From the orchestral grooves of Gamble & Huff's "The Sound of Philadelphia (TSOP)" through the great Donna Summer, KC and the Sunshine Band and Gloria Gaynor's anthemic "I Will Survive," disco had had a good run by 1978. Who would have thought that a trio from Queensland, Australia, whose lead singer sang in a hyper-modulated falsetto voice, would propel disco to unimaginable heights?
The Bee Gees–Robin, Barry and Maurice Gibb–were already pop hitmakers when entertainment mogul Robert Stigwood approached them with an idea for a soundtrack for what turned out to be the blockbuster movie, Saturday Night Fever. The band's signature song, "Stayin' Alive," was the second of six consecutive number one singles from the film. Here's a scene from the movie, one of the most iconic dance scenes in film published by Alexandre Riberio via YouTube:

Rock Rebellion
Certain rock 'n' rollers were already regarding disco with a certain amount of dismay. With the notoriety of Saturday Night Fever, the contempt came out in the open through rock FM radio. It wasn't just the lack of electric guitars or squeaky-voiced pop singers that made rockers uneasy. The subtle reasons for the denunciations were racial, social and misogynistic (sound familiar?).
The heartland regarded discos as decadent urban havens for homosexuals and minorities of all stripes. Also, rock had up to this point had been a male preserve. Disco helped break that glass ceiling by featuring women such as Donna Summer, who had been performing in Europe to make decent money as an entertainer.
And then it all blew up.
Disco Demolition Night
Chicago disc jockey Steve Dahl had it all figured out: the very existence of disco threatened rock 'n' roll. And, no, DJ Dahl wouldn't sit idly by and watch his world end as he knew it. He had a plan.
On July 9, 1979, Disco Demolition Night was held at Comiskey Park, the home of the baseball Chicago White Sox. The owner of the team, Mike Veeck, allowed Dahl to blow up a bin full of disco records in centerfield between games of a twinight doubleheader. Dahl's listeners were allowed admission into the game for 98 cents if they brought a record to be destroyed. What could go wrong?
Game attendance, announced as 47,795, was closer to 60,000. A player remembered, "people brought ladders. They were climbing in from the outside. It was like a riot."
It Was like a Riot
A riot indeed. After the records were blown to bits (an estimated 20,000), fans en masse charged the field and tore up the sculpted grass and base paths. The pitching rubber, the bases and home plate were all taken as souvenirs.
The White Sox were forced to forfeit the second game of the doubleheader.
No, it didn't spell the end of the disco era. But the writing was on the outfield wall.