When The Rolling Stones Crossed Over to Atlantic
The label switch came with a cast of characters: Ahmet Ertegun, Marshall Chess and Prince Rupert Loewenstein.
The first meeting between Atlantic records president Ahmet Ertegun and suitor Mick Jagger wasn't exactly what you'd call a summit.
Ertegun didn't have to guess that Jagger, whose band would be soon freed from its recording contract, was interested in Atlantic. Twice already, a Stones roadie had knocked on Ertegun's Hollywood bungalow to tell him where Jagger was and how they could hook up. Tired and jet lagged, Ertegun failed to show up at either place.
The next night, a liaison was set for the Whisky-a-Go-Go. Ertegun tells According to the Rolling Stones:
I call ahead for a table…and Mick arrives at twelve-thirty…Mick sits down and starts telling me about their recording plans. He start talking and I doze off. I remember this girl shaking me, going "wake up, wake up, it's Mick Jagger, he's telling you something important." Here he was telling me that The Rolling Stones had decided to sign with Atlantic Records, and I had fallen asleep.

As it turns out, my apparent nonchalance served me well. Mick loathes pushy people, and he loved the fact that I fell asleep in his face.



A contract was signed creating Rolling Stones Records, with Atlantic sole distribution partner. Ertegun gave the Stones a one million dollar advance for their first album on the Atlantic label: Sticky Fingers. Atlantic easily recouped the money and then some. But there were lingering issues Ertegun could not solve.
Give Me Shelter
Despite numerous recording achievements in the sixties, the Stones were practically broke when they met with Atlantic, the result of its catastrophic management deal with Allen Klein. You can read my account of it here.
To summarize, Klein gained control of the Stones' publishing company, Nanker Phelge, and accordingly owned the rights to all of the Stones' songs recorded during their tenure with Decca/London Records. On July 31, 1970, the contract expired. Mick Jagger explained the break-up:
It was for songwriting royalties that [Klein] owed Keith and me from 1965 onward. I wasn't particularly happy about [surrendering ownership of the original songs]. I just wanted to get rid of him. He's just living off us…It's pretty pathetic.
The Rolling Stones needed conscientious financial management. Enter Prince Rupert Loewenstein.
"Rupie the Groupie"
Spanish-born Prince Rupert Loewenstein was scion to two royal houses in Bavaria, Germany. His partial Jewish lineage was probably a factor in Prince Rupert and his mother moving to England in 1940. There, he attended the finest schools and went to work as a stockbroker in 1963.



Prince Rupert met Mick Jagger in 1968 through a mutual friend, and was put to work straightening out the band's tortured finances. It was Prince Rupert who made the Stones rich by encouraging them to consider tax advantages in any decision on where to live, rehearse and perform. His advice took the Stones to the south of France and to Muscle Shoals, Alabama. He had kind words about the Stones' new label:
The joy of working with Atlantic after the band's sad experiences with record companies and managers in the 1960s had been enormous. [Ahmet Ertegun's] wisdom and enthusiasm were of great help to the band in their new recording career.
Rolling Stones Records
Before becoming founding president of Rolling Stones Records, Marshall Chess worked for his father Leonard and his Uncle Phil for 16 years at the iconic Chess Records in Chicago, home to just about every blues recording artist who ever lived. (You can read my profile of Chess Records here.)
Chess recounted his first contact with the Stones:
In the spring of 1964 [Stones' manager] Andrew Oldham contacted me at Chess Records. Andrew wanted to know if the Stones could come to Chicago and record in our studios.
That makes perfect sense. The Rolling Stones first allegiance was to the blues. When Chess Records closed its door in 1969, heads naturally turned to Atlantic.



Marshall Chess made contact with Mick Jagger in London and was invited to his house. Chess:
While we talked, [Jagger] danced to Clifton Chenier's "Black Snake Blues." He told me the Stones wanted to start a label. I told him I had to know in two weeks or I was going to start my own label. Astonishingly, on the fourteenth day, a telegram arrived and the adventure begun.
The adventure ended for Marshall Chess in 1977. He cited the constant presence of drugs.
Sticky Fingers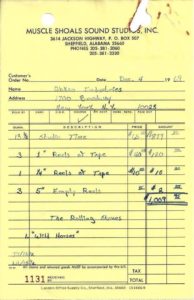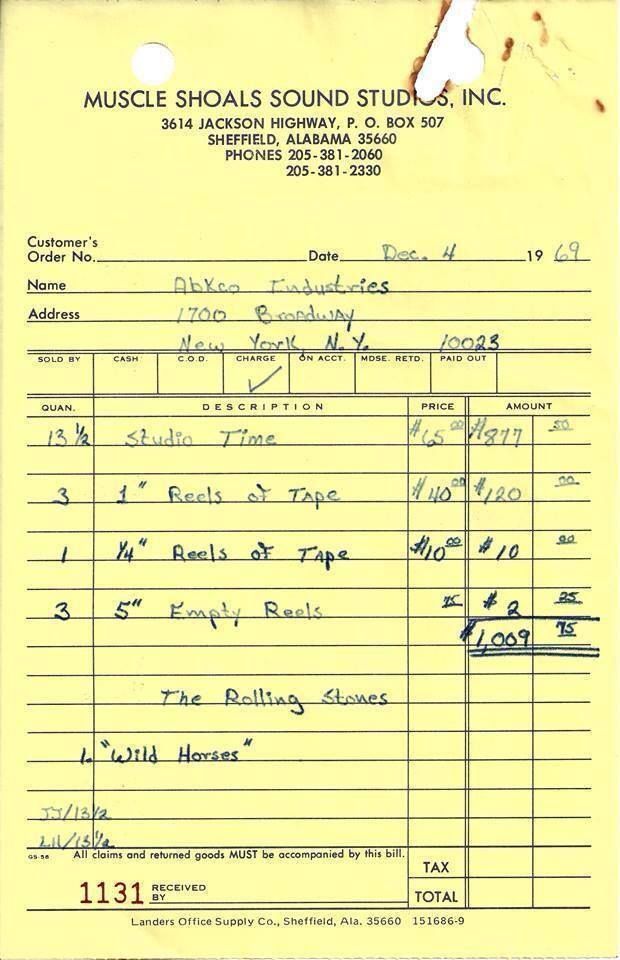 Ahmet Ertegun's belief in The Rolling Stones was amply rewarded when Sticky Fingers became the first Stones' record to go number one on both the US and British album charts. The song, "Brown Sugar" climbed to number one in the US.
The euphoria of success couldn't even be diminished by the fact that two songs written under Allen Klein's thumb–"Brown Sugar" and Wild Horses"–were half his.
We went to Alabama and played at the Muscle Shoals studio. That was a fantastic week. We cut some great tracks…"You Gotta Move," "Brown Sugar" and "Wild Horses." The Muscle Shoals studio was very special…where drums were on a riser high up in the air. I placed my drums in the place where Ronnie Hawkins used to have his kit.