Neil Young & Lynyrd Skynyrd: The Friendliest of Feuds
Mutual Admiration Made Them Pivot to Damage Control
At the center of it all was a 1974 hit song by Southern rock pioneers Lynyrd Skynyrd. The song, "Sweet Home Alabama" was either a "redneck" anthem that salved Southern wounds of Northerners' harsh and unfair judgment of the South's racial attitudes…or it was a light-hearted "joke" that embraced just a little bit of friendly score-settling. Here it is, courtesy of YouTube.

The lyrics that created a stir went like this:
Well, I heard Mister Young sing about her
Well, I heard ole Neil put her down,
Well, I hope Neil Young will remember
A southern man don't need him around anyhow.
Neil Young and His Causes
After acclaimed stints with Buffalo Springfield and Crosby, Stills, Nash & Young, Canadian-born Neil Young released several solo albums that established Young as a prolific songwriter who was quite willing to take up liberal causes. Young had written the anthemic "Ohio" for CSN&Y right after the 1970 Kent State massacre of anti-war protesters. Three months later, in his third solo album, After the Gold Rush, Young tackled the issue of race in the song, "Southern Man."
Southern man, better keep your head,
Don't forget what your good book said,
Southern change gonna come at last,
Now your crosses are burning fast.
Young's fourth solo album, Harvest, the best-selling record in the US in 1972, included the song, "Alabama."
Oh, Alabama,
Banjos playing
through the broken glass windows
down in Alabama.
See the old folks
tied in white ropes,
Hear the banjo.
Don't it take you down home?
In his 2012 book Waging Heavy Peace, Young expressed regret about the song, "Alabama."
"I don't like my words when I listen to it today," Neil Young wrote. "They are accusatory and condescending, not fully thought out, too easy to misconstrue."



Young's ruefulness might have been rooted in both Neil's and Lynyrd Skynyrd lead singer and songwriter Ronnie Van Zant's struggle to make things right after the damage was done. That effort, based on mutual admiration, was stopped abruptly by tragedy.
The Crash
On October 20, 1977, three days after the release of Street Survivors, the band's final album as an original unit, three members of Lynyrd Skynyrd–Ronnie Van Zant, Steve Gaines and Cassie Gaines–died when their chartered aircraft destined for a concert in Baton Rouge, LA, crashed somewhere over Mississippi. There were survivors.



Just weeks after the accident, Neil Young played a benefit concert to raise money for a children's hospital. Near the end of his set, Young played a medley of songs that included his own "Alabama" and Lynyrd Skynyrd's "Sweet Home Alabama."
Young has not played "Alabama" a single time since that night in Miami.
There are at least two takes to Ronnie Van Zant's view of the Neil Young reference in "Sweet Home Alabama."
"We thought Neil was shooting all the ducks in order to kill one or two," Van Zant told Glide Magazine. "We're Southern rebels, but more than that, we know the difference between right and wrong."
Van Zant, who was born and raised in Florida, told Rolling Stone: "We wrote 'Sweet Home Alabama' as a joke. We didn't even think about it. The words just came out that way. We just laughed like hell and said, 'Ain't that funny?' We love Neil Young. We love his music."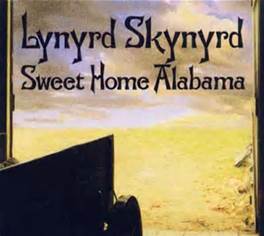 In the book Freebirds: The Lynyrd Skynyrd Story, Marley Brant wrote:
While the rebuttal was heartfelt, Skynyrd held Neil Young in high regard for his musical achievements and they weren't intending to start a feud of any kind. "Neil is amazing, wonderful…a superstar," said Van Zant. "I showed the verse to [California-born guitarist and bassist] Ed King and asked him what Neil might think. Ed King said the tune was not so much a direct attack on Neil Young but just a good regional song."
Neil Young in Mojo Magazine:
Oh, they didn't really put me down. But then again, maybe they did. (laughs) But not in a way that matters. Shit, I think "Sweet Home Alabama" is a great song. I've actually performed it live a couple of times.
Ah, the transcendental nature of music.