Main Line Former Textile Designer Enjoying Second Act in the Fine Arts
By Andrew Goutman
Priscilla Bohlen on her second go-round in art: 'It's a great life!'
It was author F. Scott Fitzgerald who said famously, "There are no second acts in American lives." The line shows up in his unfinished novel, The Last Tycoon, which ended up being published posthumously in 1941. Fitzgerald might agree that he had been proven wrong.
Count Priscilla Bohlen as one who's at odds with Fitzgerald's assertion. She's living proof that there are indeed second acts.
Moore College of Art and Design
When it came time for college, Priscilla knew she had art in her blood: her mother was a visual artist and a grandmother knitted sweaters for her Main Line shop. By heeding paternal advice (you have to make a living!), Bohlen chose Moore College of Art and Design in Philadelphia (disclosure: my father taught painting at Moore for three decades) with a major in textile design. You don't hear a lot about "starving artists" in textile design.
She earned a Bachelors of Fine Arts at Moore and moved to New York City to design patterns for domestics (Priscilla got free sheets and towels for the duration). Here is an example of Bohlen's textile work, chosen because the design reappears in one of her recent fine art pieces:
Now here is the same design but layered with an acrylic background:
Priscilla Bohlen Comes Home
So why would someone achieving a successful career in the arts in New York City ("if you can make it there, you can make it anywhere") come back to the old neighborhood?
"It was right after 9/11," Bohlen remembers, " and I was regularly visiting my father, who was ill. It just kind of made sense to be close to family. I was never a New York kind of girl…too much concrete. I had a chance to come back to my roots and I took it. I've never looked back."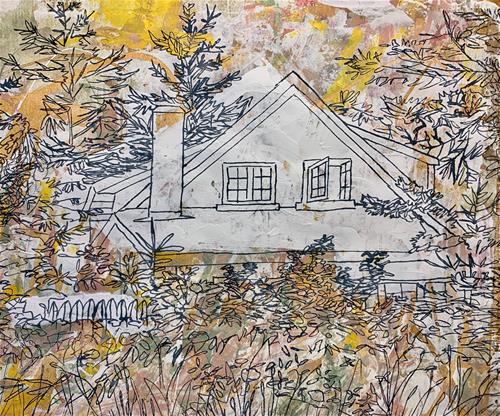 Continuing Education
Back on the Main Line, Bohlen decided to flex her creative muscles by concentrating on painting: working on canvass using acrylic paint or watercolors. Though she had painted her entire life, Bohlen was leaping into an entirely new technique, one that did not come with a road map. No more of the workaday routine of New York. Priscilla would find her own way.
So she took classes at the Wayne Art Center and the Main Line Art Center. She became a juried member of the Delaware Valley Art League (DVAL), ARTsisters, Philadelphia Tri-State Artists Equity and Mixed Media Ten, volunteering and making lots of friends.
On Painting
Painting is a way to share my love of the interplay of color, shapes and paint. It is also an adventure that I like to 'change up,' working full reign with my tools. I search for mood and drama to create a positive response.

Shapes combined with color continually intrigue me, forever changing in the light.

The painting dictates what it needs and the painting tells me when it is finished.

Priscilla Bohlen
Accomplishments
Priscilla's presence at juried and solo shows heated up around 2015, with pieces in galleries stretching from the Berwyn Art and Photo Gallery, the Cheltenham Art Center, Penn Med Valley Forge, the Ludington Library in Bryn Mawr, the Cosmopolitan Club in Philadelphia all the way to the Villa Nobile in Tuscany, Italy.
She's very proud of the first prize she received for a watercolor hung at a juried show for the DVAL in May 2015.
Today, Priscilla Bohlen lives in Narberth, PA, surrounded by her paintings and her cats.
On Technique
I like to apply a resist to an active, colorful background; cover it with a complementary layer of paint, then remove the resist, exposing part of the activity underneath. From there, I have a challenge to make it all work as a composition. It requires many layers of resist and happy accidents, until I am satisfied. I love the richness and the surprises that the undertones lend to the final piece.

Priscilla Bohlen
183 works of art by Priscilla Bohlen are displayed on her website, which can be found here.
---
Nature-Loving Main Line Artist Revels in Distinctive Patterns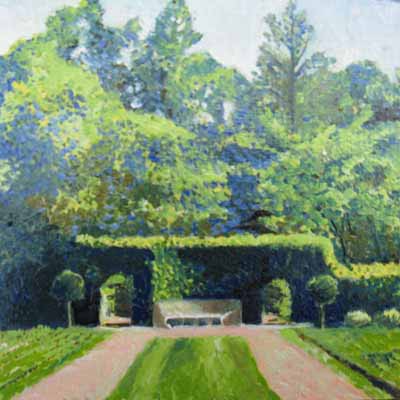 By Andrew Goutman
Susan Curtin is disciplined in Pointillism, a difficult painting technique that distinguishes her landscapes and portrayals of animals.
"The tendency in art now is to paint very loosely…with big brushes," remarks Susan Curtin, whose home and art studio are in West Chester, PA. "I wanted to do something differently."
That would be the practice of Pointillism, an intricate painting technique developed around 1886 by the great impressionist Georges Serat.
"Everyday," says Curtin, "I drink out of a Serat cup."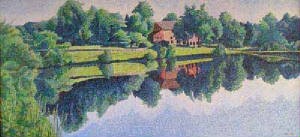 Summer Pond Reflection – In my Pointillist pieces, I apply layer upon layer to achieve color and tone that feels right. I stand back, tilt my head, then return for my next move…sometimes working at the easel and sometimes working flat.

Susan Curtin
Pointillism
Wiki says Pointillism is a technique of painting in which "small, distinct dots of color are applied in patterns to form an image….It relies on the eyes and minds of the viewer to blend the color spots into a fuller range of tones."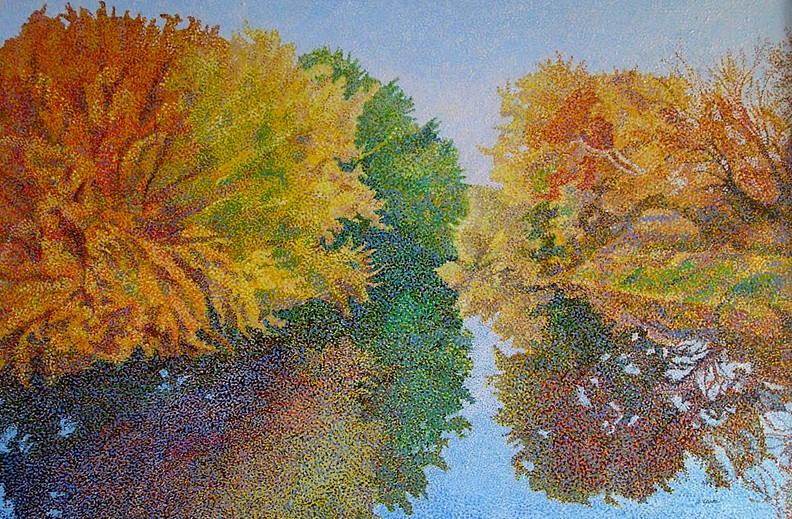 Curtin: "I've met artists who tried the technique and vowed never to do it again…It takes a lot of time and it's about layering and having your eyes blend things…It's playing with color…I use very small brushes.
"It was a discipline I felt I had to learn to paint landscapes. It has a meditative quality to it. I remember studying the work of Georges Serat at museums and thinking to myself: I want to do this!"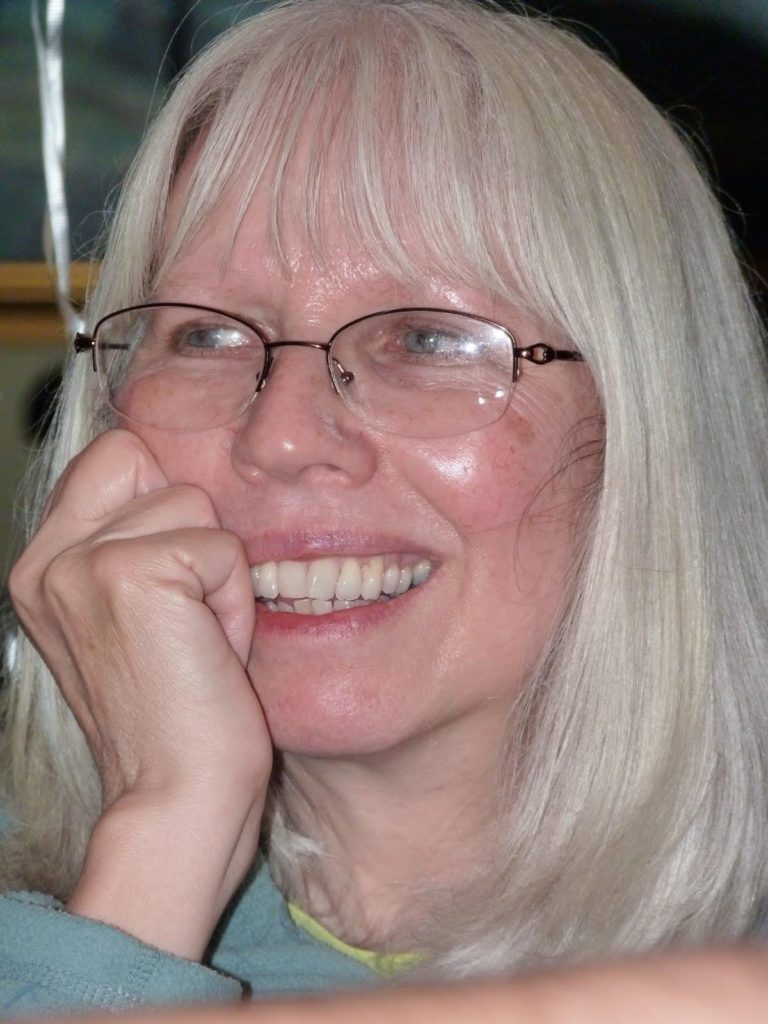 Now settled in West Chester, Susan studied at Moore College of Art, the University of the Arts and the Vermont Studio Center. (Disclosure: we both graduated from Radnor High School in 1969.)
Curtin has taught at the Chester County Art Association for the last 33 years. Her work is in several private and corporate collections.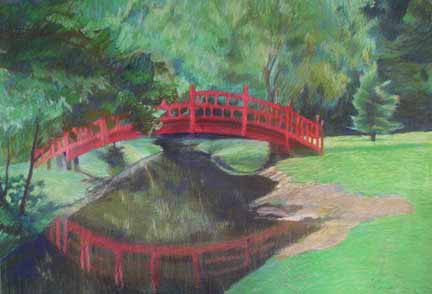 The Red Bridge – In this pastel, I play with reflections and depth to weave together strokes of color until I create the form.

Susan Curtin
A self-described introvert, Susan found quiet comfort in her youth walking through the woods and admiring the trees on her way to school or to meet friends. She also felt very close to animals along the way.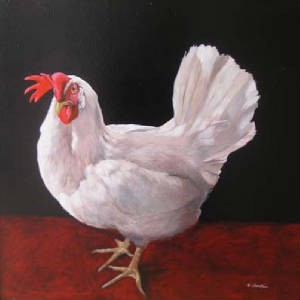 California White Hen – This hen, Lily, inspired me with her sassy attitude. Here I use several white pigments to portray her feathers.

Susan Curtin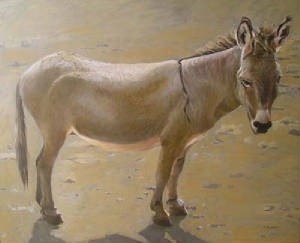 The Donkey – This is another painting using a limited palette. The donkey's coat of grey brown with an elegant black stripe set against a very dry and rock-strewn ground evoked Biblical times.

Susan Curtin

You can check out more of Susan Curtin's art on her website: susancurtin.com.
---
Muralist Pete Smith's 90-Day Feat
The Artist Created 90 Portrait Studies in 90 Days
As I sat in Hymie's Delicatessen with my good friend and mural artist Pete Smith, I gazed around and made this discovery:  His mural designs covered every inch of wall space. It gave the deli a panache that you don't often see in this sleepy Philadelphia suburb.
Pete Smith, 65, a veteran of every sort of excessive outcome that our generation imposed on itself (enough said)–definitely a learned old hippie, he–is seizing control of his destiny quite nicely, thank you very much. As the great Detroit bluesman John Lee Hooker sang in his 1948 "Boogie Chillen," It got to come out.
It Got to Come Out
Smith's recent achievement–90 portrait studies painted in 90 days–is being exhibited at a Bryn Mawr gallery and has been warmly received on social media. The feather in his cap is worn with a bit of irony, considering that the impetus for doing the portraits was based more on therapy and less on ambition. Smith:
I decided that it was time to stop drinking. One of the teachings I had heard of was to do something different…change your previous behavior. At the time I was not doing artwork. So I took this idea and started to do 90 drawings in 90 days. I did all different things, like landscapes. This got me back into  art and mural paintings.

So 24 years later, I was looking at what I wanted to do next. I always loved painting people. So I reached back into the past and started doing portrait studies…90 studies in 90 days.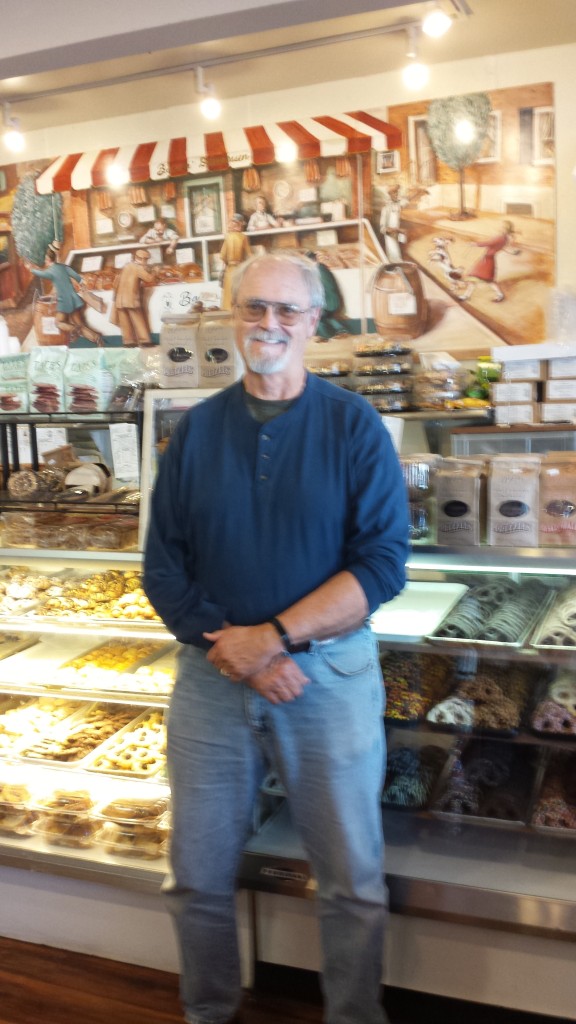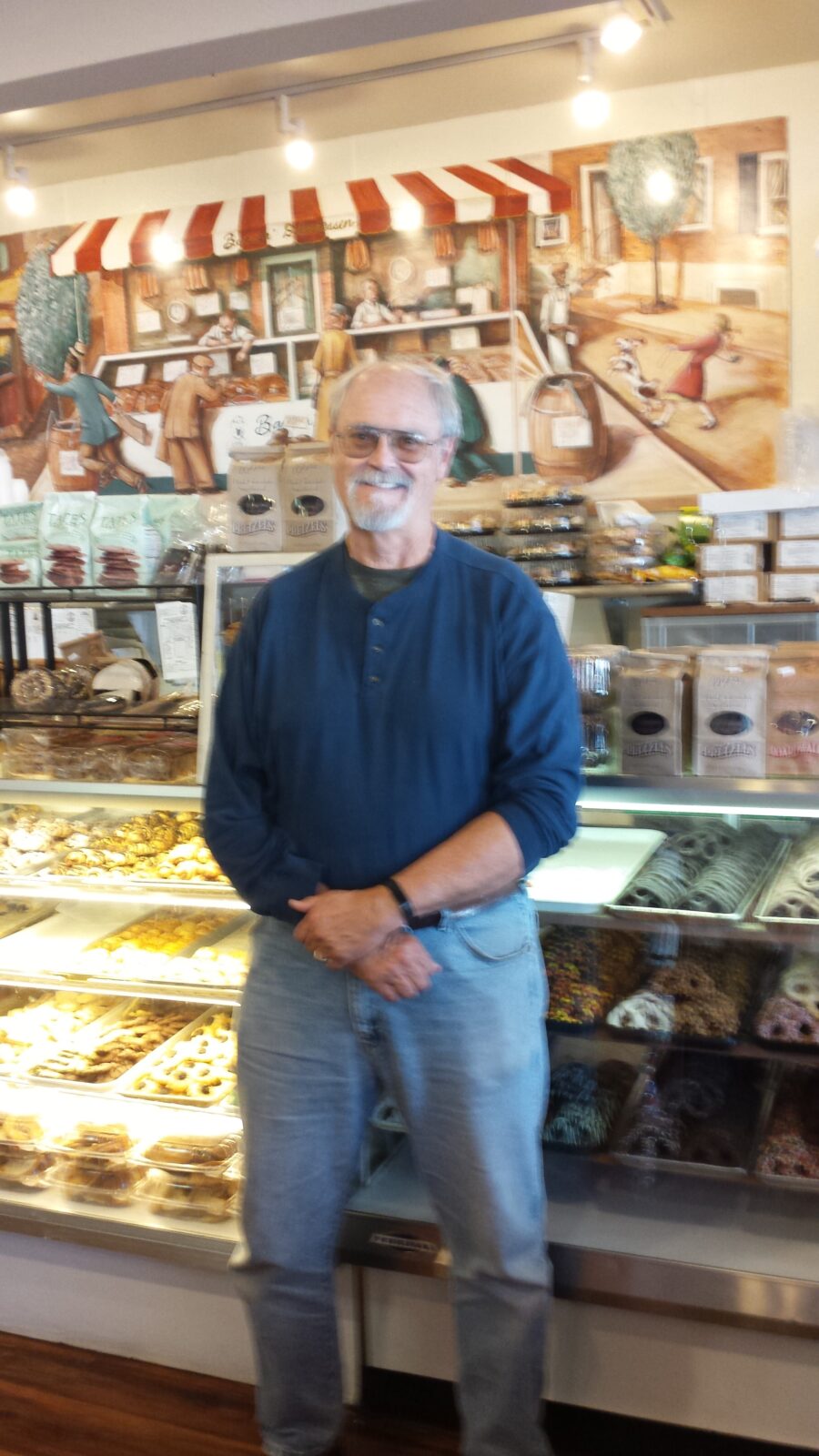 Pete Smith, Muralist
In early sobriety, Smith would still rely on old skills and old friends to kickstart his artistic journey.
It [creating murals] grew out of my handyman business. I started painting designs in people's houses, like kids rooms. An art school friend called and said they were converting some tennis barns into a baseball academy.  I painted baseball card images, like Steve Carlton, Richie Ashburn and others. When I finished, I thought that was the end of the story. But people kept calling.
At some point, Pete Smith began to realize that he had become a muralist…a business that he "had no idea existed."
I did a couple of gyms…I remember one in Havertown, one in Horsham. I did big ones, small ones, lots of Italian villages. I did one for a small café on Lancaster Avenue [in Bryn Mawr], and then the people across the street at Medley Music Mart wanted one.
Medley Music went out of business and took down the mural, but not before Smith's work–an image of several people playing musical instruments on an outdoor staircase–made the cover of the Suburban & Wayne Times on August 8, 1996.
90 Portrait Studies
The portrait studies run the gamut of famous people, "interesting people" and family members. In the coming weeks, Pete Smith and his portraits will be joining his colleagues Steve Flom and Karl Jones inside the Art Gallery tab. In the meantime, here is a sampling:
The actual event…the doing of the work…the creative process…to me is more important than the finished product. I love doing this.  —Pete Smith
---
By Andrew Goutman
Under Construction is made with acrylic on canvas, wood and vinyl, monofilament, graphite, foam, metal and found objects.
Karl Jones:
This body of work is centered in reconstructing and decorating a story's moment in symbolic plastic model sprue tree fabrications, monofilament portrait and wall drawings…vestiges of loved objects, reconfigured experiences conforming to emotional memory.
Reassembly Required is constructed with acrylic on canvas and wood, graphite and metal.
The Monofilament Series:
Monofilament, which is a very personal material to me, has value and emotional range running from a thin veil of dust to solid mass…Some pieces include aspects of storytelling and, I believe, American dark humor with respectful irreverence.
Cholly At Auction is composed of monofilament, wire, wood and a found object.
The Sprue Tree Series:
The sprue tree is a fixed snap shot of something or someone that has been born and built up as a plastic model kit but later held still by fate, disassembled and placed back on the sprue, a person in a state of suspension, unable to evolve; the schematic yet graphic portrait of a coveted object.
On My Sprue Tree is made with acrylic on canvas, wood, metal, monofilament, graphite, foam and found objects.
Karl Jones:
I invoke an alternate form of a cautionary tale or human existence story involving attempts to evaluate their nature and qualities; capturing visceral moments, illusion and tapping into their unique idiosyncrasies.
Passing On is composed of acrylic on canvas, wood and found objects.
Awards and Exhibits:
2013 – Dave Brown Projects, 6th Semiannual Competition. Honorable Mention.
2013 – Hal Bromm Gallery – Tribeca announces Lost and Found II Exhibition.
2012-13 – Chris White Gallery, Wilmington, Delaware
2011 – Philadelphia Moca InLiquid Benefit
1991 – Philadelphia Armory
1983-84 – White Columns, New York City
1983 – Sculpture at Penn's Landing
1975-78 – Philadelphia Academy of Fine Arts, Cresson European Traveling Scholarship
---
 Stone
Sculpture
by Steve Flom

By Andrew Goutman
Beloved Philadelphia/South Jersey stone sculptor Steve Flom was the first featured artist in the Art Gallery. We are proud to display a sampling of his work. I am proud to call him my friend.
A graduate of the Pennsylvania Academy of Fine Arts (PAFA), Flom has won numerous prizes and awards in juried shows throughout the region. His most recent honor was winning the Leona Karp Braverman Memorial Award for Sculpture in last year's PAFA Fellowship juried show. His work was recently exhibited in both the Arts Center and Sidetracks Gallery in New Hope, PA.
On working in stone:
As a student at the Academy, I worked summers trimming trees, so I had good access to wood for carving. But hoping to sell my work, I sought out a more 'permanent' medium…One could scrounge marble doorsteps from abandoned South Philly rowhouses and limestone blocks from demolition sites. I picked up a set of stone tools and never put them down…Working in stone is like searching for life's essence.
On the erotic nature of his art:
I try in my work, using the human form, to convey, 'life's longing for itself.' It's the solitude, silence, shyness, the loneliness, the longing, the lust. "Love has no other desire but to fulfill itself." –Khalil Gibran
On the method of his work:
I look at a block of stone and try to visualize the figure within…I like to work with rectangular blocks… I'll make a couple of rough sketches, and ask the model to take the pose…I like to draw the pose from front to back to sides…I also like to take back-up photos…I'll redraw, carve, redraw, carve, working round and round and round…Usually the stone itself will influence the piece, and it'll become the fusion of the model and the medium.
Steve Flom's website is www.steveflom.com. His email address is sflomart@yahoo.com.