Whither Goes the Republican Party?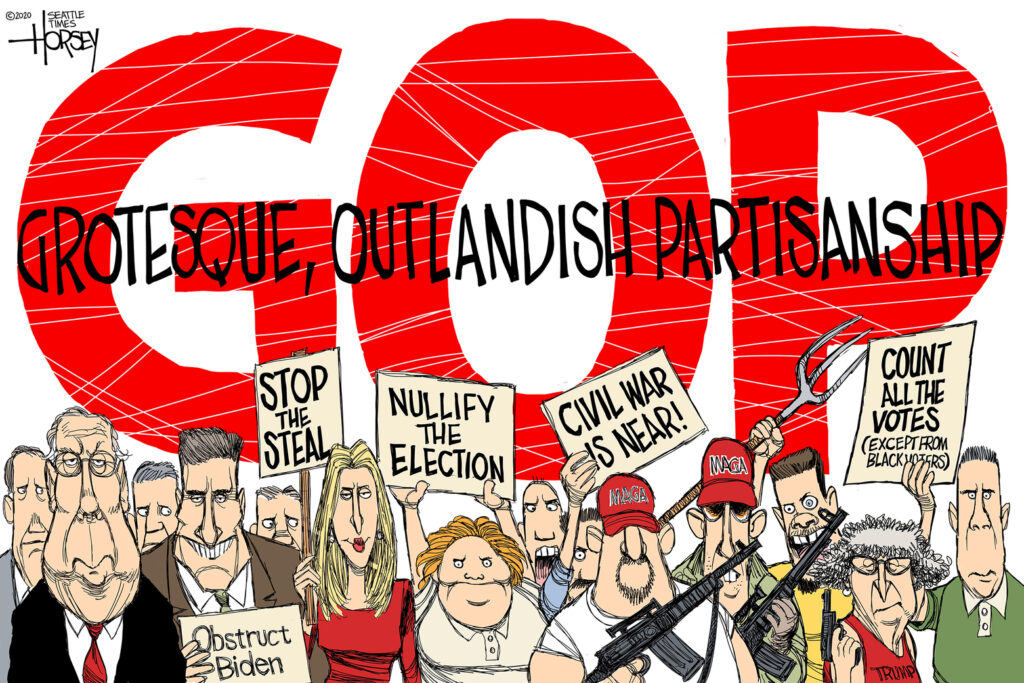 A break-away third party? A Trump indictment? The demise of our democracy? Will the fever ever break?
Autocrats of the world, take heart: The Republican Party seems to be in the grip of Donald Trump. This is not a good omen for American democracy.
Imagine, if you will, the fragile state of a 245-year-old democracy, a nation that's enjoyed peaceful transfers of power even during its Civil War, when one of its two major political parties has all but given up on competing for voters' hearts and minds with programs, platforms and ideology…and has instead girded itself for minority rule though voter suppression, the manipulation of election decorum and the rejection of shared facts and the rule of law.
It's come to this by way of fealty to Donald Trump and the gaslighting of "The Big Lie," that the 2020 presidential election was somehow stolen from Trump, despite every shred of evidence to the contrary.
Three events over the past week or two has given these issues some urgency: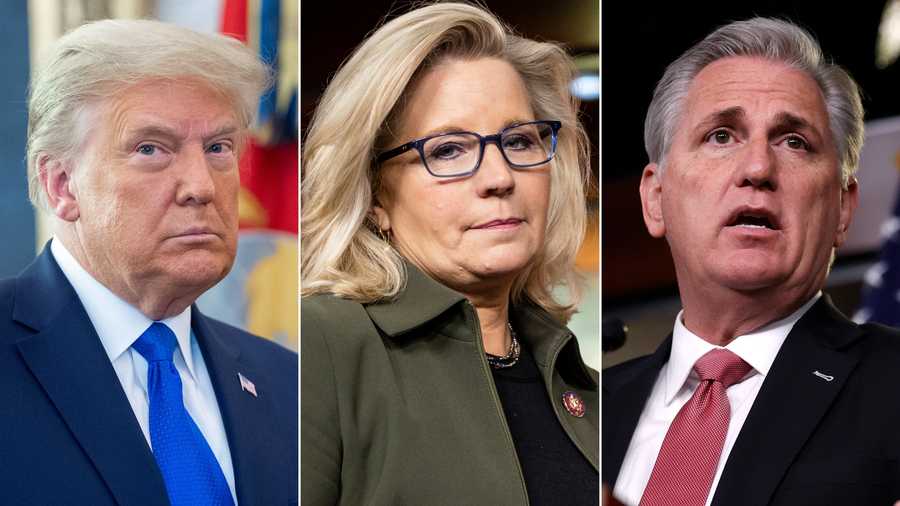 Republican Horseplay
Liz Cheney, with the dynastic last name and dark red conservative bonafides, was booted from party leadership because she spoke up about her discomfort that members of her party were lying to the face of the American people about a "stolen" election. "The world is watching," she warned;
The Trump-inspired Jan. 6 raid on our nation's Capitol was one of the darkest days in American history. Democratic House leadership recently called for a Jan. 6 commission similar to the one that parsed 9/11. Negotiations between Congressional Democrats and Republicans established ground rules agreeable to both parties. The bill passed the House with 35 Republican votes but faces an uncertain future in the Senate, where the minority leader has whipped the true believers. There's no need to wonder who's yanking Mitch McConnell's chain.
There's a recount going on in Arizona, months after the election ballots were certified. Egged on by Donald Trump, the Republican-controlled Arizona state senate subpoenaed more than two million ballots from the state's most populous Maricopa County, and handed them over to a small cybersecurity firm known for spouting conspiracy theories. This reckless partisan exercise, purported to restore the public's faith in elections, is of course meant to undermine people's faith in this pillar of our democracy. "It makes us look like idiots," admitted State Senator Paul Boyer from suburban Phoenix. "Looking back, I didn't think it would be this ridiculous." The "counting" plods on, with no end in sight.
The Future of the Republican Party
Here are some paths the party could follow.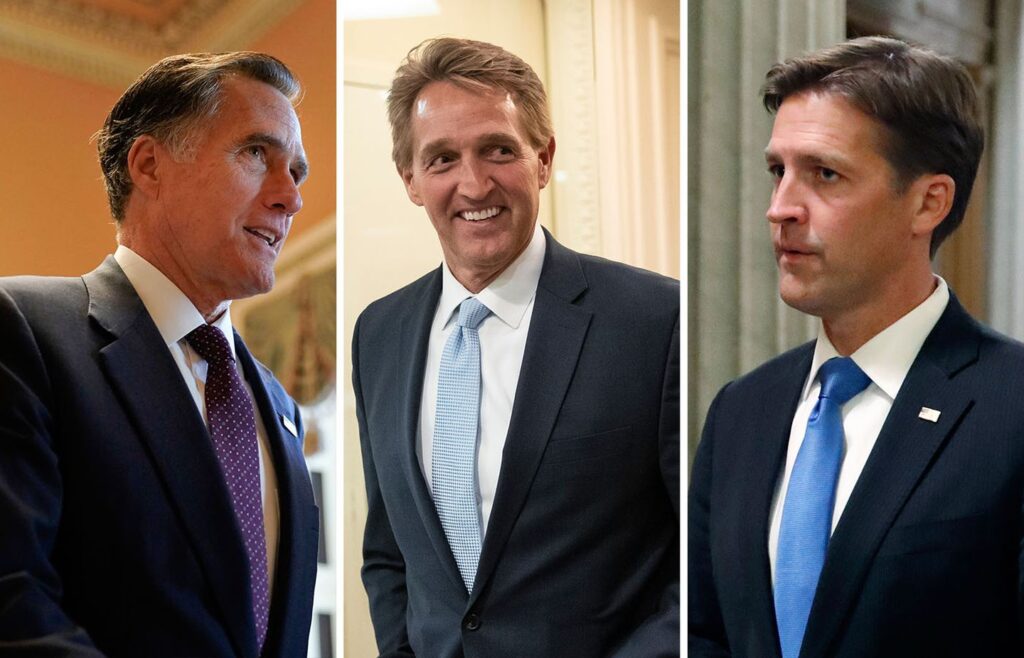 Form a Breakaway Third Party?
On May 13, more than 100 Republican former government officials (emphasis on former) released a letter titled "A Call for American Renewal" in which they vowed to form a third party. The release came right on the heels of Liz Cheney's ouster from house leadership, though notably Cheney recently told the "Today Show" that she would never leave the GOP. That could change down the road.
The signatories were the usual suspects of "Trump-skeptical moderates" and anti-Trumpers," according to the website FiveThirtyEight: Tom Ridge, Christine Todd Whitman, Charlie Dent, Barbara Comstock, Mickey Edwards and throwbacks of the George W. days or people like group organizer Miles Taylor who said, "I'm a Republican, but I'm hanging on by the skin of my teeth because of how quickly the party has divorced itself from truth and reason."
Historically, third party candidates have fared marginally. Since polling data suggests that political parties are on the outs with American voters, it's more likely that disaffected Republican candidates will run as independents.
It was a nice thought for Democrats.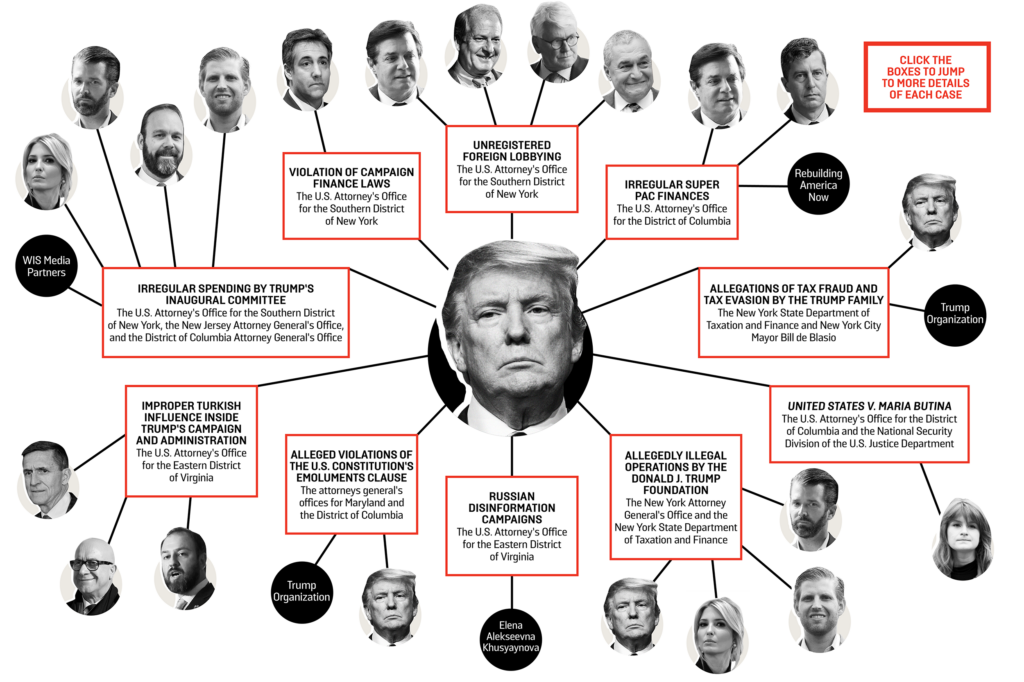 Orange Is the New Orange
This just in. Manhattan DA Cyrus Vance, Jr., who finally got hold of Donald Trump's tax returns, just convened a grand jury to decide whether to indict the former president and/or anyone else in his orbit. The move by Vance indicates that the DA's investigation of the Trump Organization has reached a critical phase after two years of gumshoe digging.
The moved also suggests that Vance has found evidence of a crime, either by Trump or someone close by. Especially of interest to the DA is Trump's manipulation of the value of his real estate assets: set artificially high for loans or low for the taxman. That's illegal.
The grand jury is to convene for six months to sift through some complicated data and testimony. The seating of a long-term panel means that the investigation is at a point at which prosecutors will now present evidence and witnesses, and ask that charges be considered. It would seem highly unlikely that Vance and his team would take it this far unless they believed there was probable cause that a crime has been committed.
"Find Me 11,780 Votes"
The New York Times reports that Georgia prosecutors are continuing their criminal investigation into Donald Trump's scheme to overturn Georgia's election results, memorialized in a hours-long phone call during which Trump pressured secretary of state Brad Raffensperger to "find" enough votes to reverse Trump's loss.
The endeavor sounds serious. Newly-elected Fulton County prosecutor Fanni T. Willis sent letters to various state government officials to preserve documents related to "an investigation into attempt to influence" Georgia's final count. Revealing that he's casting a wide net, Willis listed possible criminal acts as "the solicitation of election fraud…false statements…conspiracy, racketeering…and any involvement in violence or threats related to the election's administration."
A Trump indictment would make no difference to his Republican base (a "deep state" plot!), but it will be a drain on his time and resources.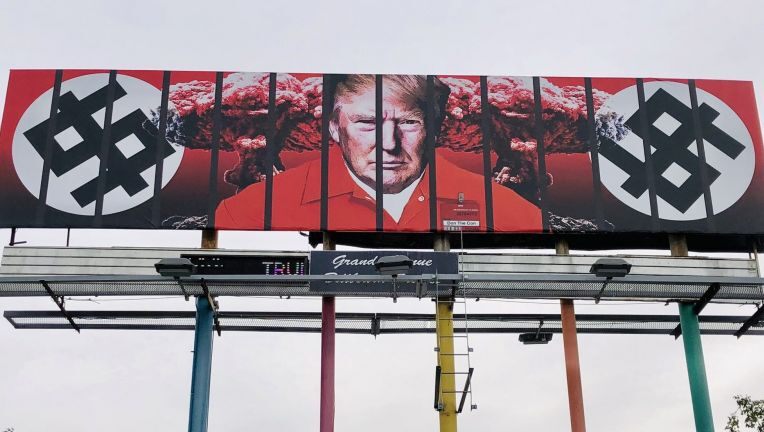 The Fever Breaks?
It is beyond the scope of this article to examine why Donald Trump holds so much sway over Republicans. We mystified non-Republicans can only read what the experts are saying, like these superb explainers by New York Times columnist Thomas B. Edsall titled, "Why Trump Still Has Millions of Americans in His Grip." and "Why Trump Is Still Their Guy." Take a moment.
So we look to pollsters for cracks in the armor. A new NBC News poll divulged that Trump's influence over Republican voters is on a downward trend. The poll found that for the first time since 2019, Republicans supported their party more than they did Trump. The margin was 50% for the GOP to 44% for Trump.
Trump Poll Numbers Slipping
Trump's favorability rating took a hit as well, dropping eight points over the last few months. Among registered voters, 32% had a favorable view of the former president versus 55% unfavorable. In January of this year, the margin was 40% approve, 53% disapprove.
Will the polls continue to point downward for Trump? When will enough GOP elected officials finally realize their party brand based on a cult of personality is not sustainable? What event or occurrence will shift the paradigm towards defending, and not denigrating, our democracy?
That's why we get up in the morning.