Community Radio: Music With That Personal Touch
Good News! Public radio remains viable as it competes with a multitude of platforms
Community radio. Also called public radio. There is actually no precise definition for it, other than its call numbers occupy the lower portion of the FM radio band (88.1 to 91.9, according to the FCC). It is overwhelmingly non-profit and therefore non-commercial radio–we can quibble about advertising vs. underwriting some other time–and it encompasses college radio and over 900 National Public Radio (NPR) affiliates.
For our purposes, it does not include internet radio, satellite radio or whatever else is out there in cyberspace.
Wikipedia offers a very useful description: Community radio aims to "provide a mechanism for enabling individuals, groups and communities to tell their own stories, to share experiences and, in a media-rich world, to become creators and contributors of media." It summarizes: "Community radio stations are operated, owned and influenced by the communities they serve."
Non-commercial radio secures its funding from primarily three sources: 1) Through grants from the federally-funded Corporation for Public Broadcasting (CPB); 2) Revenue from its affiliated college, if applicable, usually in exchange for a convenient educational venue for broadcasting students; and 3) Listener contributions large and small. Underwriting, concerts and studio rentals provide small streams of revenue.
Tampa Bay Gets Its Community Radio Station
Since its founding in 1979 by a group of hard-working staffers who knocked on doors in the Tampa Bay area raising seed money to put Florida's first community station on the air (Full disclosure: I was one of those people), WMNF has seen its revenues go up every year through its hands-on community approach.
Of WMNF's relatively small $1.7 million budget, $1.1 million come from its listeners, including $360,000 from sustaining members. That requires the station to stay closely in tune with its listenership.
"WMNF has operated in the black for most of its 39 years," says Rob Lorei, WMNF's news director and co-founder. "We prided ourselves in keeping spending down, buying mostly used equipment and getting as many items as possible donated. During the period 1978-81, we were each paid about $65 a week."
Lorei is grateful that the station had the foresight to apply for a 70,000 watt license with an antenna mounted more than 500 feet in the air. That gave WMNF the ability to keep up with the Tampa Bay area's explosive growth.
Lorei acknowledges that competition from the internet, satellite and other platforms means that WMNF can no longer be a "one-stop shop for all things alternative." His biggest regret: "We could have been the first in the market to carry Fresh Air, Morning Edition, Prairie Home Companion and the network shows with big audience numbers."
But WMNF found its own way: "We can stay strong," says Lorei, "by creating greater loyalty in our audience, playing more music that is beloved by our listeners yet missing from [commercial] radio stations."
WXPN in Philadelphia
Community radio is doing battle with other listener choices of the musical variety. Just ask Roger LaMay, station manager of WXPN-FM in Philadelphia, a station licensed to the University of Pennsylvania.
A three-decade broadcast veteran who has spent six years on the NPR board of directors (including two as chairman), LaMay joined the station in 2003 after a stint as general manager and news director at WTXF-TV/FOX 29 in Philadelphia.
LaMay shepherded the station's move to a brand-new space and, along with it, a unique partnership with a performance venue attached to its headquarters and named after its most successful show: World Café Live. At WXPN, it's all about the music.
With 30,000 members and a budget of around $9 million, LaMay discerns growth as confirmation that connecting with your audience is the key to maintaining prominence in a crowded musical space. But LaMay and WXPN aren't as worried about satellite or internet radio.
The competition is musical streaming services such as Pandora and Spotify, which lull passive listeners with predictable choices. LaMay's solution sounds earnestly similar to WMNF's Rob Lorei.
"Our competitive advantage," says LaMay, "is our ability to interact with the local community, engage with local and national artists, and provide programming unique to our local audience and be committed to live music performance.
"In a multi-platform world, a one-on-one connection with our listeners is vital."
WYSO, Yellow Springs, Ohio
Another station with a college affiliation is a certain community radio station in Ohio: WYSO-FM, in Yellow Springs, also the home of Antioch College.
(Full disclosure: Soon after Tampa, I landed in Dayton, OH, where I did a blues show for six years on WYSO.)
WYSO began broadcasting in February 1958 as a campus radio station with 10 watts of power. By 1973 the station had become an NPR affiliate and offered its listeners All Things Considered, Prairie Home Companion and other dynamic national programs.
At the same time, WYSO fulfilled its local mission both to Antioch in offering training in news, public affairs and music programming; and to the greater Dayton community as a bastion for local shows, however eccentric. It sure seemed WYSO had everything going for it.
Storm clouds began forming in 1980 when a struggling Antioch College proposed to cut $17,000 from its annual subsidy to the station. In 2002, WYSO, citing financial pressures, cut 10 locally-produced shows. There were listener protests in Yellow Springs with the theme, "Keep WYSO Local." Then, in June 2008, Antioch College closed.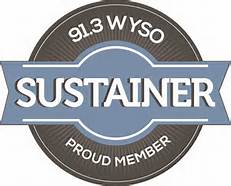 Survivors
RevCool Carter, host of the legendary Friday night show Around the Fringe, remembers the moment well: "It was a blow to everyone at WYSO…to see such a fine institution as Antioch College go under. But there was little fear of the station going under. WYSO was becoming more and more financially independent…and there was no indication that Antioch had plans to sell [WYSO]."
Antioch College reopened on September 1, 2011. The college spent over $1 million to build a new state-of-the-art studio and increased the station's power to 50,000 watts. Meanwhile, there would be no turning back to the old eccentric and experimental WYSO. Both the station and the college were in full survival mode.
"Overall, Antioch has been very kind to WYSO," reflects RevCool.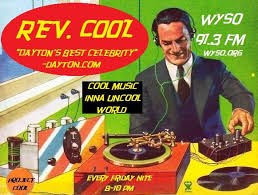 Today, WYSO remains the Dayton, Ohio, area's only NPR station with its flagship news programs. The station counts 5,000 members and 13 locally-produced music shows. The power increase enables WYSO to reach a twelve-county area in Southwest Ohio.
And every Friday night, Southwest Ohio comes alive to the joyously funky Punk/World fusion of RevCool's Around the Fringe. You could do much worse on a Friday night; try it here.