Democrats Might Be in Decent Shape to Retain the Senate in 2022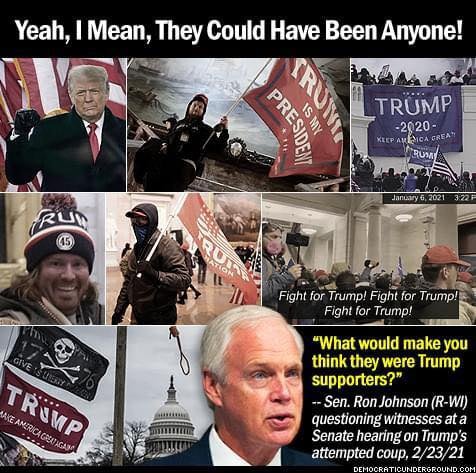 In the House, Democrats can benefit from primary challenges by Trumpian extremists.
Conventional wisdom. It's a bear when it works against you. Conventional wisdom in this context suggests midterm elections are usually bad for the party of the sitting president. They even have a chart to corroborate this: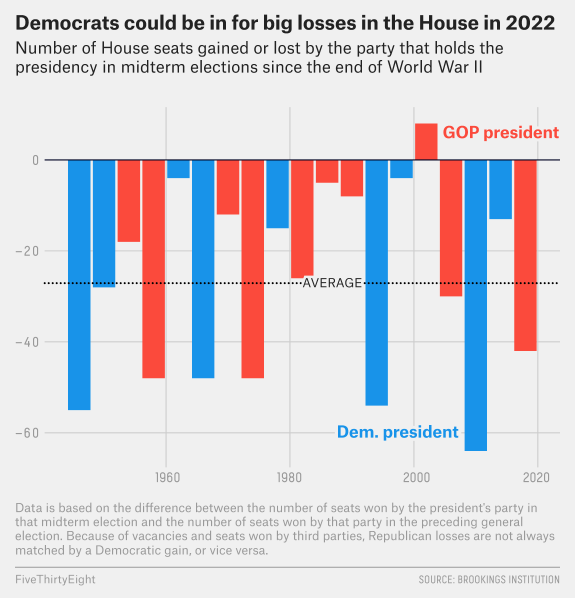 Not So Fast…
Democrats do have some things working in their favor for the upcoming midterms. On the Senate side, four Republicans have announced their retirements when their term is up in 2022. That list might grow in the next few months. That's at least four Senate Republicans who will have relinquished their power of incumbency.
It's just no fun being in the minority, where even ranking members have no real clout. "After the riot and four years of Trump," said T.J. Petrizzo, A Republican lobbyist and donor, "what GOP senator up in 2022 hasn't thought about leaving?"
In the House of Representatives, a majority of House Republicans voted against certifying Biden's electoral college win but many voted for Biden's certification, especially those in swing districts where voters prefer conventional Republicans over extremists. Those Republican incumbents are precisely the kind who will feel the wrath of Trump loyalists. Since primaries are very different from general elections, Democratic candidates might win merely by being the adult in the room.
The Senate
The four Republican retirements thus far are Pat Toomey of Pennsylvania, Rob Portman of Ohio, Richard Burr of North Carolina and most recently, Richard Shelby of Alabama. It's interesting to note that the first three senators were among the seven Republicans to vote for Trump's impeachment.
Here are the Senate seats up in 2022 and their incumbents, by state's presidential margin in 2020:
| STATE | INCUMBENT | PARTY | 2020 PRESIDENTIAL MARGIN |
| --- | --- | --- | --- |
| ND | John Hoeven | Republican | R+33.4 |
| OK | James Lankford | Republican | R+33.1 |
| ID | Mike Crapo | Republican | R+30.8 |
| AR | John Boozman | Republican | R+27.6 |
| SD | John Thune | Republican | R+26.2 |
| KY | Rand Paul | Republican | R+25.9 |
| AL | OPEN | Republican | R+25.5 |
| UT | Mike Lee | Republican | R+20.2 |
| LA | John Kennedy | Republican | R+18.6 |
| IN | Todd Young | Republican | R+16.1 |
| MO | Roy Blunt | Republican | R+15.4 |
| KS | Jerry Moran | Republican | R+14.7 |
| SC | Tim Scott | Republican | R+11.7 |
| AK | Lisa Murkowski | Republican | R+10.1 |
| IA | Chuck Grassley | Republican | R+8.2 |
| OH | OPEN | Republican | R+8.0 |
| FL | Marco Rubio | Republican | R+3.4 |
| NC | OPEN | Republican | R+1.3 |
| GA | Raphael Warnock | Democratic | D+0.2 |
| AZ | Mark Kelly | Democratic | D+0.3 |
| WI | Ron Johnson | Republican | D+0.6 |
| PA | OPEN | Republican | D+1.2 |
| NV | Catherine Cortez Masto | Democratic | D+2.4 |
| NH | Maggie Hassan | Democratic | D+7.4 |
| CO | Michael Bennet | Democratic | D+13.5 |
| OR | Ron Wyden | Democratic | D+16.1 |
| IL | Tammy Duckworth | Democratic | D+17.0 |
| WA | Patty Murray | Democratic | D+19.2 |
| CT | Richard Blumenthal | Democratic | D+20.0 |
| NY | Chuck Schumer | Democratic | D+23.1 |
| CA | Alex Padilla | Democratic | D+29.1 |
| HI | Brian Schatz | Democratic | D+29.5 |
| MD | Chris Van Hollen | Democratic | D+33.2 |
| VT | Pat Leahy | Democratic | D+35.4 |
Chart by FiveThirtyEight, Andrew Goutman
Who Might Join Them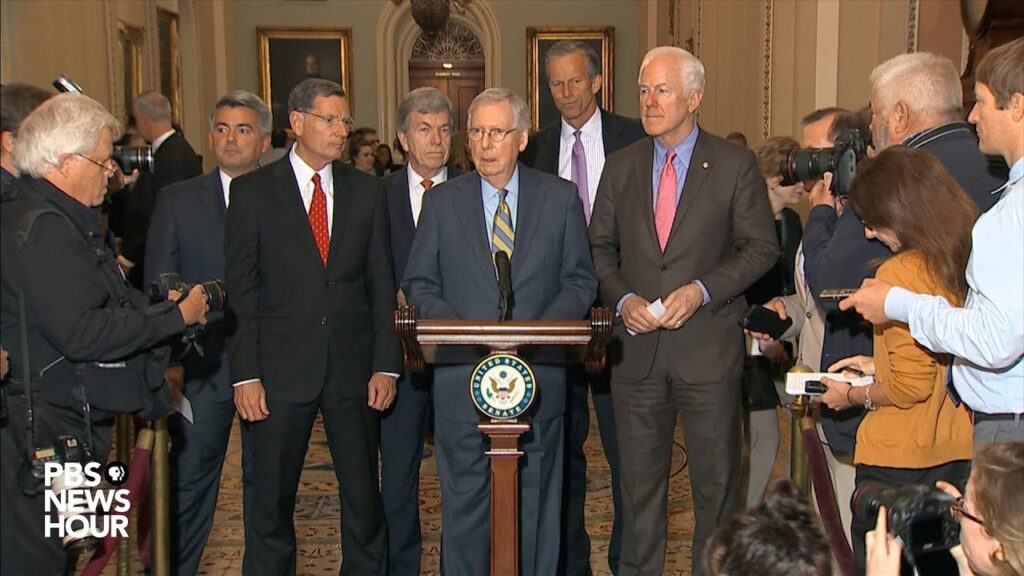 As I pointed out, going from the majority to minority is no picnic, and there will be more Republican senators out the door. The usual suspects:
Leahy Alert
A US Senate divided 50-50, with vice president Harris tipping the majority to the Democrats, affords no wiggle room. That is why Sen. Pat Leahy's recent hospitalization was a scary reminder that any sudden health issue or retirement among Democrats could shift the Senate's balance of power.
Leahy (D-VT), who's been a senator since 1975, is back at work after suffering muscle spasms. He says he's eager to serve out the remainder of his term. But what if Leahy became incapacitated? Vermont's vacancy law gives the power to appoint a short-term replacement to the state's governor, who happens to be a Republican.
But we're talking about Vermont here, a liberal bastion (see the above chart). When Bernie Sanders, Vermont's other senator, was considered for a cabinet position in the Biden administration, Republican governor Phil Scott gave assurances that Sanders' replacement (until a special election was arranged) would caucus with the Democrats.
Thank God for Vermont.
Long Shot in the House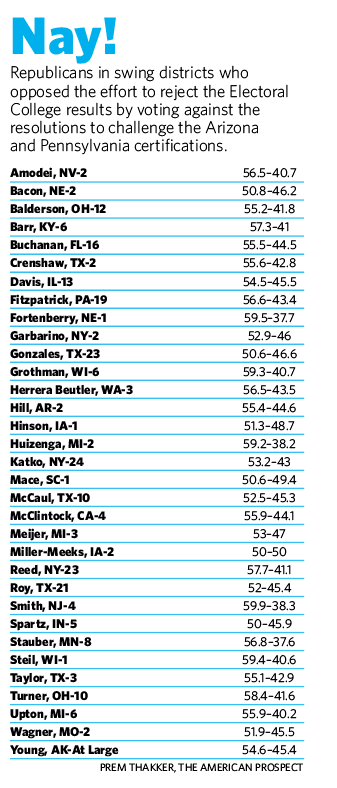 With Republican legislatures controlling the redistricting process in the majority of states, retaining the House of Representatives sure seems like a long shot. In 2020, Republicans were almost successful in reversing the blue wave of the 2018 midterm elections. The balance of power in the House now stands at 221 Democrats, 211 Republicans, three vacancies.
As I indicated, the Democrats' secret weapon, courtesy of former president Trump, are the expected primary challenges in moderate districts where the incumbent has not shown sufficient fealty to the grandiose Trump, especially by voting to certify the electoral college results or for impeachment. Trump loyalists are betting that the rabid Republican base in these districts would come out in force for a Trump-anointed challenger.
The payoff for Democrats would be in the general election, in which the congressional district as a whole would look askance at at a Big Lie-, QAnon- and white supremacy-spouting clown.
The other factors working in the Democrats favor are the economic growth accompanying post-pandemic optimism and the opportunity denied in 2020 to fully engage a door-to-door ground game.
Coda
And so the Republican civil war, pitting Always Trumpers versus I've Had Enough, continues. The Always Trumpers seem to have the upper hand.
It is unprecedented that the leader of the party, whose job it is to protect and nurture its incumbents, is instead compiling a "hit list" of those not displaying total loyalty and obedience to…Dear Leader. It's real Banana Republic (not the store).
Topping the list is none other than Liz Cheney (R-WI), whose conservative Republican bonafides far exceed Donald Trump. She had been branded a RINO (Republican In Name Only) for voting for Trump's impeachment in inciting the Jan.6 insurrection on our Capitol.
Conventional wisdom says that the party in the Oval Office suffers losses in the midterm elections. Retirements and the Republican civil war change the equation.