Let's Call It the 'Trump Coronavirus'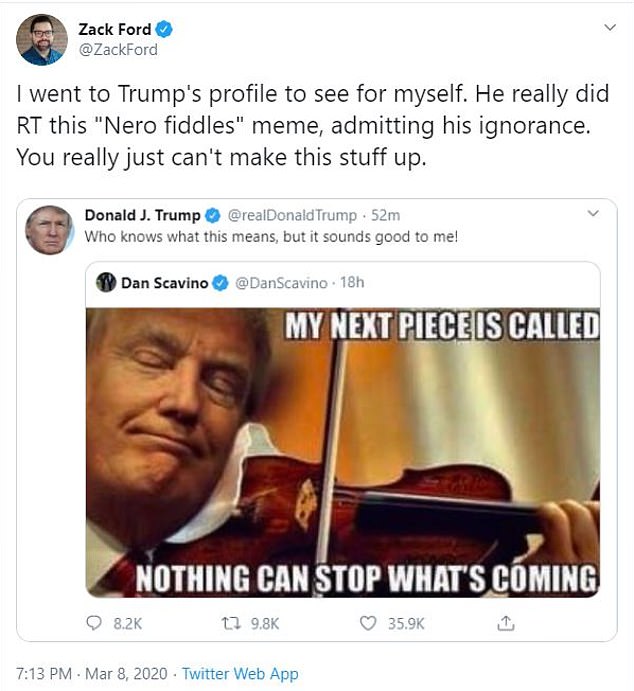 Trump seems okay with endangering relations with China by shifting the blame of his mishandling the Coronavirus outbreak.
People really do have short memories. (And I don't mean remembering the 64 AD Rome fire that hatched the iconic, Nero fiddles while Rome burns. Astoundingly, Trump actually retweeted a meme that compared him to Roman Emperor Nero, who stood on the sidelines while his city burned to the ground.)
About short memories: According to Politico, a majority of Americans now approve of Trump's handling of the coronavirus outbreak. The numbers from the ABC News/Ipsos poll reveal that 55% respondents approve, 43% disapprove. One week ago, the numbers were basically reversed: 43% approval, 54% disapproval.
Despite this windfall for the White House, Trump's overall approval rating stands at 42.9%, according the respected website FiveThirtyEight, which tracks it daily.
Unfit
This reversal of fortune might be attributed to Trump (temporarily) giving up the ghost of denial and misinformation and raiding the US Treasury…hell, it's not (all) his money. We'll see how it unfolds as the relief bill just signed into law is worded vaguely enough for Trump to pick winners and losers. An adjunct bill that would provide cash relief to Americans is tied up in the US Senate.
It is well-documented that almost two precious months were lost from when the virus struck when Trump first denied it was happening, calling it a hoax, then gave dangerously false assurances that the virus would go away "like a miracle."
Trump's denial and dawdling certainly created the testing delays and medical supply shortages. The freefall of the stock market, once Trump's pride and joy, is on him.
Here is a one-minute video published by the Lincoln Project via YouTube that provides a neat summary:
Finger-Pointing
In a perfect world, had the world's two largest economies, the US and China, genuinely collaborated and worked together to mitigate the worst crisis of our time, perhaps the world would look a whole lot better right now.
We don't live in a perfect world…no, far from it.
Taking a page out of the Republican bigotry playbook, Secretary of State Mike Pompeo repeatedly referred to the Coronavirus as the "Wuhan virus" at two appearances in early March. China's foreign ministry spokesperson Geng Shuang fired back that the US was "stigmatizing China and Wuhan…and disrespecting science and the WHO [World Health Organization]."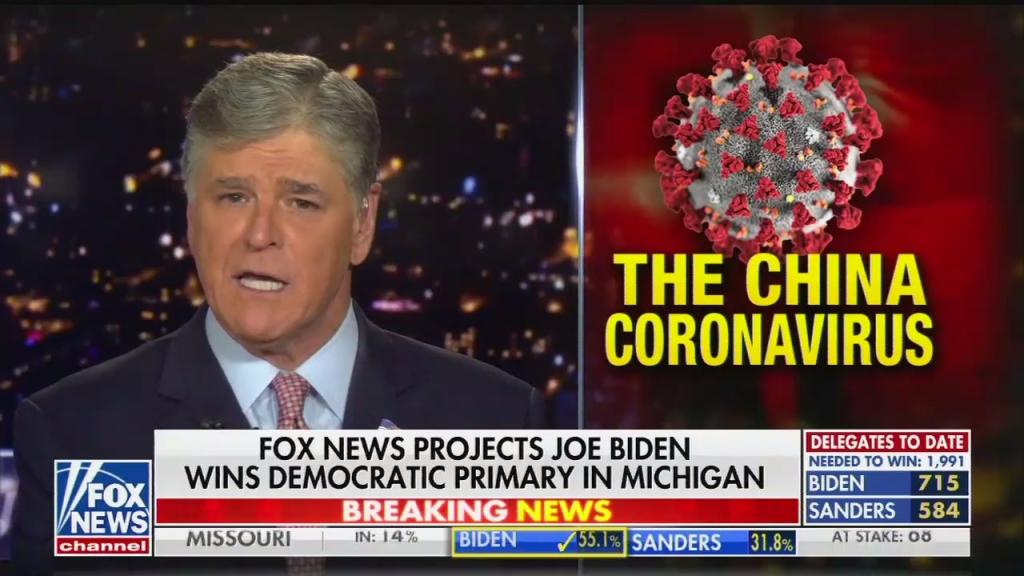 With the virus reaching American shores and even Trump endorsing a massive injection of government cash into our crippled economy, Fox News (Trump TV) and other right wing media could not continue its dismissive coverage of the virus to provide cover for Trump's reelection. The crisis was everywhere in plain sight.
The Pivot
Secretary Pompeo's "Wuhan virus" was a telling first step. Trump TV and other outlets then pivoted to create conspiracy theories about the virus and Trump's political enemies. Ben Shapiro, former editor at-large of Breitbart News, tweeted that China "unleashed coronavirus on an unsuspecting world." Trump's critics were "doing the bidding" of China.
The Atlantic's Adam Serwer observed:
They're far more concerned about riling up the base by drawing accusations of racism than they are dealing with the pandemic. It's absolutely urgent to them that they be able to get into this argument to distract from Trump's incompetence.

Adam Serwer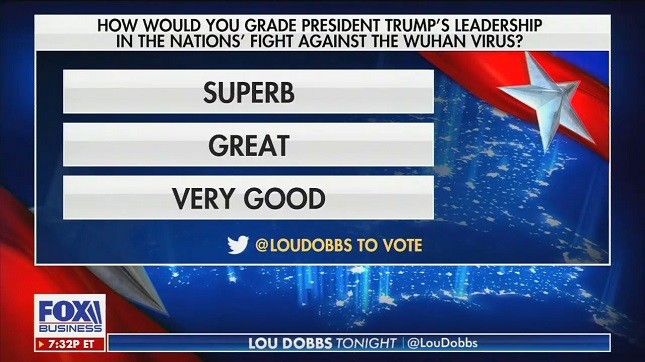 Just this week, Trump doubled down on his racist and xenophobic language when he announced turning back asylum seekers at our Southern border because of the "Chinese virus."
The Southern Poverty Law Center, which tracks hate crimes among other injustices, had this response:
The rhetoric from the nation's highest office is creating a climate of hate that is permeating the country and putting people at risk. There has been an increase in reports of bias-related attacks against Asians and Asian-Americans in communities and online.

SPLC
As with the virus, it's going to get worse before it gets better.