John Lennon's "Happy Xmas (War Is Over)" a Christmas Treat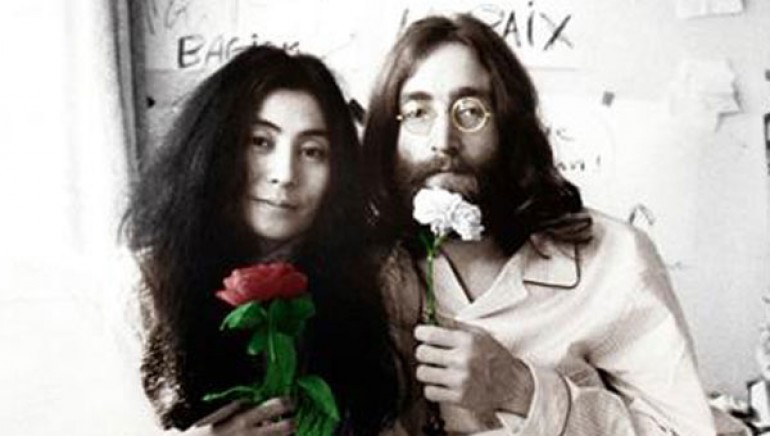 John and Yoko's Christmas song was the pinnacle of their unique anti-war activism.
There's no better tribute to a song's enduring quality than when it is covered by two very high-profile pop stars on a very high-profile stage 47 years after its release.
But there the were: Miley Cyrus and Mark Ronson, with John Lennon's son Sean Ono Lennon in tow, singing "Happy Xmas (War Is Over)" last Saturday night, Dec. 15, on the set of Saturday Night Live.
The original song was released December 1, 1971 as a Phil Spector-produced 7″ single by John Lennon and Yoko Ono and The Plastic Ono Band. That's a late release for a Christmas song by industry standards, so it got limited radio play in its first year and failed to chart.
But "Happy Xmas (War Is Over)" has grown in popularity over the years, and is now standard fare in holiday tape loops in malls, cars and gatherings throughout the world.
Listeners are especially fond of the young voices singing backing vocals in the song. On October 28, 1971 at the Record Plant in New York City, the Harlem Community Choir–30 children between the ages of four to 12 years old–were herded in to sing the rousing sing-along chorus.
Here is an excellent three and a half minute video of the song, with shots of John and Yoko, published by Channel Zero via YouTube:
Selling World Peace
The origin of "Happy Xmas (War Is Over)" coincides with Lennon's and Ono's deliberate and perhaps eccentric campaign against the Vietnam War.
The year was 1969 and the streets were teeming with anti-war activists. In the spring of that year, with Lennon still officially a Beatle, John and Yoko began a series of "Bed-Ins for Peace" in their honeymoon suite at the Amsterdam Hilton. A second Bed-In followed in Montreal, where Lennon wrote and recorded the song, "Give Peace a Chance."
Asked about their unique form of anti-war activism, Lennon remarked, "We are protesting against any forms of violence. There're many ways of protest, and this is one of them."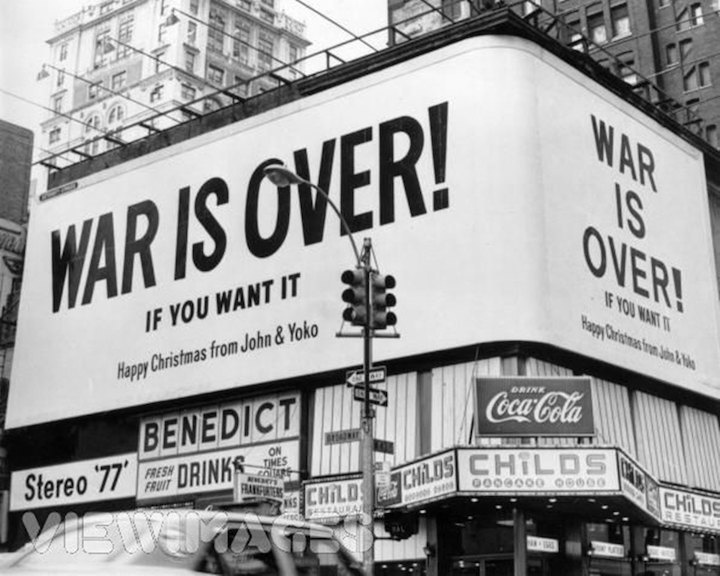 In December of that year, a billboard campaign (see above image) was launched in 12 cities around the world. Who knew the message would become the basis of an iconic Christmas song two years later?
In its 20th year remembrance of Lennon's death, Time Magazine wrote:
John Lennon was not God. But he earned the love and admiration of his generation…because he instinctively decided to use his celebrity as a bully pulpit for causes greater than his own enrichment…