Unions Are a Valued Partner in The Resistance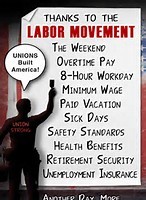 Plagued by Republican Attempts to Destroy Them, Labor Unions are Employing Creative Ways to Equate Workers' Rights with The Common Good
Teamsters Local 24 President Travis Bornstein is a man on a mission.
On September 28, 2014, his 23-year-old son Tyler was found dead on a vacant lot in Akron, Ohio, overdosed on heroin. The poor kid followed a typical path to his demise: Tyler began using prescription pain killers for sports-related injuries, became addicted and was no longer able to afford the expensive pills and turned to a cheaper alternative: heroin. It's a horribly familiar story.



The elder Bornstein said he had "no choice but to speak out." At the Teamsters convention in 2016, he announced the formation of an organization, Breaking Barriers–Hope Is Alive, committed to expanding drug treatment in the state of Ohio. His Teamster brothers responded by member pledges totaling $1.4 million.
Pain Profiteers
Drug treatment is important, but Travis Bornstein didn't stop there. He created a Teamster initiative to go after those profiting from our country's drug epidemic. Last week, his Teamsters local held a rally outside the shareholder meeting of AmerisourceBegen, one of the three largest prescription drug wholesalers (McKesson and Cardinal Health are the other two) enjoying record profits while kids like Tyler Bornstein are suffering and dying from opioid addiction.
In January 2017, AmerisourceBergen settled a class action lawsuit with the state of West Virginia after it was reveal that the company delivered "118 million opioid pills to West Virginia pharmacies over a six-year period" (2008-2012). During that time frame, 1,728 West Virginians overdosed on prescription pain killers.



Ken Hall, international secretary-treasurer of the Teamsters union told the Charleston Gazette Mail, "The [AmerisourceBergen] board cannot afford to let management sweep this issue under carpet with ad-hoc settlements, but must rather undertake a thorough investigation of the company's sales practices, compliance programs and senior executives who dropped the ball."
Meanwhile, At the White House…
While a Teamsters local in Akron, Ohio, was raising money for drug treatment and raising hell at ground zero of the epidemic, the current occupants of the White House were spinning their own tales of the opioid scourge. Court jester and press secretary Sean Spicer seemed to link the opioid crisis with states legalizing marijuana.
Here's what Spicer said: "When you see something like the opioid addiction blossoming in so many states around the country, the last thing we should be doing is encouraging people–there's a federal law that we need to abide by when it comes to recreational marijuana."



Where to start? First of all, opioids are many times more potent than marijuana. Second, there is no equivalence in consequences: Opiates kill people; Marijuana makes them hungry (and perhaps a bit lazy). Third, the geography doesn't match: States that are suffering most from the opioid scourge are different from the states that have legalized marijuana. It's just one more example of the erosion of moral authority from a government that seems to be winging it.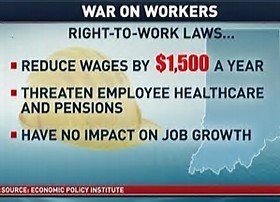 Organized Labor in Trumpland
No one was more shocked and disappointed when Hillary Clinton lost the electoral college to a narcissistic, white nationalistic, misogynistic pathological liar than organized labor. Despite spending over $100 million to elect Democrats, Clinton barely edged her Republican opponent in union households, 51 percent to 43 percent, according to exit polls. "Trump used our own words to speak to [our] problems, and to the real suffering, fears and anxieties that so many feel," remarked Leo Gerard, head of the Steelworkers.
You can look no further than to Wisconsin, which along with Pennsylvania and Michigan was the Democratic firewall that collapsed on election day, to understand the link between union decline and electoral defeat.
Soon after Republican Scott Walker was elected governor in 2010, the state's public sector unions lost many of their collective bargaining rights. After a failed recall and Walker's reelection, Wisconsin of all places became a "right-to-work" (for less) state. Union membership plummeted (AFSCME lost two-thirds of its members) which meant less money and boots on the ground for union-friendly (Democratic) candidates.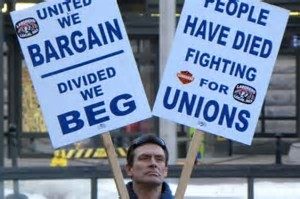 Organized labor faces no less than extinction under Republican rule. Currently, 27 states have right-to-work laws, which allows workers who benefit from union representation in a union company to decline to pay their union dues. It appears likely that the Republican majority in Congress will consider national right-to-work legislation. The guy in the White House, who based his presidential campaign on his solidarity with working people, has voiced his support for this legislation that would devastate labor unions.



Last year, public sector unions held their breath as they awaited the Supreme Court's ruling on Friedrichs v. California Teachers Association, which would have negated the same dues requirement for a union's collective bargaining successes. Then, Justice Antonin Scalia died and the Supreme Court deadlocked four to four. It's a foregone conclusion that the Republicans' pick for a ninth justice will be decisively anti-union.

Now For Some Good News
It doesn't take a genius to conclude that labor unions and progressive Democrats are in the same boat under the current regime in the White House. These days, the labor movement is by necessity taking extraordinary measures to ensure its survival by linking workers rights with tactics that preserve and protect democratic institutions. For example:
The Culinary Workers Union, 60,000-strong representing hotel and casino workers, has made Las Vegas a robust union town by being "aggressive and militant in fighting for our workers." The union has helped 16,000 Nevada immigrants become US citizens. Said one member: "We will not stand for someone separating our families and the people we love."
A Chicago teachers union was recently able to get most of its contract demands by leading public protests and creating a broad-based coalition of supportive groups. They may have created a roadmap for the upcoming fight against privatization under new education secretary Betsy De Vos.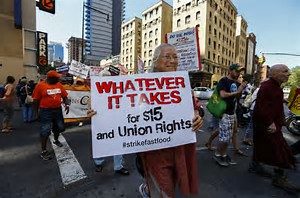 Union leaders have funded and played leadership roles in the Fight For 15, which has succeeded in raising the minimum wage in many part of the country. Unions realize that there is a direct link between the minimum wage and their members' compensation. In states where legislatures have passed laws forbidding cities from raising their minimum wages (think for a moment how cruel that is), union leaders have resorted to ballot measures, in states such as Arizona, Colorado and Maine.
Finally, a quote from Jonathan Rosenblum, author and Seattle-based union organizer:
Indeed, the gift that Trump's ascension gives us–perverse as that may sound–is that his victory strips away any illusions about the depth of organized labor's existential crisis. Now there is no question that our collective backs are against the wall, and the only way forward is to fight back by uniting broadly and reclaiming the movement's larger social purpose to lift up the dignity and value of all working people.