Bully Boys Coming to a Polling Place Near You?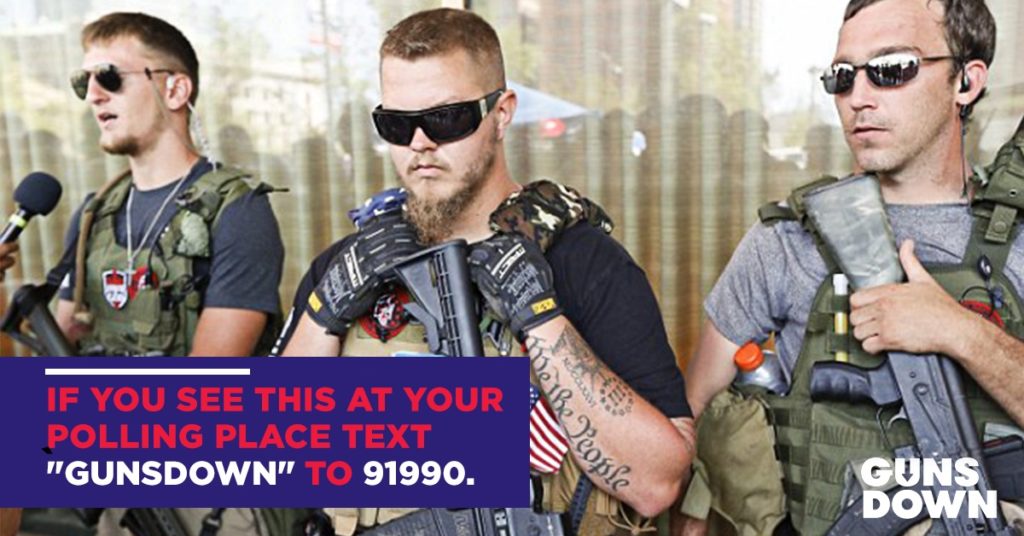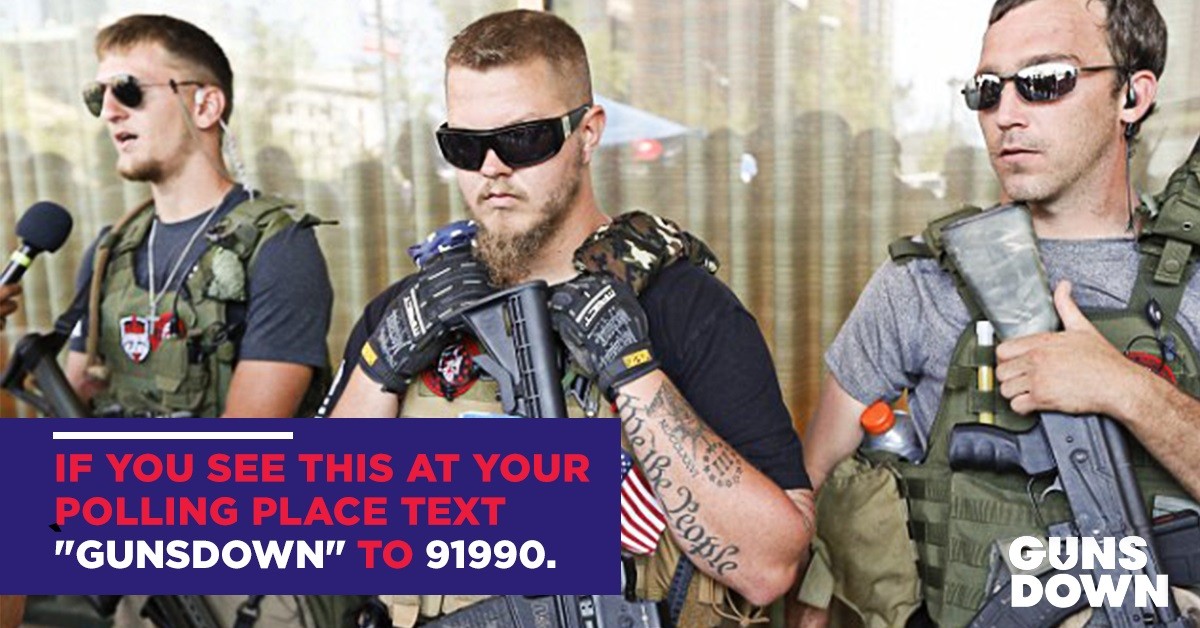 No more dog whistles. Trump and Republicans freely admit winning depends on suppressing the vote.
Prologue
It was election day on November 3, 1981, and Lynette Monroe of Trenton, New Jersey, headed to her polling place. When Monroe, a Democrat, arrived, a curious thing happened. She was confronted by a member of some group called the National Ballot Security Task Force. The person asked Monroe if she possessed her voter registration card. Monroe said it did not matter; she was a registered voter and she was listed in one of those big log books inside the polling place.
According to court filings, members of the National Ballot Security Task Force "turned her away, preventing her from casting her ballot."
It turned out the group was funded by the Republican National Committee and was tasked with deploying "task force" pretenders to New Jersey precincts mainly populated by Black and Latino voters. They wore special armbands and posted signs warning that is was a "crime to falsify a ballot or violate election laws" in THIS MEANS YOU! lettering.
Their mission obviously was to intimidate or otherwise discourage duly registered minority voters from casting their ballots.
Consent Decree
Amid the flurry of lawsuits that followed, Republicans in 1982 signed a consent decree, pledging to give up the fake badges and armbands and to cease harassing and intimidating people of color. The consent decree remained in effect until 2018, when a federal judge lifted the order.
Let that sink in: the 2020 presidential election will become the first such contest in which Republican electoral skulduggery will be totally unregulated.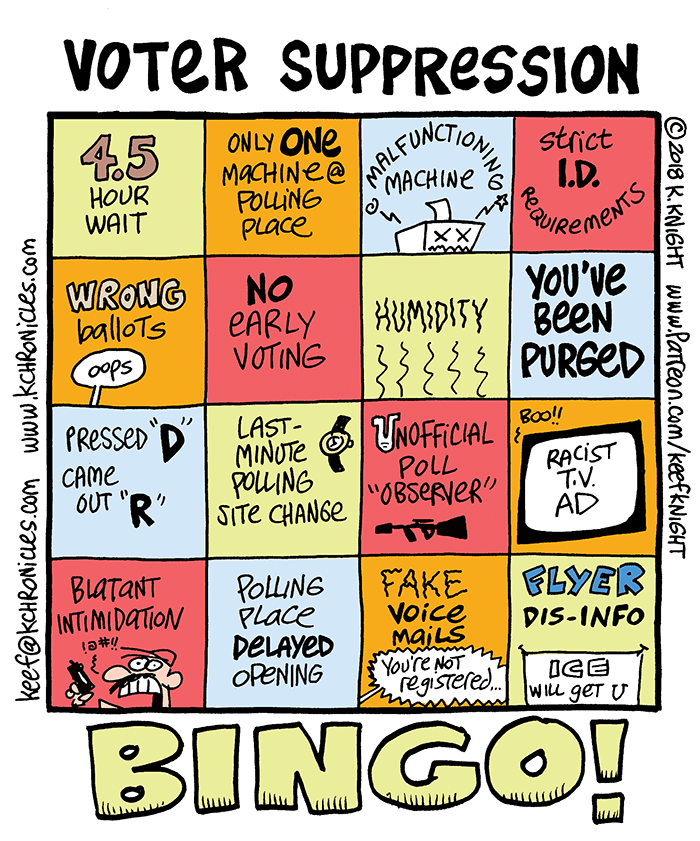 I don't want everybody to vote…our leverage in the elections candidly goes up when the voting populace goes down.

Paul Weyrich, Republican, Heritage Foundation
Four months before the election, with Trump polling badly against Joe Biden and the US Senate poised to welcome Chuck Schumer as Majority Leader, the Republican Party is down to its scorched earth strategy: Decide who gets to vote in November and whose ballots are counted.
The voter intimidation strategy and the fight against mail-in ballots are based on Trump's deranged voter fraud obsession…back from the time he claimed that illegal immigrants propelled Hillary Clinton to a popular vote victory. Of course voter fraud is one big myth. Just ask Paul Weyrich's own conservative Heritage Foundation, whose research over 20 years calculated that 0.00006% of all mail-in ballots were fraudulent.
No More Dog Whistling
Previously, Republicans, with a nod and a wink, whispered among themselves about linking their voter suppression tactics to non-existent voter fraud. But that's changed. Take a look at a May tweet from the president:
MAIL-IN VOTING WILL LEAD TO MASSIVE FRAUD AND ABUSE. IT WILL ALSO LEAD TO THE END OF OUR GREAT REPUBLICAN PARTY. WE CAN NEVER LET THIS TRAGEDY BEFALL OUR NATION.

Donald Trump
Republican cocktail party chatter now gets the all-caps treatment. "They're shouting the quiet part out loud," observed Marc Elias, a Democratic Party election attorney. "They're not whispering it. They're shouting it."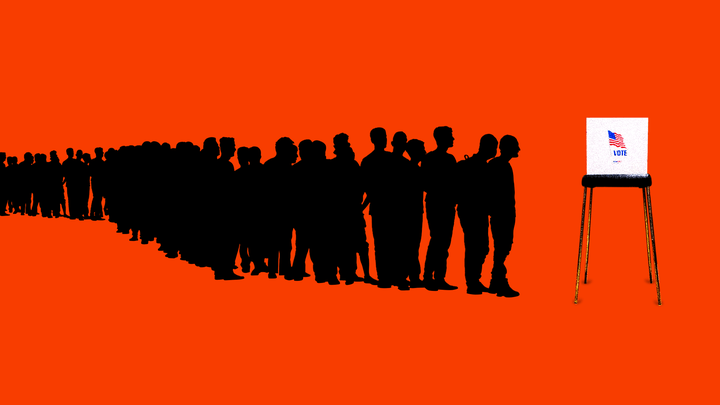 Voter Patrols
The consent decree is one part of a trifecta of legal actions that favor Republicans. There's also the 2013 Supreme Court decision that disassembled the Voting Rights Act of 1965, the part that required preclearance before some states could change their voting laws. And don't forget the Citizens United decision, which unloaded piles of "dark money" into electoral politics.
Unburdened by rules that call for civility and fair play, the Republican 2020 playbook doesn't ponder issues, policies, programs or a style of governance. They realize most of their ideas are unpopular with the American people. The Republicans are fighting on two fronts:
Fighting Back
June 23 was primary election day in Louisville, KY, and the city's 767,000 residents had to deal with the reality that there was only one polling location to cast a ballot: the Kentucky Exposition Center. The polls closed at 6:00 pm and election workers locked the door, leaving hundred of voters disenfranchised. Here is what happened next, 36 seconds long, published by NowThis News via YouTube:
An injunction was filed and a judge granted extra time for folks to vote. Given the dysfunctions of the past primary election season, this scene might be played out numerous time in the upcoming election. This video should inspire us; we should not take "no" for an answer.
Democrats should seriously prepare for the possibility that armed right wing vigilantes will pop up at polling places that predominantly serve people of color. They will pretend to assume positions of authority when in fact they have none. They might start questioning voters waiting in long lines, hoping their intimidating presence will make people give up waiting entirely.
Democrats should be familiar with their state laws that might prohibit the carrying of guns near polling places. We should also be familiar with laws against "electioneering" and election interference in our states. Federal law and the US Constitution have provisions preserving the integrity of elections. Carry a copy in your pocket.
Coda
By constantly ranting about voter fraud and by spreading misinformation about the integrity of American elections, Donald Trump may well be laying the groundwork to "challenge or outright deny the results" of the upcoming presidential election. We might be headed for uncharted territory in the Great American Experiment.
"We've never had a president delegitimize our democratic processes intentionally," remarked elections forecaster Rachel Bitecofer to Rolling Stone. "It is the kind of behavior you would not see–and should not see–in a healthy democracy."